Teenage Fanclub, Electric Ballroom, London, review: A joyous, generous gig from the enduring, uplifting indie-poppers
The Glaswegian quintet, whose new album 'Here' recently leapt into the top 10, have had a legion of fans over the last 27 years – including Kurt Cobain, Nick Hornby and Liam Gallagher
4
Click to follow
The Independent Culture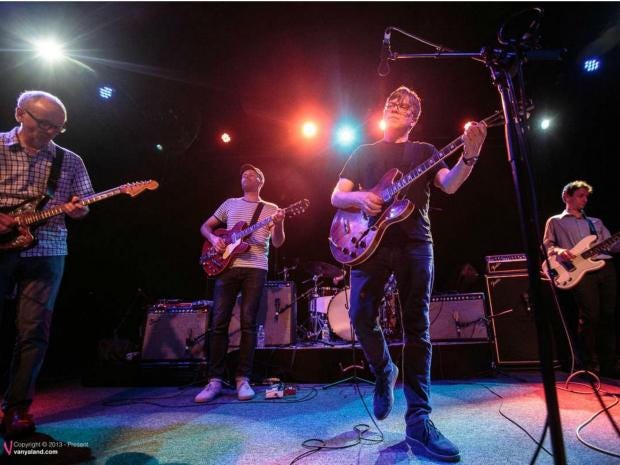 "Rust in my bones, I have doubts in my veins... I need only reassurance, I have nothing more to say," laments Gerard Love on the sumptuous (and poignant) " Have Nothing More to Say", from Teenage Fanclub's winning 10th album, Here, which was released in September, breached the top 10 and proves that the fiftysomethings have plenty more to say. 
Two songs in and the Glaswegian quintet are quipping with the faithful ("We come from the same country as Donald Trump's mother… we can only apologise"). They were always that kind of act, an inclusive, warm-hearted band, who have collected a legion of cheerleaders over their 27-year existence, including Kurt Cobain, Nick Hornby and Liam Gallagher. However, the most crucial was Alan McGee, who signed them to his Creation label and oversaw their 1991 breakthrough Bandwagonesque; "The Concept" off that grunge-tinged album receives a suitably rowdy airing here.
The Fannies, as they're affectionately known, have never lost the knack for jangly, exquisitely crafted melodies and tonight is full of them, from the exquisite "Verisimilitude" and "Start Again" (their opening song) from their back-to-back masterpieces Grand Prix (1995) and Songs from Northern Britain (1997) to "Sometimes I Don't Need to Believe in Anything" from 2010's so-so Shadows. Towering above them all, however, is the sublime "Sparky's Dream" from Grand Prix, which is one of the most gorgeously constructed pop tracks of the past 30 years. It garners whoops from a jam-packed (and, in some quarters, well-oiled) Electric Ballroom crowd.
"And I like your trajectory/ I'm in love," croons Norman Blake on new track, "I'm in Love", which is a brief, urgent burst of shimmery loveliness that stirs up memories of Orange Juice, Sugar (Copper Blue) and Big Star; I could have done with several helpings of this slice of perfect pop. The same goes for newbies "Hold On" (which evokes Crosby, Stills and Nash) and "The Darkest Part of the Night". 
The Fannies finish – as they always finish – with their anthemic "Everything Flows", from their first album, A Catholic Education, released in 1990. It sounds as vital as ever, as do Teenage Fanclub. A joyous, generous (23 songs, with a four-song encore) gig from the enduring, uplifting indie-poppers.
Comments