Whitney, Koko, London, review: You're transported to that carefree summer road trip of your youth
The American indie-rock band Whitney from Chicago light up London's Koko with their breezy music that has the feeling of a carefree summer day
4
Click to follow
The Independent Culture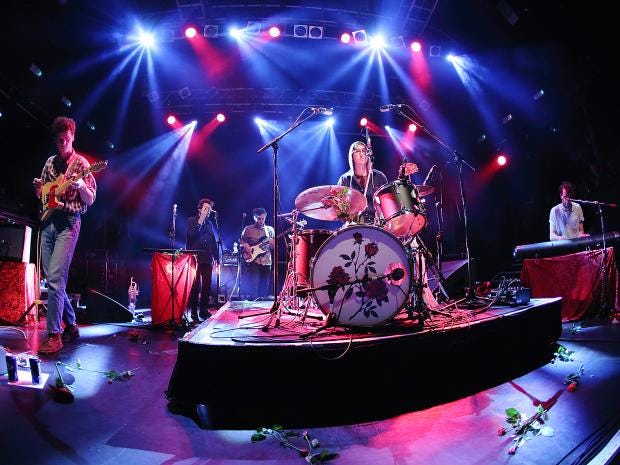 If only Americans could have voted for the sound of Whitney's music. The Chicagoans' version of their home country couldn't differ any more profoundly from the President-elect's horrifying vision: joyous, sunny-side up optimism is coated all over the songs from their debut album Light Upon the Lake, blown in from the Windy City with a wistfulness for breezy West Coast rock, country and soul. Little wonder they are in despair at the election result. "I'd just like to say f*** Donald Trump" says singer Julien Ehrlich from behind a drum kit surrounded by roses that now seem like defiant symbols of hope. 
Since Ehrlich formed Whitney with guitarist Max Kakacek out of the ashes of cult indie-rockers Smith Westerns in 2014, the pair have crystallised hazy summer days. Fleshed out to a six-man band live, including trumpet, faithful renditions of their songs, delivered with Ehrlich's blasé falsetto, blissfully fill the room. In less adept hands we'd be talking about pastiche, but such is the dexterity of Kakacek's jaunty guitar licks on "The Fall", or Will Miller's uplifting trumpet line on "Polly", or the gorgeous, George Harrison-esque "na na na" of "Golden Days" that you're transported to that carefree summer road trip of your youth. 
The music can mask the melancholy of the words, and the happy-sad dynamic is Ehrlich's. Hidden underneath a hoodie and swigging from a bottle of red wine, he looks like a Daily Mail caricature of an unruly adolescent. But then one minute he's speaking warmly of his family in the crowd, the next taking from his drum stool to snog bassist Josiah Marshall to huge cheers. It doesn't get more anti-Trump than that.
By comparison, perfunctory covers of Bob Dylan's "Tonight I'll Be Staying Here With You" and NRBQ's "Magnet", which strays too close to barn-dance territory, pale to their own songs. But the best is saved for last. "No Woman"distils Whitney's very spirit with a beautiful melody and intricate guitar line, swept to its conclusion by soulful trumpet. It's a unifying moment: enough to make you forget that Whitney's America is only a glorious place to fleetingly escape the real one. 
Reuse content
Comments