Anthony Anaxagorou is the poet, publisher and educator extraordinaire you haven't met yet. He is also the founder of Out-Spoken, the poetry press that is battering down the doors of the establishment. Out-Spoken by name, Outspoken by nature: Anaxagorou, winner of the 2015 Groucho Award, vociferously champions oppressed peoples, at home and abroad in his poetry which encompasses politics, society, race, ethnicity, gender and class. I spoke with him immediately after his victory at the Oxford Union, debating against the motion that Kanye West is more relevant than Shakespeare. He'd pepped himself up before taking the dispatch box: "Stand straight. Take your time when you speak. Speak clearly. You belong here too. "
He greets me like a long-lost friend with a full on bear hug before sinking back into the scuffed couch, answering my questions in his gruff Hackney tones, bouncing rhythmically from cadence to cadence. The son of Cypriot migrants, Anaxagorou has made waves since taking poetry seriously upon redundancy in 2008. After working as a security guard, a caretaker and a delivery driver, he thought the only thing he'd ever done without noticing time is writing so picked it back up again. "I always had the desire to write, " says Anaxagorou. "The story goes that I was unemployed, wrote a book out of boredom and frustration. Then, I had to somehow sell it. I had 500 copies from money I'd saved. Then all I could do was go out performing."
That first publication, Difficult Place to Be Human, explores memory, political commentary and more existential questions of love and loss. It didn't even have an ISBN number initially, but far exceeded expectations, selling 8,000 copies – a substantial amount for an poet unknown in mainstream circles. Anaxagorou, like many BAME poets, didn't feel like the traditional publishing houses represented the people who looked like him and the kind of poetry he was writing which is why he took to self publishing.
"It was about having the artistic autonomy to decide what I want to do and how I want to do it; not having to rely on an editor who wouldn't think it's sophisticated enough to publish, " Anaxagorou explains. "I think my [lack of] self-esteem and confidence – compounded with the idea of wanting to be in control– led to that. "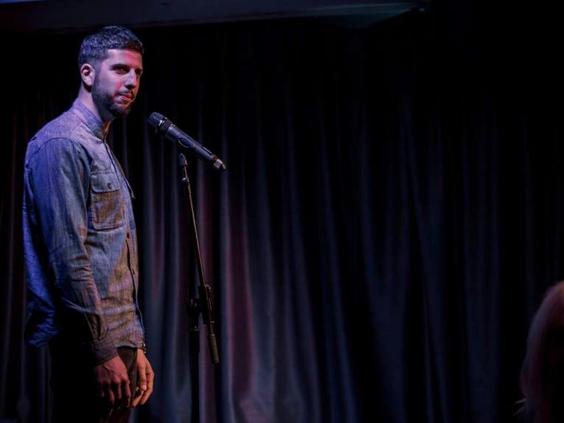 Since then, the spellbinding renegade has gone from strength to strength. From supporting UK hip hop star Akala on tour, to writing "If I Told You" which got four million views on Facebook in a week in 2012, and – off the back of his poetry – becoming a resident poet at several London schools. Anaxagorou's personal successes led him to establish Out-Spoken Live in 2012 as a platform for emerging poets, with a focus on BAME writers, whose work might be considered polemical or experimental. "I wanted to set up a poetry night in London with no open mic, " says Anaxagorou, musing passionately. "I always wanted to bridge the disparity between performance poetry and traditional page poetry."
At the last Out-Spoken Live event, on the night Theresa May triggered Article 50, it was evident that it was a group of left-leaning, progressive poets who were, in fact, taking the power back. "No one enters this room without common borders, " the compere, Joelle Taylor, proclaims to raucous applause from the sell out crowd at The Forge in Camden
As the Out-Spoken Live poetry showcase soon became London's leading alternative poetry night, the Press was borne out of the night. "It got to the point where I had Out-Spoken and I realised how many poets are put off by the idea of approaching a publishing house," says Anaxagorou. "'Some traditional publishing houses don't seem to value the experiences and poetics of writers of colour, which is why there's such a lack of representation for minority groups. It's not that we're not writing, it's that we're not being given the same platforms as white poets or writers in general."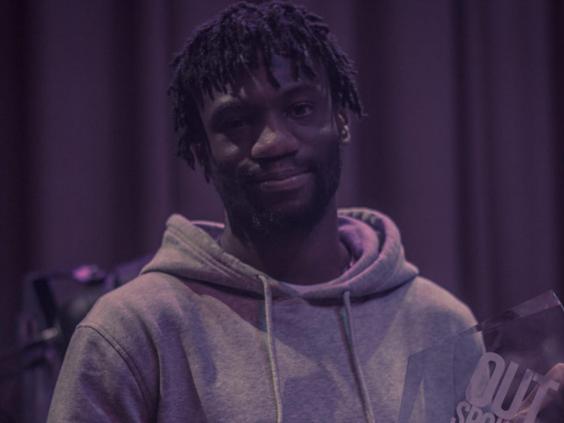 Since early 2015, they have published a variety of both emerging and established poets including Roundhouse Slam winner Hibaq Osman, multi-award winning playwright Sabrina Mahfouz and Joelle Taylor, Artistic Director of SLAMbassadors UK. It's unsurprising that the mainstream publishers – caught up with the very social ills and taboos challenged by the presses roster – are reticent to welcome poets who seek to subvert the notion of what constitutes a poem. One of Anaxagorou's most well-known poems, "This is Not a Poem", does exactly that. "A lot of the debate surrounding poems are always 'this is not a poem: it doesn't do this, it doesn't do that, " he says. "Then I thought, you know what, some issues in the world can transcend poetry and the poem can present itself in such a simple form, but we convolute it to exaggerate how sophisticated we are. "
Anaxagorou is a wordsmith who never falls into the trap of verbosity. However, when I ask him about the hiatus in his career, which came after winning the inaugural Mayor's Young Poet award at the age of 17 in 2003, he was initially at a loss until questioned. "I was performing at a small poetry night in Hampstead – one of the prizes for winning the award – and the host, who I really admired said something disparaging to me after the performance," he says, candidly. "I was such a sensitive kid so I said 'f*** this' and because I was barely part of the poetry world it was easy to escape so I didn't write for about 10 years."
Anaxagorou changed the subject but this experience goes some way to explaining why the Outspoken Award, won this year by Jolade Olusanya, is so important to him as a platform for encouraging young radical poets. Speaking to Olusanya, he echoes the candour with which Anaxagorou recalled his early experiences in the poetry world. "It's an overwhelming experience when you're just starting to get validated by your peers, many of whom you admire. I'm proud that this is one of the only prizes that appeals to emerging, unpublished writers. " says Olusanya. "Outspoken enable minorities and underrepresented writers get their stories told. For me, I've never thought of myself publishing with a major house because I don't see writers like myself on their roster," he continues. "Outspoken have been going from strength to strength: it's an all-in-one power publishing house."
Finding time to write has become more difficult with all the plates Anaxagorou is now spinning. "I started out just writing but now it seems that writing is the thing I do the least, which, obviously I'm not happy about, " he laments. He can be found running workshops in schools two days a week, managing Outspoken, speaking at universities as a guest lecturer, appearing on panels discussing race, under representation in traditional publishing and caring for his 2-year-old boy. A vastly accomplished, unconventional, selfless poet, keen to nurture the poets of tomorrow.
Reuse content