It's a chilly January morning in Manhattan and Elliott Erwitt, now 86, is photographing two dogs and their owner in his eighth-floor apartment overlooking Central Park. He is reflecting on his long and illustrious career, during which he has photographed some of the most famous faces and events from the 1950s onwards, among them Marilyn Monroe, Jack Kerouac, John F Kennedy's funeral, numerous Hollywood film sets, including On the Waterfront and The Misfits, as well as ordinary Joes – and, of course, dogs, the subject of four of his books. Little wonder he is due to receive the Outstanding Contribution to Photography prize at the Sony World Photography Awards on 23 April.
"His images look easy," says Astrid Merget Motsenigos, creative director of the World Photography Organisation. "But he is the only one who captures people in exactly the right moment." Take his shot of Richard Nixon prodding the Soviet leader Nikita Khrushchev in the chest as they toured the model American kitchen at the 1959 National American Exhibition in Moscow, at the height of the Cold War. It symbolised Nixon's pugilistic bearing for the rest of his career. Then there is Jacqueline Kennedy's grief-stricken face, emphasised through her sheer black veil as her husband is about to be buried. "I captured many moments but I chose this one as it was the most evocative. It was the saddest occasion I've ever been to," Erwitt says.
These definitive shots have made Erwitt one of the world's most celebrated and influential photographers. A selection of images from across his career will go on show at Somerset House in London, from 24 April to 10 May. The deceptively ordinary yet witty images on display include one of a miniature dog with a tiny hat and bag, begging on a street outside the Vatican.
"I've been lucky," says Erwitt. "It's nothing you can plan on. It just happens. Taking pictures [whether of personalities or of everyday people] is just noticing things that are significant, that look like a picture – and snapping," he says. "It's the photograph that matters." A case in point is his perfectly framed image of a couple kissing, seen through a rear-view mirror. It was part of a Life magazine story about love, and was one of hundreds taken. "I didn't see this picture until 25 years after I took it. And it's turned out to be one of my most popular pictures."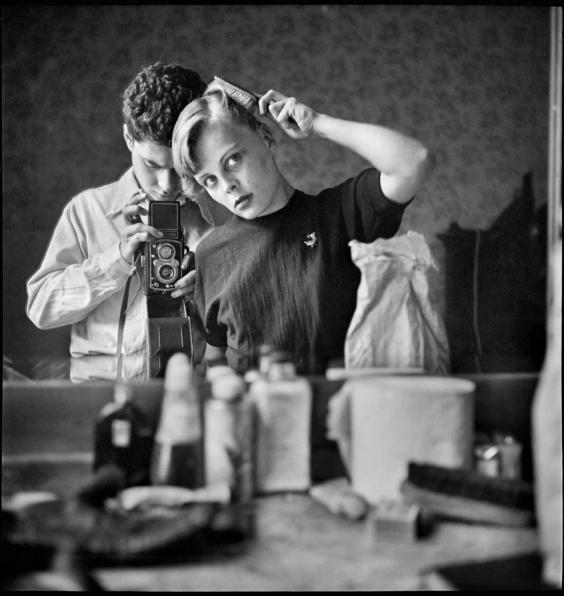 But there is much more to his work. Getting close to people is his forte – even with the most guarded subjects. Take Fidel Castro and Che Guevara, with whom Erwitt spent a week, following them around Havana at the height of the US/Cuban standoff in 1964. He instantly bonded with Castro and gently broke through Guevara's reserve, and the resulting images remain the rawest, most intimate footage of these tough personalities. "Castro was like a cowboy, kissing babies, throwing baseballs and being a regular citizen. I thought he was probably playing for the camera." Guevara was serious, dour and didn't like being photographed. "He gave me a box of cigars," Erwitt recalls.
"Every situation has its own dynamics," says Erwitt. "People let me enter their lives because they trust me and I seem reasonable." Even Monroe, whom he describes as visibly neurotic, allowed him to snap her in a bathrobe in her dressing room between scenes for Some Like It Hot. The resulting images show Monroe at her most natural, relaxed yet ethereal. "She had a good instinct for people who would not abuse the privilege [of being around her] and a good sense of what worked in a photograph. She was very good-looking but better-looking in pictures than in person," he says.
Erwitt's canny ability to blend into the background landed him an exclusive gig, photographing Truman Capote's legendary Black and White Ball at New York's Plaza Hotel, for Vogue magazine. The ball, which took place in 1966, was attended by a who's who of the Sixties. "It was highly controlled as Capote didn't want anyone to disrupt it," he says. Guests such as Frank Sinatra and Mia Farrow, whom he pictured working the room in their black and white masks, and Candice Bergen, whom he shot dancing, were unaware of his presence. "I was like a guest, snapping away without a flash and without making a fuss," he says.
Nowadays, images such as Erwitt's would be harder to get. "Life was simpler with less goons around to protect people," he says. Yet Erwitt has chutzpah in spades. In 1957 he slipped past six layers of heavy security in Red Square, Moscow, to become the only Western journalist to capture the 40th anniversary celebrations of the October Revolution.
Erwitt was born Elio Romano Erwitz in Paris, in 1928, to Russian-Jewish parents. His family fled to New York in 1939, moving to Los Angeles in 1941. At Hollywood High School, Erwitt began taking photographs with his prized Rolleiflex of neighbours, family and friends; he also began printing photos of film stars. Returning to New York in 1949, he studied film-making at the New School for Social Research before being drafted into military service, where his photographs of barracks' life won a Life magazine award. Back in civilian life his career flourished under the guidance of mentors including Edward Steichen, Robert Capa and Roy Stryker, of the famed Farm Security Administration division, which launched the careers of Dorothea Lange, Walker Evans and other documentary photographers. In 1953, he joined Capa's prestigious Magnum photo agency alongside Henri Cartier-Bresson, Eve Arnold and others.
Films beckoned in the 1960s. His documentary film of nudist colonies, Good Nudes, resulted in one of Erwitt's favourite stills – of a man trying to influence the female judges at the Mr and Mrs Nude California competition, 1983 (the man lost). The shot was taken with his small, unobtrusive Leica camera, which Erwitt always carries to snap incidental moments. "[Because] I like funny things," he says.
Erwitt shows no signs of slowing down. A book showcasing his magical images of Loch Ness and other parts of Scotland will be out in the summer and he is working on two books of material never before edited. One of the books relates to his first important assignment, documenting the rebuilding of Pittsburgh in the early 1950s for Stryker. The other focuses on his pictures of children, past and present.
Interestingly, his greatest inspirations are Modigliani's poetic paintings and the Italian Neorealist movies of Roberto Rossellini, Vittorio De Sica and others. "[The style's] not chichi, but real and direct, which I hope I've manifested in my photos," he says. The latest award suggests that he has.
Elliott Erwitt's images are part of the 2015 Sony World Photography Awards Exhibition, Somerset House, London WC2 (020 7836 7613) 24 April to 10 May
Reuse content