Sheila Rock is best known for her photographs of the punk rock scene, charting the development of both the movement and personalities like Vivienne Westwood, Malcolm McLaren and the Sex Pistols.
In her new book and current exhibition – Tough and Tender – she turns her gaze far from the urban thrall to the photographically well-trodden British seaside, confident that she's visiting with fresh eyes. 
I meet her in the offbeat cool of The Gallery in Liverpool 8 where a collection of face-scapes and land-scapes (as reminiscent of the 50s as they are part of the twenty-first century) are curated by DuoVision. Her images are grouped to move from singletons to couples to pairings of people and architecture, each suggesting little stories.
'Being an American,' co-curator James Lawler says before Rock arrives with friend and Sex Pistol lyricist, Glen Matlock, 'she doesn't have the desire for the coast that, as islanders, is an intrinsic part of our nation. She tried to capture that fascination.'
Sheila Rock photographs Britain's run down British seaside
Sheila Rock photographs Britain's run down British seaside
1/8 Sheila Rock's British seasides

T&T

Sheila Rock

2/8 Sheila Rock's British seasides

Sheppey

Sheila Rock

3/8 Sheila Rock's British seasides

Renzi

Sheila Rock

4/8 Sheila Rock's British seasides

Drowned Rat

Sheila Rock

5/8 Sheila Rock's British seasides

Deep Sea Diver

Sheila Rock

6/8 Sheila Rock's British seasides

Canvey Boy

Sheila Rock

7/8 Sheila Rock's British seasides

T&T Sheppey Sept 2013

Sheila Rock

8/8 Sheila Rock's British seasides

Twins ReTouched

Sheila Rock
As with punk, Rock's interest in the seaside grew almost by chance: a portrait of David Attenborough inspired her to take her studio into the fields. Commercial work later took her to Whitby, which led her to venture out into seascapes, and then to people them – in resorts ranging from Lancashire to the South East.
'There's something beautiful about the coast but also sad and melancholic,' she says. 'Many resorts are decayed, many of the people who go there are non-middle class. Yet there is an inner joyfulness. I learnt a lot doing this project about the English.'
Although Rock talks about the British seaside as 'the face of poverty, drug addiction, alcoholism', degradation is not what she wants to portray. 'The people were so kind and open-hearted. So much heart. If I've captured that I'm really happy.'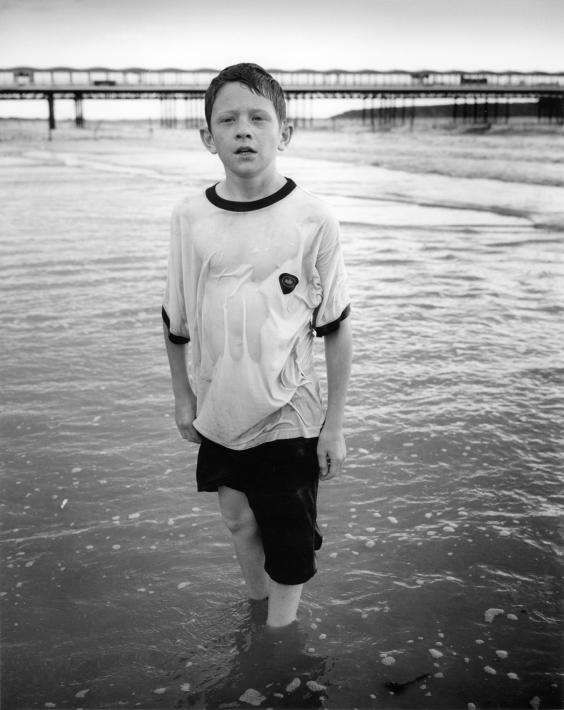 Working with medium and large format cameras in natural light, her images portray the hardy British spirit intent on enjoying itself, whatever the weather. A young girl in goggles and swimming costume, clearly chilly, poses on a jetty. A woman wears a fluffy halo and angel wings, but her tough life underpins her facial expression. Another clutches a cigarette, a tattoo on her hand, one worried eye peering out from behind her long fringe. A young dad kneels behind his child.
She senses too an intrinsic pride. About her initial visits to Margate and the Isle of Sheppey, she says: 'When I went there I thought, I've come to the heart of something here. There was pride. And with having so very little there were a lot of people having great times.'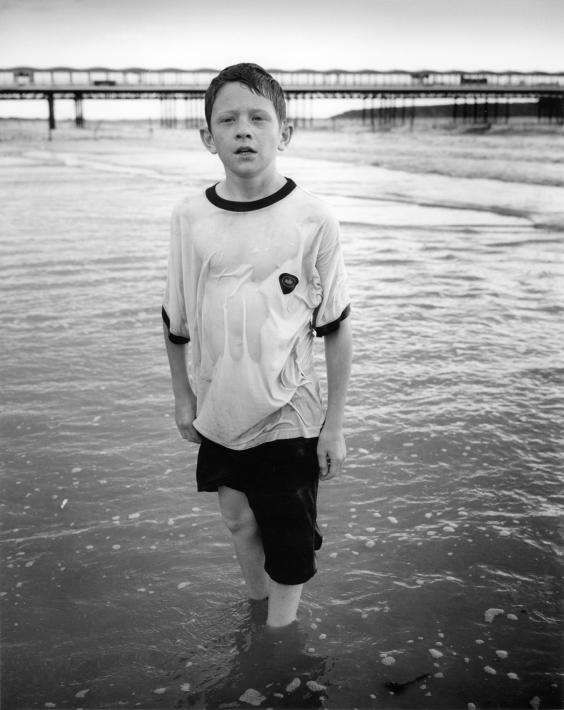 This statement resonates with the emotion of her portrait of a mother and disabled daughter. 'When I saw them coming, I thought they were straight out of a Diane Arbus book,' says Rock.
Kindness is captured in the elderly lady in swimming hat. 'I found myself by the loos. I thought I'd just see who comes by. This lady had just been for a swim. She was surprised I'd want to take her picture. I said "you are so beautiful" and she looks at me completely astonished.'
Being female, she believes, helps her build a connection with her subjects that she maintains is missing in male photographers working in similar locations.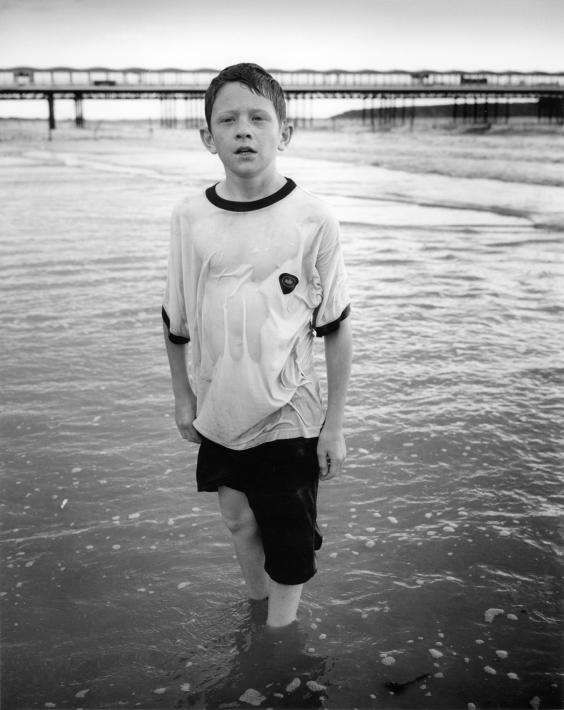 'I want to show the loss and longing, the sadness of the old wayfarer songs,' she says. 'I don't want anything trixy, showy or that imposes my own ego.'
No doubt, it's important for her own karma. As we chat, she apologises to take a call about her trip to the only Maharishi centre in the UK for an ayurvedic treatment.
In her quietly self-deprecating way, she says: 'I come here, show off, then retreat.'
Tough and Tender, curated by DuoVision, at The Gallery, Stanhope St, Liverpool 8, til 27 May. Sheila Rock will be signing copies of the book at PhotoLondon, Somerset House on 24th May.
Reuse content