Complete strangers have revealed their deepest regrets in a moving photography project.
Alecsandra Raluca Dragoi, a Romanian photographer based in London, toured cities asking passers-by of all ages what their biggest regret in life was.
She said many people refused, saying the question was too personal, but others gave responses ranging from heart-rending to tongue-in-cheek.
One man said "shagging Lee's mum" was his biggest regret, while a person hiding their face with a poster mysteriously said it was "what I did last night".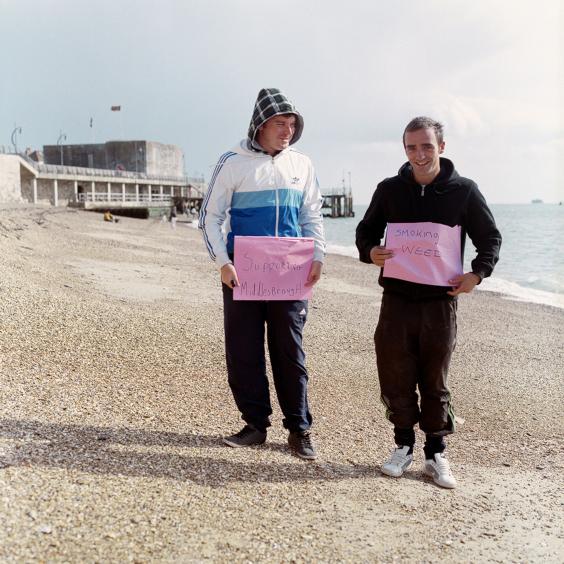 "Not being with my father when he died 15 years ago," was another man's answer and a father pictured with his young son held a sign saying: "Developing an addiction to alcohol."
Alecsandra said she believes that sharing regrets with someone, even a stranger, can release a "black stain on the soul".
"I do not trust in people who say that they do not have regrets," she added. "In my opinion there is a difference between not having regrets and not thinking about them.
Which is your biggest regret?
Which is your biggest regret?
1/29 "When I stole my sister's money"

2/29 "Not writing as much as I'd like to"

3/29 "Shagging Lee's mum"

4/29 "What I did last night"

5/29 "Not having enough courage"

6/29 "Our biggest regret is that we didn't move here many years ago, we love it here"

7/29 "Not saying 'I love you' enough"

8/29 "Not being with my father when he died 15 years ago"

9/29 "Not having more time to play"

10/29 "Not having the confidence to be the best I can be"

11/29 "Not having a second child"

12/29 "Things not going to plan"

13/29 "I have no regrets"

14/29 "Not listening"

15/29 "I would like to share more intense and faster live communication with people, directly of heart"

16/29 "Supporting Middlesbrough"; "Smoking weed"

17/29 "Not being able to help my child more"

18/29 "Developing an addiction to alcohol"

19/29 "I forgot to take the baby doll with me today"

20/29 "No regrets"

21/29 "Focusing more on knowing rather than feeling"

22/29 "I do not have any regrets"

23/29 "Dropping out of college"

24/29 "Not becoming a footballer"

25/29 "Believing people can change"

26/29 "Not having the right parents"

27/29 "Not feeling the time as a student"

28/29 "Not focusing more on the present"

29/29 "Being old"
"Not thinking about regrets is better, because what you have done is in the past."
To explain her stance, she offered the saying: "If we spend our time with regrets over yesterday, and worries over what might happen tomorrow, we have no today in which to live".
Alecsandra is continuing the project by inviting people to send her photos of themselves on social media.
Reuse content