A Victorian lady poses with a parasol and smiles for the camera. Nothing appears out of the ordinary – apart from the gust of steam belching out of the ground behind her.
The image, captured on the volcanic island of Vulcano in the Tyrrhenian Sea, about 25km north of Sicily, is one of a collection of thousands of photographs taken by Tempest Anderson, an ophthalmic surgeon from York turned pioneer of volcanology.
The collection of 5,000 images had been built up for decades prior to his death in 1913 on board a ship in the Red Sea, following a visit to study volcanos in the Philippines and Indonesia.
Now the set of slides, which Anderson bequeathed to the Yorkshire Museum after his death, have been digitised as part of a wider programme to make more of York Museums Trust's collections available online.
Legal difficulties surrounding his estate meant the collection gathered dust for decades until the late 1970s. Stuart Ogilvy, assistant curator for natural sciences at the Yorkshire Museum, took over the task of "knocking the collection into shape".
It consists mainly of quarter-plate glass positives, aka lantern slides, and glass negatives with a small number of celluloid negatives and a few paper photographs.
"There were other people taking photographs of volcanos but not to the same degree Anderson was. He took it several steps further," Mr Ogilvy said. "He had a few places he would go back to – he went to Iceland twice for extended periods, to Italy repeatedly, principally because that was the closest place to Britain that had active volcanos that could go bang at any point."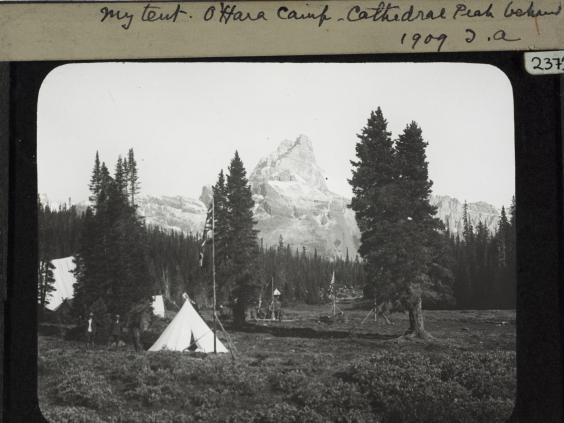 Anderson was also an Alpinist and made arguably his greatest contribution to science in 1902 when he was sent out as part of a small Royal Society expedition to St Vincent and Martinique to study the nature and aftermath of eruptions in the Caribbean.
He published descriptive and photographic evidence of a "pyroclastic flow" – the rapid and destructive flow of superheated gases and steam mixed with volcanic ash, lava and rocks – and compared the terrifying phenomenon to a particular type of avalanche he had witnessed in the Alps.
Anderson never married. He gave many lectures at home in between travels, using his "magic lantern" slides.
Mr Ogilvy said: "Although best known for his volcanology photographs, what set Anderson apart as a photographer was not just photographing the volcano, other people did that too, but his overwhelming interest in the area he was travelling in. The collection is filled out with ordinary natives going about their day to day lives and jobs."
Reuse content