It was the best of lines, it was the worst of lines. Such is the situation of subtitled fare in the United Kingdom. In cinemas the audience is dwindling, while on television, audiences are lapping up subtitled shows like never before. So what the Dickens is going on?
The 2015 end-of-year box-office figures made for depressing reading for lovers of neo-Realism, the French New Wave, or Dogme 95. The top-ranked non-Bollywood subtitled film of the year was the Argentinian portmanteau comedy Wild Tales, which boasted a box office of just over £700,000. Remember, this was in a year when movie-goers spent £94m watching a formulaic James Bond film. 
Contrast this with television, where more foreign shows are being made available to British audiences than ever before. Channel 4 has just launched a new service, Walter Presents, dedicated to dramas made in foreign countries. Its flagship show, Deutschland 83, has almost three million viewers. There have been countless column inches over many years that have spoken of the success of Nordic noir, and of  shows such as The Killing and The Bridge.
So the decline in theatrical box-office is not just a case of audiences being turned off by subtitles. Jon Rushton, Head of Theatrical Distribution at Curzon Artificial Eye, who released the top ranking Wild Tales, Force Majeure and Timbuktu, says: "The last two [foreign] films to go over £1m at the box office were The Great Beauty (2013) and The Raid 2 (2014). I think that demonstrates the type of films that have historically managed to reach a wider audience, films that are so outstanding that audiences turn up regardless of subtitles. It is worth considering whether the audience is truly getting smaller, or whether there wasn't the right film in the market in 2015." 
Compare this to 2007 and 2008, when there were five non-Bollywood films earning more than £1m in each year. In the past year, acclaimed films that have disappointed at the UK box office include several critically acclaimed Cannes prize-winners: the exceptional Hungarian drama White God, Xavier Dolon's tour de force Mommy, and much admired Italian drama The Wonders. Mia Hansen-Love's Eden, Christian Petzold's Phoenix, and Brazilian drama The Second Mother all flopped when compared to their releases in other countries. 
Ben Luxford, Head of UK Audiences at the British Film Institute (BFI), says of the decline: "There are so many contributing factors. When HMV shut a few years ago, 80 per cent of the DVD market went. HMV had high-street stores and each of them had a well-stocked world cinema section and when the store closed that market went." This meant that not only did film-makers lose a valuable revenue stream, but also audiences could no longer just stumble across titles by Bergman and von Trier.  
"At the same time as the decline of the high street, you have the rise of streaming services," continues Luxford. Netflix and Amazon are showing incredibly rich character stories. Then on British TV, there is the triumph of Nordic noir. The Killing and The Bridge came at that turning point of satisfying the foreign-language-curious audience." 
Television has seen a boom in the number of foreign TV shows being aired. "I think subtitled television shows demonstrate that the appetite is out there," says Rushton. 
The BFI Film Audience Network (FAN) has responded by launching a new scheme worth £100,000 that will provide support for six films deemed culturally significant in 2016. Most, but not all, of these films will be foreign-language. The first two to receive funding are the Oscar-nominated Mustang, a French-language film set in Turkey about five sisters coming of age, and The Pearl Button, a documentary exploring themes of memory and history by Chilean Patricio Guzman. The FAN money will not go to distributors directly. Instead, the films will receive tailored support in the regions, to encourage and target audiences that are often hard to reach for London-centric distributors.  
There is also a perception problem with foreign-language films. The affable Walter Iuzzolino is the curator of Walter Presents. He has watched thousands of hours of foreign television and selected 700 hours to present with Channel 4. Of shows such as the German Deutschland 83, the French Afghanistan-set kitchen comedy Kabul Kitchen, and Belgium drama Clan, he says, "There is a significant difference from certain types of arthouse cinema in Europe... that audience could never be mainstream in the way to attract big numbers. We were absolutely clear to stay away from the arthouse. The idea was to find the excellence in every country, but the excellence that millions of people love. All audiences want is a great story."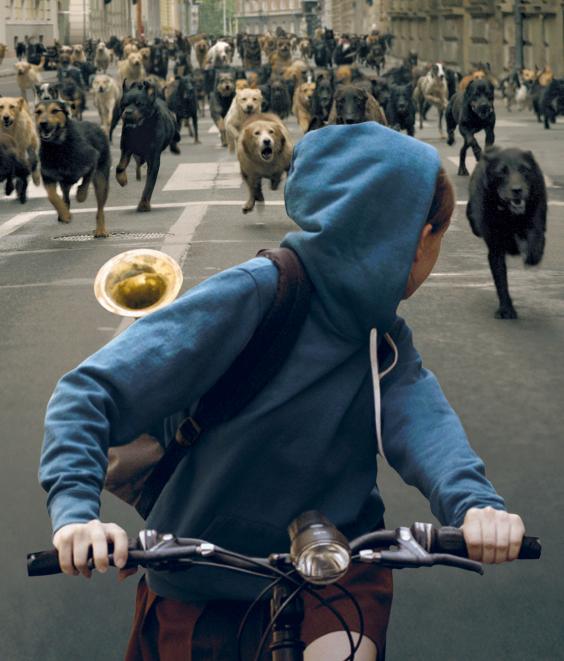 Iuzzolino also sees native language as being a benefit in today's TV market. Deutschland 83 has been scheduled against War and Peace, a lavish adaptation of Tolstoy, but one that was made with English-language stars and which has been criticised because it didn't feel very Russian. "It has to be said that the moment you start to immerse yourself in original product, it's intoxicating," says Iuzzolino. "There is a big drama coming out later this year, Versailles, on BBC 2, and I've only seen a bit of it. It looks beautiful, but the decision was made to shoot that in English. I think that's a mistake." 
The change has been felt in Europe, where producers are increasingly looking to make original serialised shows of six to 10 episodes. Peter Bouckaert is the Belgium producer of Cordon, the tropical-disease outbreak drama that aired on BBC 4. "We have just finished filming the second series of Cordon and it would not exist without international sales," he says. Bouckaert also produces films, and says: "I think in the last few years I've sold three or four films for the UK market, but they haven't necessarily gone for theatrical release, but were on VOD [video on-demand] platforms. There are expanding markets because of these channels to find an audience and that has influenced international sales." 
Rushton believes the fabled £1m figure is still a realistic ambition. "It will be interesting to see how a film like Son of Saul opens, given that it received five-star reviews across the board and is a front-runner to win the Foreign Language Oscar. It's only a matter of time before a foreign-language film takes £1 million in the UK again." 
There is also the Palme d'Or-winning genre thriller Dheepan, and the amazing two-and-a-half hour, one-shot thriller Victoria from Germany. These are films that are entertainers rather than cerebral art-house flicks. And if you want a laugh, there's Rams, an Icelandic comedy about sheep farmers. 
It's an eclectic selection, and film distributors will be hoping that the taste for subtitles on television sees a resurgence in cinemas. 
'Rams' is out now; 'Son of Saul', 'Victoria', 'Mustang' and 'The Pearl Button' are all out in the spring. 'Deutschland 83' ends on Channel 4 tomorrow; it, 'Clan', and 'Kabul Kitchen' are available at www.all4.com/walterpresents