After October, Finborough Theatre, London, review: Reviving an autobiographic tale of Bohemian chaos and hope
After a mere 80-year break, Rodney Ackland's autobiographical 'After October' is welcomed back to the intimate Finborough Theatre for a comedic and hopeful journey in an attempt to become a successful playwright
4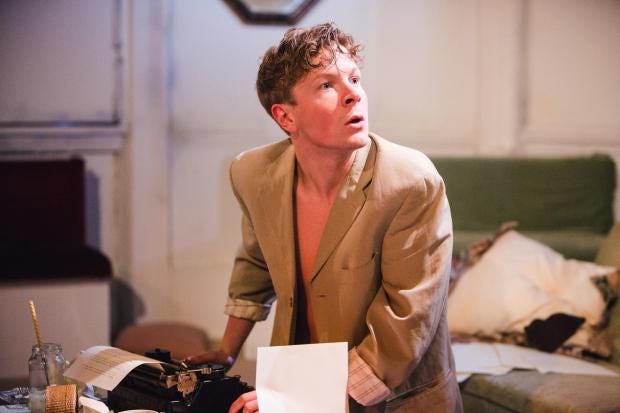 The tiny room that acts as the Finborough Theatre above the pub of the same, has become known for both new works and reviving old ones. And the latest is Rodney Ackland's After October, marking 80 years since it premiered and this is the first showing of it in central London since.
Director Oscar Toeman's production is in an intimate theatre, with seating on long benches around the room, drawing you into the manic lives of a family. The whole play takes part in the lounge of a Hampstead basement flat, framing an impoverished family, who are on the brink of a new life.
Protagonist Clive Monkhams (Adam Buchanan) has the weight of his despairing and penniless family almost crushing his shoulders. As well as the fate of his true love with lodger Frances (Jasmine Blackborow), and his endearing best friend (and aspiring thespian) Marigold, who wants a job for her post-prison nephew, and parasitic down-and-out poet Oliver Nashwick (Patrick Osbourne).
The author of Absolute Hell and Before the Party, After October is Ackland's most autobiographical play. He was 21 when it was produced, which flung him into West End stardom three years later – something which Clive hopes for.
The play opens with Clive desperately trying to finish an article. Phone calls are brushed off and door knocks are avoided not only for a slim vain hope of peace and quiet, but to avoid having to pay anyone money from the numerous tabs the family owe. All hopes of financial security are piled on top of Clive.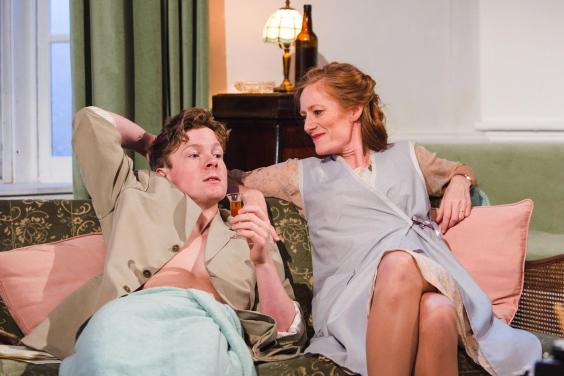 Both his sisters are rather lost causes on the money front. Lou (Peta Cornish), married to a poor, adorable Frenchman, Armand (Andrew Cazanave) dances in clubs for a living, while younger Joan (Allegra Marland) has a relationship with her married, and much older boss, Alec (Jonathan Oliver.)
The lounge is worn and tired, much like the family, who carry on the pretences of former lives. It's chaotic with comings and goings – a reflection of their money stricken chaotic finances. 
Books and piles of paper cover the floor, while Clive hunches over his typewriter with a towel around his waist and a blazer on. He is extremely clever, witty and his comic timing is perfect – matched only by housekeeper Mrs Batley (Josie Kidd) who has a penchant for adult entertainment. But Clive is let down by his pathetic obsession with Frances – a lonely beautician with a cold heart.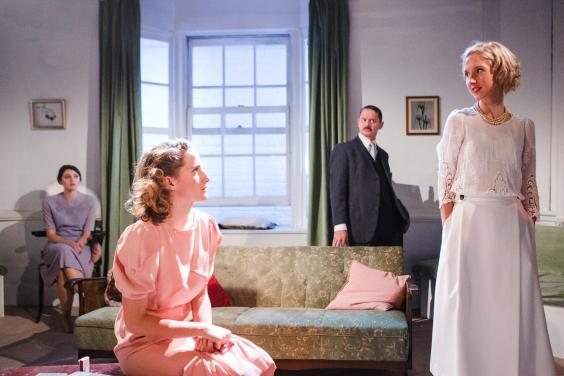 Clive is beyond agitated with his mother Rhoda (Sasha Waddell), a failed actress, who continually flaunts around the room reminiscing of better days with her husband – before money trouble. Even we wish she would stop talking at times and stop being rude about Frances in the typical "she's not good enough for my son" act.
Their fortunes seem to be on the up, as one of his anti-war plays is to be shown in the West End. On the opening night, all the family, extended friends and partners attend, bringing with them their own troubles and woes. We desperately want the play to be a success – with no one more than Clive as Frances will marry him if so. But the morning paper reviews don't allow it. So the family hang on for another glimmer of hope – after October – and the bills add up, and women still clean and dance, until October comes.
It is a mystery why this play has not seen the light of day in London – 80 years is too long, but better late than never. Toeman's production is engaging and fast-paced, with personal stories of each character revealing the hardship of the world of playwriting.
After October at the Finborough Theatre is on until 22 December 2016. For more information and to buy tickets, visit here
Reuse content
Comments