It's a dispiriting but perhaps unsurprising fact that this is the only national newspaper interview that Sam Walters MBE has been invited to give all year.
The unassuming Walters, 74, is the country's longest-serving artistic director and at the end of the month he will leave the Orange Tree, the theatre he founded 43 years ago in a room above a pub in Richmond, south-west London. Since then it has moved over the road to new (but still intimate) premises, and has made a particular name for itself with sparky rediscoveries of early 20th-century neglected gems, as well as a long and fruitful relationship with the late Czech playwright-turned-president Václav Havel. Recent successes include an ambitious three-part adaptation of Middlemarch.
I wish that my first question, after I've followed Walters up three steep flights of stairs to his office, didn't have to be: "Why is the Orange Tree consistently undervalued by the media, despite a string of Peter Brook Empty Space Awards for excellence in studio theatre"? His answer says much about trends in current cultural thinking. "We've been playing to some very full houses and if you say the [theatre's] profile isn't very high, then of course what one is actually saying is 'You're the wrong sort of audience'." He is referring, it is clear, to the fact that the Orange Tree's demographic tends to be overwhelmingly white and middle-class, something guaranteed to make Arts Council panjandrums nervous. He pauses. "If it doesn't attract the attention of the tweeters and the twatters and the literati chatters, that's nothing to do with me. I much prefer that the ordinary person from Hounslow and Hillingdon and Harrow come here and enjoy themselves," he says, sounding like a 21st-century Henry Higgins. Walters, who originally trained as an actor ("I wanted to be Albert Finney"), would have made a wonderful Higgins. What's abundantly clear is that Sam Walters is off-message and revels in it.
It's a rare artistic director who leaves without some sort of farewell tarantara but, once again, Walters refuses to kowtow to convention. Instead of directing something himself he is producing Festival, a season of nine short plays overseen by graduates of the Orange Tree's acclaimed Trainee Directors' Scheme, which has been running since 1986. Did he really not fancy a final hurrah? "If I did, I didn't want it enough, did I, because I could have organised it! I've never been a one for parties and presents." He grins mischievously. "I'm rather proud of the fact that Auriol and I got married at midday in Edinburgh and had to get back to Dundee for a 5pm matinee." Auriol is his wife Auriol Smith, an actor and Orange Tree associate director; gloriously, they met doing panto at Rotherham in the early Sixties.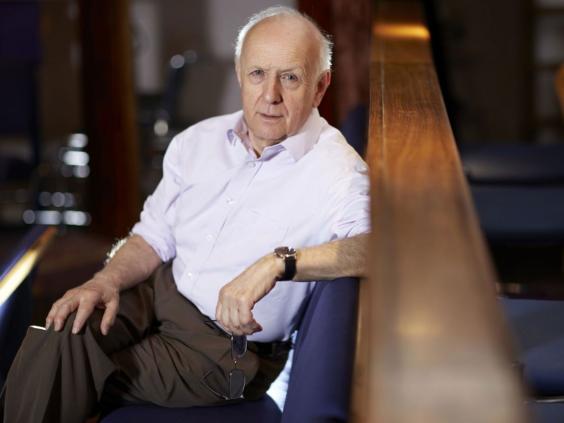 Smith was a co-founder of the Orange Tree in 1971. Inspired by the example of the trailblazing Islington pub theatre the King's Head, she and Walters, living then as now in Twickenham, summoned a group of friends to hunt for their own space. They went on a "pub crawl" – "You had to have a drink before you asked to speak to the boss, so we stuck to halves," says Walters dryly – and at the end of the second night they came across a "dumping ground" room above the Orange Tree pub. On 31 December, it opened as a lunchtime theatre and history was made.
Walters claims, disingenuously I suspect, that he will miss "nothing" about the place when he hands over to successor Paul Miller, so I ask instead what has been the hardest challenge he has faced. "We have always been very conscious of our money side," he says. "We've always been under-funded compared with our peer theatres, probably because we didn't get into the right sort of debt at the right time. Other venues asked for more and got more than we had, so I thought, 'Why didn't I ask for more?'."
Walters provides a fascinating one-man overview of the changes in British theatre over the past four decades. The major difference from when he started the Orange Tree, he says, is the abundance of smaller theatres around now. "When I was young, there was the West End, of course, and there was the Royal Court, Stratford East and the Old Vic for Shakespeare. That was all you had. Whereas now you've not only got flashy fringe theatres like the Almeida and the Donmar, you've got the Bush, the Tricycle and so on." He has a vehement loathing of celebrity culture and its accomplice, the "social media side of life". "I don't like celebrity anything. I don't like hype, I don't like the idea that you've got to be, whatever it is we were talking about, high-profile". He is also agreeably acerbic on the subject of theatre's sometimes fanatical courting of a youthful audience. "As there are university [drama] degree courses all over the bloody place, you'd think there'd be queues of those students outside theatres and we wouldn't be worrying about luring them in with the under-26 [cheap tickets] scheme. They never lured me in. Theatre was wicked and dangerous and you ran away to join it. I sometimes say we shouldn't be offering them cheap tickets, we should be putting up notices [to provoke] saying 'Under-26s not allowed into this play'.
Were you, I ask, never tempted to leave the Orange Tree for a fresh challenge? After some prompting, Walters reveals that he was asked to apply for the top job at Hampstead Theatre many moons ago, but didn't. "It could be temerity: I'm a big fish in my own pond and if I went somewhere else maybe I'd fail, or I wouldn't like it. I do like being liked, which is a great weakness of mine." He extols the fact that there's a bit of a "family atmosphere" at the Orange Tree ("some people don't like that at all, I'm sure, and think it's cosy") and carefully nurtured "long-term relationships" with actors and playwrights. He looks thoughtfully out on the busy road below. "This is the crux to me: it wasn't a career I was involved in, it was a life". The Orange Tree stands as an enduring testament to the holistic approach of Sam Walters.
Festival runs until 29 June, Orange Tree Theatre, Richmond, Surrey TW9 2SA (020-8940 3633, orangetreetheatre.co.uk)