Think of the actor David Suchet, and for many, the quizzical face of Hercule Poirot pops up: the long-running series of Agatha Christie adaptations may have come to an end in 2013, but love for the Belgian detective remains undimmed. However, Poirot fans will be doing a double-take at Suchet's latest role: Lady Bracknell. Yes, the 69-year-old actor is playing the fearsome matriarch of Oscar Wilde's sparkling 1895 society comedy The Importance of Being Earnest. And not a waxed moustache in sight.
"She's a joy to play," says Suchet when we meet at the Vaudeville Theatre. "But not easy to get to – it took a lot of hard work to find her."
Partly that was for the obvious reason: gender. For this grand old classical actor, meticulous preparation and research is key, and he spent time finding her voice, at the top of his register, just before falsetto: "I've obviously checked my register with girls I know who have lower voices and it seems to sit all right," he says. The character clicked when his corset and heels were brought into the rehearsal room: "It makes a hell of a difference!" And then there were the lessons in deportment: "How to use the props of the Victorian period – like handbags …"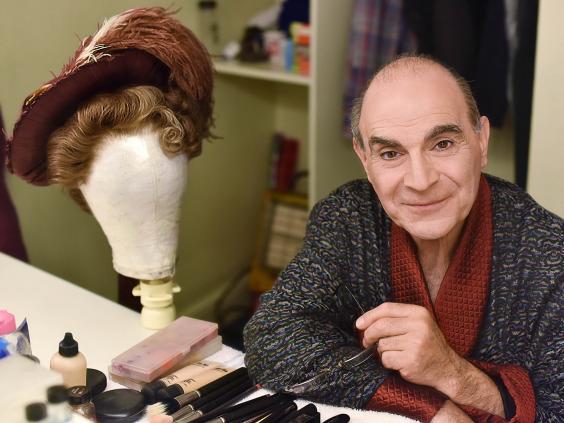 Meanwhile, his interpretation of Lady Bracknell, a character that has been read in sundry ways, from stern and imperious to knowing and flirtatious, is that "she's extraordinarily nouveau riche, which means she's even more of a snob than everyone else. And she has huge secrets … she's not clever but thinks she is. She's a bit of a dip-head really." (If you're wondering if it's joyous to hear the sonorous, plummy Suchet saying the words "dip-head", the answer is: Yes. It is.) Though on the subject of the cross-gender casting, Suchet doesn't think having a man in the part makes much difference: "Her sex doesn't really matter to me. She doesn't represent 'a woman'; she represents 'a type', and happens to be a woman."
Suchet is now 69 and has been steeped in the thespian trade for 46 years – as he says on several occasions with a wisp of nostalgia, a hint of pride. He's gorgeously gentlemanly company; I can't help noticing he makes a point of remembering everyone's names and you feel you're only a glass of bubbly off being bestowed with a "darling". Such unabashed luvviness goes hand-in-hand with serious, unselfconscious pronouncements on how best to "serve the play".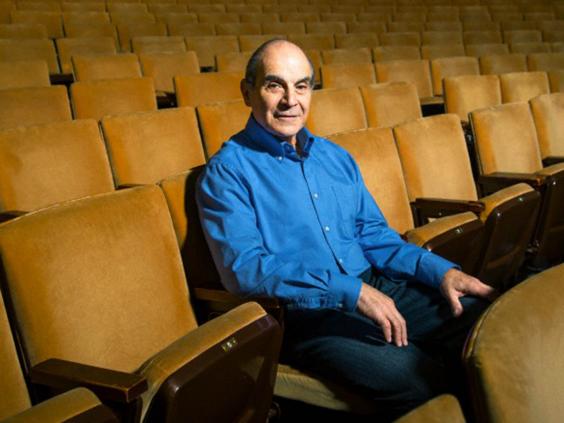 And Suchet has "served" some of the greatest plays ever written. They're usually meaty tragedies, mind: "The last major comedy I did was in 1994, and that's one among a lot of tragedies: Timon of Athens, Othello, Amadeus, Oleanna, All My Sons …."
Was he searching for a comedy? "I have been searching; more than 20 years I've been searching …" he says with theatrical wistfulness. "In my formative years in rep – 1969 to 1972 – we did a play every week, and we did a lot of comedy. Then I joined the Royal Shakespeare Theatre in 1973, which was mainly big heavy roles." And he's kept being offered them ever since. So, it was such a joy when producer, and long-time collaborator, Kim Poster suggested this play – and this "iconic role", a delicious treat for an actor of either gender.
Suchet loves The Importance of Being Earnest: "I must have seen at least one [production] a year," he claims. "It's one of those plays that you never get tired of seeing. [Although] I am a bit of a traditionalist, and I always get rather sad when I see hugely modern interpretations." Fear not – this one, directed by former RSC head Adrian Noble, is all Victorian lace and tea on the lawn.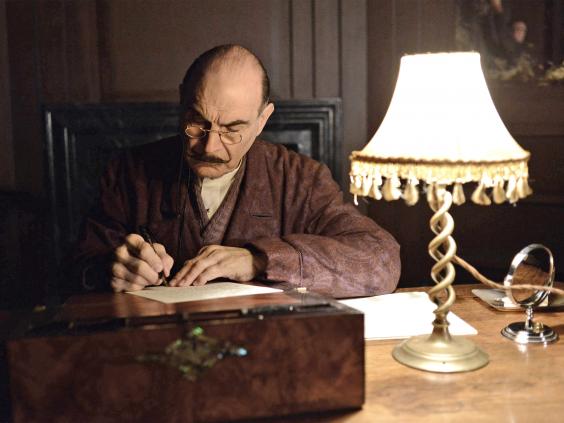 Apparently it's been bringing down the houses on its six-week regional tour, with audiences who can recite Wilde's bon mots along with actors. But given that level of total familiarity, why exactly is it worth staging again? "It's … I don't know," – he seems surprised at the question – "it's just a masterpiece! There will not be one reviewer in the whole of history that will condemn the play; they'll say bad things about the interpretation or performances – but the play is like,  is like Hamlet; you don't criticise the play."
Suchet also loves touring, and badgers producers to take shows out-of-town. "I said to Kim, I want to take this play out to the nation …. There are many audiences who cannot afford to come down to London, and by going out to them, they pack the theatres. And it doesn't matter why – if it's because of Poirot, so be it. Theatre must never be élitist, ever."
His wife, Sheila, joins him on the road, and for Suchet these periods are the essence of an actor's life: "We're rogues and vagabonds, we go out on the road, and any actor that finds that beneath them should not be in business. I really mean that."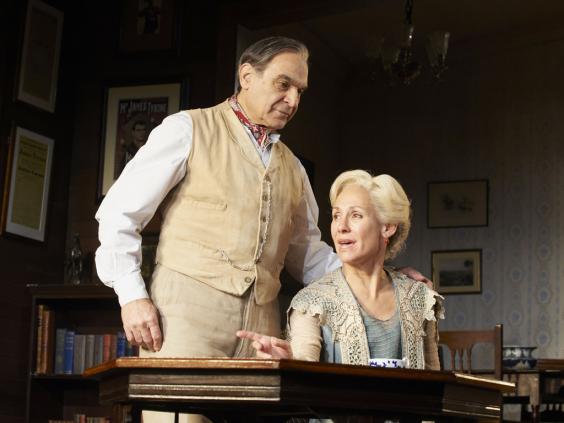 Casting Poirot as an old lady may help shift tickets, but Suchet isn't the first man to take on Lady B: Geoffrey Rush and Brian Bedford are among those who have petticoated up. Suchet's approach takes such gender-bending very seriously indeed. "I want to play her as straight as I can. It should not go into pantomime. I will avoid that like the plague … if you move into variety, panto, you're not serving Oscar Wilde."
There have been mutterings about the casting, however, with some pondering whether a man should really be taking one of the great stage roles for older women, given the general lack of them out there. Was this a concern? "I asked around, and I've had nobody say to me 'you've taken away my role' – cross-gender casting is happening more and more on both sides. I did ask that question very seriously – I did not want to be in the situation where that would be the case – and I was convinced that it wouldn't be."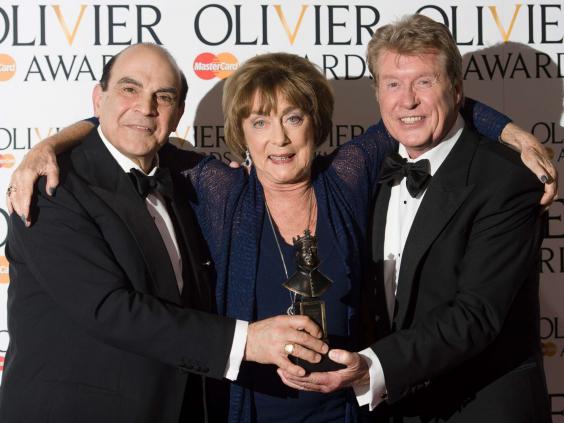 Talk more widely about the state of British theatre, and Suchet is buoyant; the West End in particular, he suggests, is on a high. "We're leading the world now with our musicals. Our dramas have always been strong, [because] we have producers in this country that take risks; [the programming] is very eclectic. We are the most cultural city in the world." He admits he's biased – Suchet lives in London.
So too, it seems, does his most famous creation – Suchet still feels Poirot's spirit when travelling about the capital and passing the many locations where they shot. "You get to know a character so well, that you are him. I could spend the day with you as him – I know what he'd eat, where he'd take you, how he'd behave." Tempting thought. Does he miss him? "Yes I do. I really do. I lived with him for 25 years."
From 25 years to 250 hours: it may not have been quite as long as Poirot, but another of Suchet's recent projects – to record the entire Bible – is still pretty epic. It's the fulfilment of a long-held ambition: Suchet's been a Christian since picking up the good book in a hotel room in 1986. Released last year, the audio-book of the New International Bible has now been downloaded by millions of listeners worldwide.
"It was extraordinary," he says of the project. "For any Christian, not to read the whole Bible is a shame, and this forced me not only to read it, but to hear it. It gave an enormous, strong foundation for my own faith."
Still, it was heavy going stuff: no wonder he fancied a comedy. And Suchet is finding Wilde's wit to be just the tonic: "We don't go deep – it's 'come and have a really fun evening, and go away happy'. I haven't been in many of those plays. It's a breath of fresh air."
'The Importance of Being Earnest' is at the Vaudeville Theatre until 7 Nov; importanceofearnest.com
Reuse content