When the Royal Court theatre announced a season of plays about revolution, it didn't seem to have much scope for eight-year-olds.
But those are the insurgents of Molly Davies's new play, God Bless the Child, in which a class of primary school children rebel against the latest patronising government-imposed education scheme.
I meet these mini-mutineers in rehearsal, in the course of which Davies has discovered that having 15 kids in the theatre (for two alternating casts) brings its own zingy energy. "It's amazing," says Davies, whose play is being directed by Vicky Featherstone, the Court's artistic director who was "nuts enough" to take on the play. "When all of the kids are there, it does feel quite mad – and then you think, this is only half a class!"
Davies has first-hand experience of chaotic classes of 30 children – she worked for three years as a teaching assistant in schools in south-east London. "Before, I was a bit scared of kids – they can be so honest! But I ended up just loving it. There aren't that many jobs where you have that kind of impact on people's lives."
But teaching isn't an easy job these days, with staff expected to deal with everything from the coalition's budget cuts to the legacy of Michael Gove's unpopular academic reforms. And Davies got an insider's view of the box-ticking, hoop-jumping, jargon-spouting schemes that teachers have been increasingly forced to adopt. "With lots of the decisions politicians make, it takes a long time to feel the effect, whereas in schools, you suddenly have to change the way you're doing [everything]. It feels like schools are being experimented with constantly. Who is that good for, I wonder, and are they ever real experiments? A lot of the time it feels like it's just another thing to control 'the learning experience'."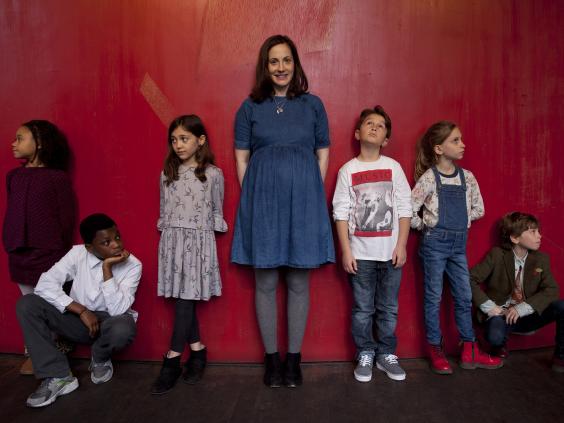 Initially, however, Davies didn't intend to write about schools – she wanted to look at wider issues around how we construct and perceive childhood itself. "In some ways we really romanticise children and want to keep them young forever, and in other ways we demonise them and suspect them of having really adult thoughts. I was interested in the pull between romanticising and demonising." She spent months interviewing experts in childhood – from child therapist Tanya Byron to social historian Hugh Cunningham and the founders of Mumsnet – to get a handle on the pressures and presumptions of modern childhood.
"But it's such a good way of looking at children, to set it in a school," Davies acknowledges, and once she started writing, she found that all the rituals – taking the register, wet play time, school songs – provided a natural, often comically familiar, framework.
God Bless the Child follows a class from Year 4, chosen to take part in a pilot scheme called "Badger Do Best". The teacher must use a cuddly toy badger to teach children to play nicely, work through arguments, and talk about their feelings. It might sound sensible and rather sweet, but the play shows how, for an overworked teacher, it's yet another control method that fails to respond to the realities of a classroom or the individuality of pupils. "It was taken from a lot of schemes I saw: so often these things are not thought out by people who have great experience of children and [the reality] is quite different – as in the play, where the kids just learn to give the answers that they know people want to hear."
The scheme soon goes awry, with one pupil, Louis, calling out its idiocy and refusing to play along. "He would undoubtedly be a complete nightmare to have in your class. But he's not always trying to be obnoxious. Louis is trying to reveal the truth, and just doesn't want to participate in any game-playing," elaborates Davies. "Eight-year-olds have such a strong sense of what is right and wrong, and of their self – why would you introduce something to squish them, and make them all the same?"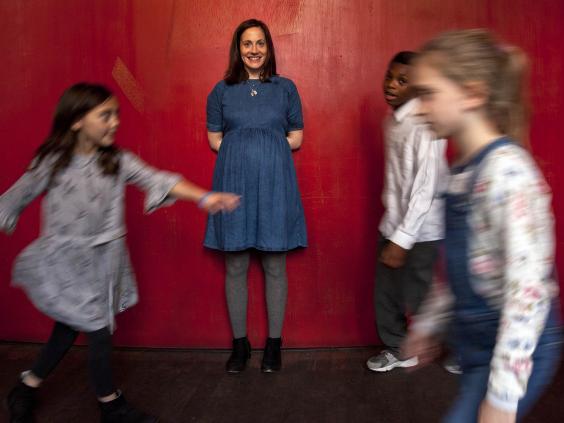 What, then, do the children make of it all? Eager and enthusiastic, they are clearly loving being on stage, but it's been important for the Royal Court's team that they feel ownership of the play – fully understanding the story rather than learning lines by rote. Lizzy Wells, eight, says: "I actually really do like school" – but even so, she thinks the Badger Do Best system is "absolutely ridiculous! It's even quite funny sometimes, because it's so babyish".
Bobby Smalldridge, the 10-year-old playing Louis, has his own theory about the play. "It's about letting schools be free to express themselves with different ideas. The message is just express yourself."
Interestingly, the script specifies that Louis may be a boy or girl – and the Court's going for both, with a different gender leading each of the mixed casts. "When I wrote it, I thought 'Louis is a boy' – he's very loosely based on a few people I met," explains Davies. "But I feel kind of ashamed of saying [that] – there's absolutely nothing that makes that character not able to be a girl. As soon as we started casting, we realised it would be amazing to have a female 'Louie' too."
Will it change the play? Davies reckons that's in the eye of the beholder. And with a press night for each cast, it will be fascinating to see whether responses reveal different reactions to rude, rebellious behaviour in a little boy or a little girl ….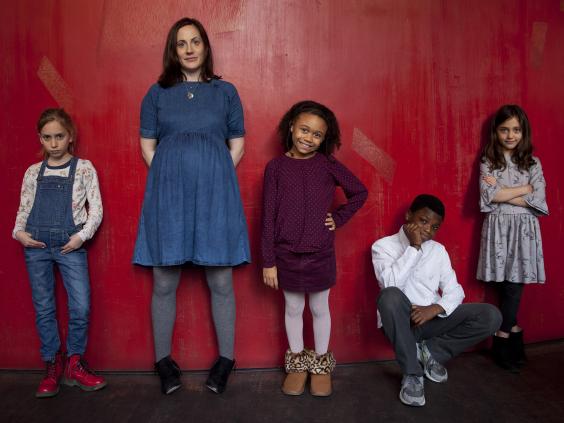 One thing Davies is clear about, however, is that God Bless is not slamming teachers: "I really hope that no one will see it as an attack on teachers, because it's totally not meant as that."
Davies is heavily pregnant when we meet and her due date is a month away; has researching the play changed how she'll educate her own child? "I will definitely send them to the local state school," she says. Even if she has written a play that flags up the absurdities and dangers of overly controlled education systems, she still has an underlying faith. "I think the state primary school is a really good thing – as long as people don't try to experiment with them too much, and let teachers just get on with teaching, they could be brilliant places."
'God Bless the Child' is at the Royal Court, London, to 20 Dec (royalcourttheatre.com)
Reuse content