Why is theatre so prudish about sex? Elsewhere, we're surrounded by more images of people getting down and dirty than ever before. In music videos pop stars can hardly keep their clothes on, mainstream movie actors are doing it for real and we're almost all allegedly experiencing the joys of sext. Perhaps most significant is the ubiquity of online pornography: there's hardly room to swing a cat meme without brushing against someone engaged in hardcore hanky-panky. 
Spending all this time watching other people get it on is undoubtedly having an impact on the ways we perceive human relationships. Yet theatre remains tight lipped on the matter. When faced with the challenge of staging scripted smut, the natural inclination of the theatre director is to reach for the arsenal of arty metaphors. It's something theatre does really well: audiences are unlikely to forget quickly the ice cream in Secret Theatre's A Streetcar Named Desire, or the jelly in Joe Hill-Gibbins' The Changeling. 
At the Lyric they're capturing the sauce of Sarah Waters' famously racy novel, Tipping the Velvet, in an unapologetically non-literal way, with some impressively acrobatic sequences involving circus silks and chandeliers – and some tongue-in-cheek deployment of wind instruments. Playwright Laura Wade explained recently in The Independent that the company is "trying to find a way of absolutely embracing the sex without it being too titillating".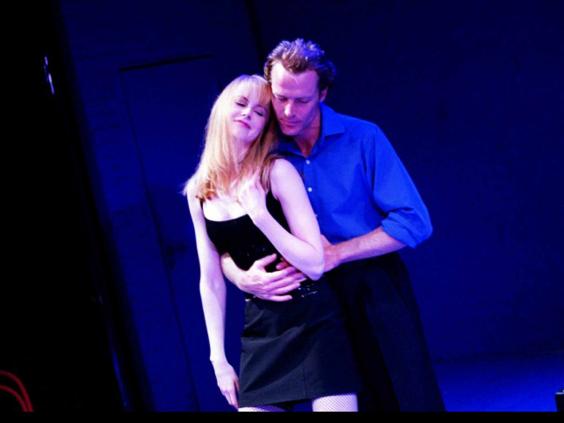 This approach is reflective of a broader sentiment in theatre that when sex on stage turns us on, it doesn't work. Charles Spencer's 1998 Daily Telegraph review of David Hare's The Blue Room, in which he implores audiences to "lie back and enjoy the sheer style and sexuality on display: it's pure theatrical viagra", still elicits wry smiles from the theatrical in-crowd. But why should we be so priggish about someone engaging with the erotic virtues of a play as much as the esoteric ones? After all, surely no one puts Nicole Kidman's naked bum on stage and really thinks the audience's enjoyment is going to be confined to the cerebral?
The current outlook seems to place sexualised sex and the intellectual as polar opposites, the implication being that critical engagement is impaired when the audience has the horn. The result of this is that theatre largely chooses (if it does so at all) to address the implications of the spectacle of sex from one remove, chastely opining that it's never tried it, but is sure it wouldn't like it if it did. 
But theatre is uniquely placed to explore this terrain. It is, after all, more than any other art form, concerned with what happens when people get together in the same place and interact. It's also a medium that asks, pointedly, what it means to watch, by forcing us collectively to be aware of our spectatorship. Often it is exactly this that makes watching stage sex so uncomfortable, underlining the weirdness of the exchange between performer and audience; it also invests the experience with its potency. As Sarah Kane, a playwright who absolutely refused to shy away from the significance of presenting the explicit, said: "The sexual connotations of 'performance' are not coincidental." 
Perhaps artists are scared of not delivering. Literal representations of sex are as likely to make the audience cringe as they are to titillate. I'm not alone in having blushed my way through an unexpectedly racy performance, especially one to which I've taken my parents (eek). As Guardian critic Michael Billington found when reviewing one show doing its bit for the sexual revolution: "The only passage of real eroticism (was) when the cast put their clothes back on."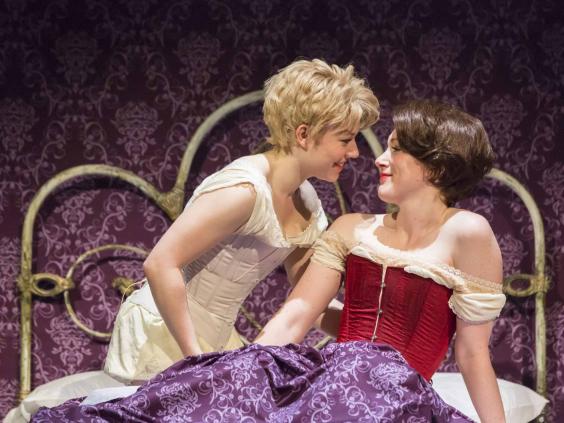 Director Josh Roche suggests that the coyness about staging sex scenes tends to be caused as much by a fear of the prudishness of the audience as it is about the reserve of the creative team. His production of Laura Jacqmin's A Third is a rare example of a piece in which staged sex felt genuine, and not toecurlingly uncomfortable. The work portrays four characters negotiating the implications of having a threesome, and their experiences are by turns fun, awkward, sexy and complicated – just like sex offstage. 
Roche identifies that when sex is played out literally on stage it is often an expression of power or aggression: think of The Romans in Britain, Spring Awakening or the work of the "in-yer-face" playwrights. How many characters on stage, particularly female ones, have enjoyable intercourse and don't end up getting punished for it afterwards? It's a narrative approach that apes the shame so frequently associated with presentations of sex in the mainstream media. 
There is a backlash against this predominance of sex negativity. Inspired by theorists such as Wilhelm Reich and Gayle Rubin, sex positivists believe that consensual coital activities are fundamentally healthy and pleasurable, and that the media has a role to play in promoting them as such. In pornography, artists like Erika Lust and Vex Ashley are challenging the fact that many porn scenes feature physical aggression in the best way they know: by showing what it looks like to have respectful, genuine sex and really, really enjoy it. 
There are notable, if rare, examples of theatre makers who might be described as sex positivists. One of the most joyous and rude presentations of sex in theatre was in Improbable's X-rated 2013 production Beauty and the Beast, which featured gloriously unabashed displays of nudity, nookie and nosh.
It's not a coincidence that the creators and stars of the production, Mat Fraser and Julia Atlas Muz, come from the world of cabaret, a form that's leaps and bounds ahead of theatre in terms of sex positivity. Fraser, who has a disability caused by Thalidomide, has spoken passionately about how our perception of reality is shaped by images in mainstream media, and how important it is to him to be an image-maker, taking control of how his body is perceived by presenting it honestly. This is precisely why theatre can't shy away from full frontal portrayals of sex as it really is, between real bodies: because it is in the business of shaping the ways in which we perceive the world. 
It's no coincidence either that Fraser and Atlas Muz are a real-life couple. It works because they really do fancy each other. Often sex onstage makes for uncomfortable viewing because it doesn't ring true. One of the most genuinely sexy and intelligent shows I've seen is Chris Goode's Ponyboy Curtis, in which the director and his company attempt to "make theatre less hopelessly bad at sex". The emphasis in the company's practice is on building the strength of the relationships of the artists, through extended periods of ensemble work. The trust and love the performers share is palpable; they are never any less than totally committed to the action, so neither are we. It's a reminder that theatre is never better than when people are doing something they completely and utterly believe in.
Ashley and Roche joined us on Sunday at Camden People's Theatre to discuss this as part of our A Fun Palace for Grown Ups event. We put theatre-makers and pornographers together to consider what they can learn from one another about prompting positive conversations about sex. Our aim is to inspire theatre makers to be more risky about what they're willing to stage. Theatre might find presenting accurate portrayals of sex uncomfortable, but, like so many things in life, it will only get better with practice. µ
Amber Massie-Blomfield is executive director of Camden People's Theatre
Reuse content