They're an impressive pairing, the Director Designate of the National Theatre and the Pulitzer Prize winner.
Rufus Norris, in the midst of the self-confessedly "daunting" task of formulating his vision for the country's leading theatre, is directing a new play based on American author Katherine Boo's multi-award-winning 2012 non-fiction masterpiece about India, Behind the Beautiful Forevers. This recounts, in vivid, clear-eyed, often bruising detail, the lives of the residents of Annawadi, a slum settlement in the shadow of Mumbai's gleaming international airport. The major source of income for Annawadians is from collecting recyclable garbage for resale.
It must have been an act of faith for Boo, 50, to allow her work of painstaking reportage, albeit one that is page-turning in its novelistic sweep, to be morphed into a stage fiction, where meticulously researched interview subjects will perforce become "characters". She reveals that she said "no" to the proposal at first, admitting that "I've got a jumpy-rabbit heart about a lot of things [in life]". She elaborates on that initial refusal: "There's no point in doing work like this if it only ratifies clichés. It has to challenge them. So, I went to Annawadi and said, 'What do you guys think?' and they [said], 'Well, fine!' So I thought, why not? You try in the work to tell a compelling, factually sound story, but you're also trying to open up a space of deliberation about very serious problems and I said, 'OK, this play is just opening up a different space'."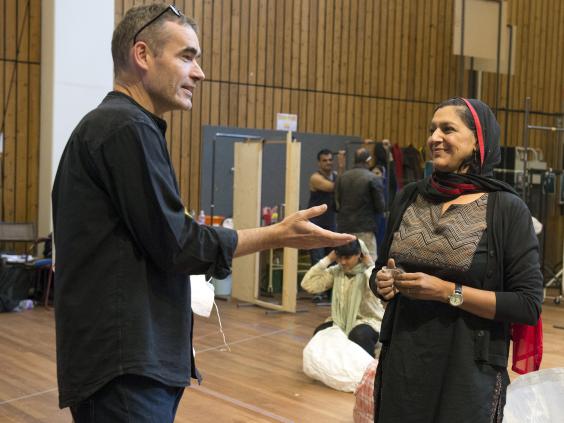 Boo was, she says, shocked and thrilled to be walking on the South Bank recently and see a poster advertising the show. "It's a crazy thing for this place to invest so much in a story of casual labourers in a slum. It would never happen in America." It's not only the National which believes this story needs to be told, but also the heavyweight playwright David Hare, who has done the adaptation. Boo gave detailed notes on an early draft of his script, but otherwise has left him to it. "David needs his space to make something new. It's David's play. I don't know the language of storytelling in theatre."
Boo's connections to India require no explanation; she returns frequently to Annawadi ("So far they're happy to see me!") and reports that with the easing of worldwide recession things have improved a little for its inhabitants. Had you, I ask Norris, 49, any experience of India before this project? "No. I grew up in Malaysia [his father lectured in local government there; Norris also lived in Nigeria and Ethiopia as a child] but I'd never been to India. My favourite thing to do is to step outside of Europe and get lost in another culture. India is such an onslaught that one's response is very complex." He looks out of the window of his cramped temporary office before giving one of his typically thoughtful, slightly tortured responses. "The difficulty with inviting [these characters] into a building on the South Bank where it's common knowledge we've just spent 83 million quid doing it up is that we have to get a sense within the piece that these people are not in any way exotic. They have exactly the same ambitions and complexities that we do."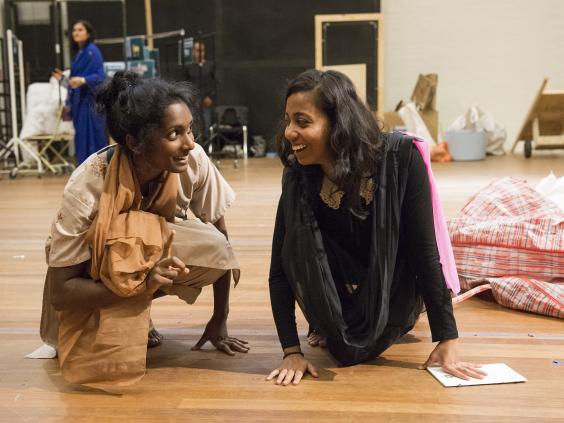 Norris and Hare went on a week-long research trip to India, "unmediated" by Boo as per her stipulation, to visit various slums as well as key locations in the book. "When we went David said, 'I'm going to let you go out and steal [scrap] metal and do all of those things …','' says Norris. Did you? "I might have done a little bit!" Were you any good at it? "No, I was rubbish at the rubbish!" He laughs. "I did hear back from the Annawadians that Rufus made quite an impression," says Boo with a mischievous grin. "He danced!"
It's probable that Norris has had little time for dancing since October 2013, when he was officially announced as Nicholas Hytner's successor as Artistic Director or, as Norris himself describes it, "the head lab technician" in the chemistry lab of theatrical alchemy. Since then, he has made a film of his huge NT hit London Road, but the National has taken pains to shield him from excessive media attention; he hasn't given a solo interview as yet. Nonetheless, the spotlight must be on him, especially in the run-up to announcing his first season in January.
Does such heightened interest sit easily with this rather unassuming man? "What's taken more focus and training is the amount of public speaking that I need to do now and the degree to which I'm representing the theatrical arts and the arts in the wider sense." Do you enjoy that? "I don't think I'll enjoy it until I get good at it," he says with the endearing, disarming honesty that's in marked contrast to Hytner's polished media savvy. "I really hope that I'll be fully enjoying this job in a couple of years. Until then, it's a very steep learning curve."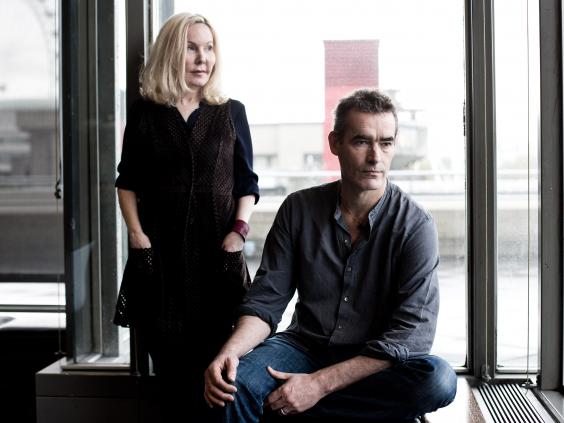 How has he set about shaping his vision for the National? "By gathering a great team, principally," he says. "I'm very, very collaborative. I'm a director, not a writer. You don't initiate as a director, you respond. Also, I don't come from a position of tremendous knowledge about the core canon and the history of world theatre. I'm trying to catch up." He is considering ways that the National could become "more national", he says, but declines to be drawn into specifics.
I ask the pair about the best piece of professional advice they have ever received. Boo, desolate after being offered only a derisory amount of magazine space to write up seven years of research into the largest housing project in Washington DC, was galvanised by a friend who advised: "Subsidise their lack of interest with your surplus. Make them want it." Norris says that he has received two top tips since his appointment. "One of them was, 'Your marriage will survive between the hours of six and seven in the evening'. It was a friend, telling me I had to move house so that I could get home quickly." Did you? "Yep. It nearly killed us, but it's great." In terms of work, "a quick 'no' is almost as good as a 'yes'." He pauses. "There's a temptation to be a wanker. But it's your job to make decisions, so make the decision." With that, the decision is made to return to the teeming rehearsal room world of Annawadi.
'Behind the Beautiful Forevers' is at the National Theatre  from Monday (020 7452 3000,  nationaltheatre.org.uk) 10 Nov (020-7452 3000, national theatre.org.uk)