Has the great "post-austerity play" been staged yet? Artistic director Rupert Goold doesn't think so – but the next show at the Almeida theatre aims to plug that gap. Leo Butler's Boy follows a white working-class teenager over one day as he drifts around London, with no money, no qualifications, no friends and no prospects. Liam, the boy, is slipping through the cracks faster than p**s down a drain.
"There is a real issue, particularly in London, with young people coming out into society with fewer job opportunities," Goold tells me over the phone from New York (where his production of American Psycho is soon to open). "What really spoke to me about the play is that [the Almeida] is in one of the most socially and economically divided boroughs in the county, Islington; we were very keen to explore that."
Culture news in pictures
Culture news in pictures
1/30 31 August 2016

Two people walk under spectral colored umbrellas of the art installation 'REGEN.WALD' (rain.forest) in Vienna, Austria. The installation is part of the annual cultural projects 'space and place' and 'Vienna lives'

EPA

2/30 30 August 2016

(L-R) Martin Roth, Nick Mason of Pink Floyd, Tim Reeve, Victoria Broackes and Michael Cohl attending a photo call for the first ever Pink Floyd Exhibition in the UK, at the Victoria and Albert Museum in London

PA

3/30 29 August 2016

Participants watch the flames on the Spire of Fire as approximately 70,000 people from all over the world gather for the 30th annual Burning Man arts and music festival in the Black Rock Desert of Nevada

REUTERS

4/30 17 August 2016

(L-R) Chris Warner Drake as Fred, Charlie Bull as Daphne, Joe Goldie as Scooby-Doo, Charlie Haskins as Shaggy and Rebecca Withers as Velma appear on stage in Scooby-Doo Live! at London Palladium

Getty Images

5/30 16 August 2016

Stone collector Luigi Lineri, 79, walks through his stone collection found along Adige river, at his home workshop in Zevio, near Verona, Italy. The stones resemble animal heads, human faces and other forms, and the artist and poet believes may have been shaped by prehistoric humans. Lineri has built his vast collection over the last 50 years. "I haven't counted them and don't intend to do so but the quantity is significant," Lineri said. "At first I thought that a few stones for each different shape would be enough and then I understood that in their thousands, they give a sense of community... For me the quantity is sacred: it takes a lot to build a cathedral." Lineri says there has been no independent verification of whether the stones are indeed prehistoric sculpture and has not sought one, being more interested in them as "a work of art"

REUTERS

6/30 15 August 2016

Iraqi dancers, from the Folk Arts group, perform on the stage of the National Theatre, to mark the 61 anniversary of the founding of the cinema of Iraq

AFP/Getty Images

7/30 14 August 2016

British rapper Tinie Tempah performs at the 24th Sziget (Island) Festival on Shipyard Island, northern Budapest, Hungary

EPA

8/30 14 August 2016

Auctioneers Lyon & Turnbull are to sell an iconic image of Brigitte Bardot valued at £3,000-£5,000 by the legendary artist Gerald Laing in a sale at the auction house in Edinburgh

PA

9/30 14 August 2016

Claudette Mukasakindi of Rwanda runs by the Puffed Star by Frank Stella during the Women's Marathon on Day 9 of the Rio 2016 Olympic Games at the Sambodromo

Getty Images South America

10/30 13 August 2016

Festivalgoers enjoy the colour party, when participants throw colored powder at each other, on the Obudai-sziget (Old Buda Island), the venue of the 24th Sziget Festival, in Northern Budapest, Hungary

EPA

11/30 12 August 2016

A general view of the 20th giant flower carpet at the Grand Place, in Brussels, Belgium. This year the theme of the flower carpet is celebrating 150 years of Belgian-Japanese friendship

EPA

12/30 11 August 2016

Members of the public look at an artwork entitled 'Museum of the Moon', a 7 metre diameter inflatable moon covered with imagery of the lunar surface, on the opening day of the Bristol International Balloon Fiesta in Bristol

AFP/Getty Images

13/30 11 August 2016

Visitors look at tapestries by Jean Lurcat on display at a preview at the gallery of the Talstrasse art association in Halle/Saale, Germany. The show dedicated to the French artist runs from 11 August to 20 November

EPA

14/30 10 August 2016

"Carmen High" cast performs at Spotlites Theatre during a recital of Stephanie Vlahos' "Carmen High" at the Edinburgh Fringe Festival

Getty Images

15/30 9 August 2016

Sia performs during Byblos International Art Festival, north of the Lebanese capital Beirut

AFP/Getty Images

16/30 19 July 2016

People apply wax on 'Le Penseur' (The Thinker), a sculpture by late French sculptor Auguste Rodin, to protect it from weather damages and pollution at the Rodin museum in Paris

AFP/Getty Images

17/30 18 July 2016

The painting 'Venus in Furs' hangs in the Picture Gallery in Park Sansouci in Potsdam, Germany. After having been missing for 70 years, the painting fom 1640 by a Flemish master was returned from private hands. The Foundation Prussian Palaces and Gardens Berlin-Brandenburg has been missing around 2,000 objects since the Second World War

EPA

18/30 17 July 2016

Artists of the French pyrotechnic company "Groupe F" perform during the show "A fleur de peau" (On edge) at the Venaria Reale Palace, in Venaria, near Turin

AFP/Getty Images

19/30 16 July 2016

Dancers of the British dance company Balletboyz perform in "Rabbit", choreographed by Pontus Lidberg, during the Malta Arts Festival in Valletta, Malta

REUTERS

20/30 15 July 2016

Singer Gwen Stefani performs on NBC's "Today" Show at Rockefeller Plaza in New York City

Getty Images

21/30 14 July 2016

People sit under illuminated giant raindrop-shapes at an interactive art installation to raise awareness of autism, in Shanghai

Rex Features

22/30 13 July 2016

An installation 'A wall of life jackets and their stories' by Andrew Wakeford and Fred George is on display at Johanneskirche in Saarbruecken, Germany. The installation is made of original life jackets found on the beaches of Greece and barbed wires, along with interviews and portraits of who have fled from the conflict in the Middle East to Europe. The exhibition runs from 15 July to 26 August

EPA

23/30 12 July 2016

Chinese artist Ai Weiwei poses next to a sculpture that is part of his installation "Circle of Animals/Zodiac Heads" in front of the Upper Belvedere palace in Vienna, Austria. From 14 July to 20 November 2016, the 21er Haus museum presents Ai Weiwei's solo show "translocation - transformation", with the central exhibit of a tea merchant family's ancestral temple from the Ming Dynasty, whose main hall will be reconstructed in the 21er Haus

AFP/Getty Images

24/30 11 July 2016

"Mediterranean Body", a monumental sculpture by COSKUN is seen at the 11th Taehwa River Eco Art Festival in Ulsan, South Korea. The artist, with his wooden monumental sculpture pays tribute to refugees who lose their lives at sea

Rex Features

25/30 10 July 2016

A festival-goer paints a mandala during the 2nd Samsara Yoga and Music Festival in the Toreki neighbourhood of Siofok, 102 kms southwest of Budapest, Hungary. Visitors can enjoy music performed on three stages and attend workshops, lectures and conversations with yoga trainers, instructors, therapeutists, psychologists, doctors and healers between 6 and 11 July

EPA

26/30 9 July 2016

Naked volunteers, painted in blue to reflect the colours found in Marine paintings in Hull's Ferens Art Gallery, participate in US artist, Spencer Tunick's "Sea of Hull" installation in Kingston upon Hull

AFP/Getty Images

27/30 8 July 2016

Mark Rylance (L) is returning to the West End stage in Nice Fish - and fans will be able to see him for free if they dress up as fish. Nice Fish, the critically acclaimed comedy by Rylance and prose poet Louis Jenkins, will have a limited run from November at London's Harold Pinter Theatre after a successful season in New York

PA

28/30 7 July 2016

Women wearing summer kimonos, called yukatas, look at goldfish during the 2016 EDO Nihonbashi Art Aquarium exhibition in Tokyo. The 10th anniversary of the festival will start on 8 July and will continue until 25 September, displaying some 8,000 goldfish in various special art exhibits

AFP/Getty Images

29/30 6 July 2016

Musician Tim Lopez (L) and Tom Higgenson of the Plain White T's perform at the Grove's Summer Concert Series in Los Angeles, California

Getty Images

30/30 5 July 2016

Tourists walk through a lantern installation in Zhangjiakou, Hebei Province, China

REUTERS
The play will introduce their privileged audiences to the world of those considerably less fortunate – but Goold is hoping the traffic goes both ways. As well as featuring a large community chorus, Boy will be accompanied by a new outreach offering for disadvantaged young people. The Almeida has partnered with Arsenal in the Community; 40 young people will work with playwrights including Charlotte Josephine who wrote Bitch Boxer, and Stephen Camden aka performance poet Polarbear, writing short plays that respond to Boy and draw on their own experiences. These will be staged by professional actors and directors at the Almeida during Boy's run.
"Arsenal, as a football club, are also looking at what it means to be young, male and disenfranchised on some level – they have their own extensive programme around some of the estates that are also our local estates," says Goold. "We thought, wouldn't it be great to run a programme using that network, with people who don't really have any contact with theatre, or possibly the arts in general." Being in Islington, there is a risk their young people's programmes are attended by the kids of well-heeled, already culturally engaged locals; partnering with a football club gives the theatre access to a genuinely different cohort.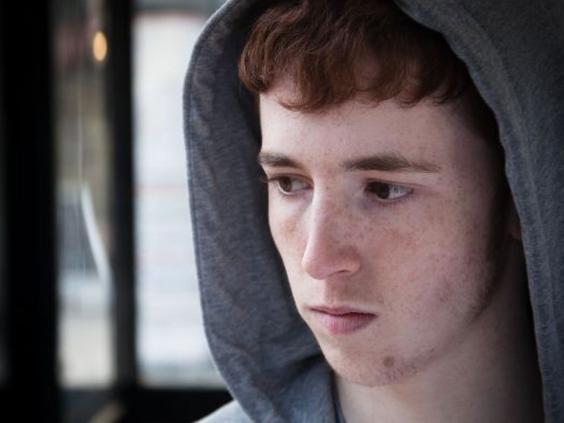 The younger members of the cast of 26 are also influencing the actual text in rehearsals. "I was writing some slang that probably was closer to 1998 than 2016…" acknowledges Leo Butler with a laugh. "It's great having such a big cast, and so diverse, and so many of them kids… I'm getting a really good education in contemporary slang!"
The character of Liam perfectly captures the rhythms of yoof speak too, what Goold calls the "incredibly vivid inarticulacy of contemporary urban language". Lines like "Oh, what really then isit?" or "So like then skills then, you think?" might appear virtually meaning-free, yet gradually a painful portrait of a lost young man emerges.
But Liam is also surrounded by a cacophony of other voices, of the Londoners he passes at bus stops, on trains, in estates. Many of these snatches of quotidian dialogue, from a drunk hen party to boasting hipsters to irate benefits claimants, are provided by Butler as an appendix to the script – an optional source of extra material.
"Liam is isolated and wandering round the city, but the people he encounters are as important as he is. There are characters from all walks of life, but they're all under economic pressure of some kind," elaborates Butler. "Creating an appendix meant I could throw in as much as I wanted. But we're finding we're using less as we go on – you only want things that seem to mirror Liam's journey."
What spurred Butler to write a play focusing on a white working-class teenager? "I've seen the character around – these teenagers who've left school and have nothing to do. There are lots of stories about young people overcoming the odds to do something amazing – the old X Factor or Billy Elliot story. But I was interested in a character that doesn't have that talent, [where] living a life with nothing to do and nothing to look forward to is just the norm."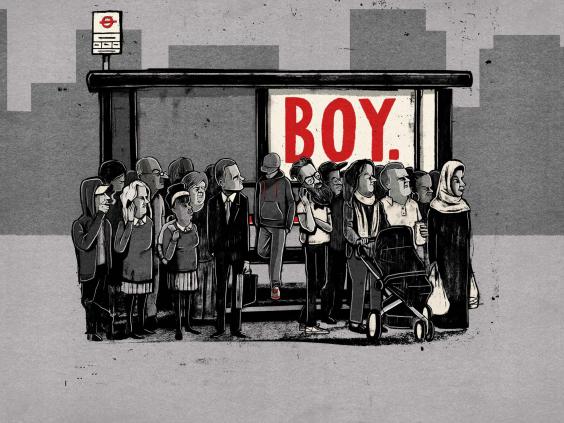 Boy is quietly heart-breaking, but there's always the risk that showing boredom onstage might just be, well, boring. But this production also promises to be an audio-visual sensory assault. "Sacha Wares, the director, had come across an early draft of Leo's play and had this very ambitious visual idea for it," says Goold. While he doesn't want to give away too much away, he describes it as a "collage" of speech, movement and sound design.
"The show is not a linear series of scenes with people talking to each other; it's more an environmental soundscape with movement. Boy looks at how someone could drift through a city very fluidly and yet be totally socially static – so the staging is a metaphor for that." Think more physical theatre than Royal Court-style new writing, he concludes: "A dreamy, dance version of Ken Loach."
'Boy' is at the Almeida theatre from 5 April to 28 May (almeida.co.uk)
Reuse content