Has the great "post-austerity play" been staged yet? Artistic director Rupert Goold doesn't think so – but the next show at the Almeida theatre aims to plug that gap. Leo Butler's Boy follows a white working-class teenager over one day as he drifts around London, with no money, no qualifications, no friends and no prospects. Liam, the boy, is slipping through the cracks faster than p**s down a drain.
"There is a real issue, particularly in London, with young people coming out into society with fewer job opportunities," Goold tells me over the phone from New York (where his production of American Psycho is soon to open). "What really spoke to me about the play is that [the Almeida] is in one of the most socially and economically divided boroughs in the county, Islington; we were very keen to explore that."
Culture news in pictures
Culture news in pictures
1/30 24 May 2016

Artist paints a reproduction of one of the vincent Van gogh's painting for the 'Loving Vincent' film in Wroclaw, Poland. 'Loving Vincent', the world's first fully painted animation feature film, will be about the life and death of the Dutch famous painter Vincent van Gogh

EPA

2/30 23 May 2016

John Oliver, Jimmy Fallon and Jennifer Lawrence during a taping of "The Tonight Show Starring Jimmy Fallon" in New York City

Getty Images

3/30 22 May 2016

French Moroccan director Houda Benyamina (C) poses with the Camera d'Or next to actresses Jisca Kalvanda (L), Oulaya Amamra (2ndL) and Deborah Lukumuena (R) at the Palme D'Or Winner Photocall during the 69th annual Cannes Film Festival

Getty Images

4/30 21 May 2016

Swedish artist Andreas Englund signs one of his murals at the Urban Nation museum for urban contemporary art, in Berlin

Getty Images

5/30 20 May 2016

(L-R) Autor Tom Brokaw, Legion of Honor's Grand Chancellor General Jean-Louis Georgelin, Actor Tom Hanks, Ambassador of USA in France, Jane D. Hartley and Doctor Gordon "Nick" Mueller attend Tom Hanks, Tom Brokaw & Gordon "Nick" Mueller receive the Legion d'Honneur Medal at Palais de la Legion d'Honneur in Paris

Getty Images

6/30 19 May 2016

Visitors study work by Tod Papageorge in the gallery areas at the "Photo London 2016" event at Somerset House in central London. Featuring work from some of the world's most respected photographers, the event is aiming to put London on the map as the global city of photography

Getty Images

7/30 18 May 2016

A view of the building that will house planned Urban Nation - Museum for Urban Contemporary Art in Berlin. The street art museum is scheduled to open in 2017

EPA

8/30 17 May 2016

Kate Morais looks at the 'Colossal statues of a king and a queen' (283-246 BC) - which are reflected in a display cabinet glass - which stand over five meters tall during a preview of the 'Sunken Cities: Egypt's Lost Worlds' exhibition at the British Museum in London. This is the museum's first large scale exhibition of underwater archaeological finds and tells the story of two lost Egyptian cities and their recent discoveries beneath the Mediterranean, excavated off the coast of Egypt near Alexandria between 1996 and 2012

Getty Images

9/30 16 May 2016

Kurt Cobain's Univox electric guitar played and destroyed by Cobain at Nirvana's 13 July 1989 concert at Maxwell's in Hoboken, New Jersey is displayed during Julien's Auction Music Icons Press Exhibition at Hard Rock Cafe, Times Square in New York City

Getty Images

10/30 15 May 2016

Cast of the "From The Land Of The Moon (Mal De Pierres)" attend the premiere during the 69th annual Cannes Film Festival at the Palais des Festivals

Getty Images

11/30 14 May 2016

Jamala representing Ukraine with the song "1944" celebrates with the trophy after winning the final of the Eurovision Song Contest 2016 Grand Final in Stockholm

Getty Images

12/30 13 May 2016

A mural on a restaurant wall depicting US Presidential hopeful Donald Trump and Russian President Vladimir Putin greeting each other with a kiss in the Lithuanian capital Vilnius. Kestutis Girnius, associate professor of the Institute of International Relations and Political Science in Vilnius university, said: "This graffiti expresses the fear of some Lithuanians that Donald Trump is likely to kowtow to Vladimir Putin and be indifferent to Lithuanias security concerns. Trump has notoriously stated that Putin is a strong leader, and that NATO is obsolete and expensive"

Getty Images

13/30 12 May 2016

People visit the artwork titled Seven Magic Mountains by artist Ugo Rondinone, near Jean, Nevada. The artwork was recently completed in the desert south of Las Vegas

AP

14/30 11 May 2016

Justin Timberlake attends the "Trolls" Photocall during The 69th Annual Cannes Film Festival

Getty Images

15/30 10 May 2016

Curator Ben Russell poses with a 2.4 meter robot called Cygan, built in 1957, on display at the Science Museum before announcing a new robot exhibition for 2017

Getty Images

16/30 9 May 2016

A Palestinian artist paints a graffiti on a wall of the United Nations school of Beit Hanun, in the northern Gaza Strip

Getty Images

17/30 8 May 2016

Jon Snow collects the award for best news coverage on behalf of Channel 4 during the House of Fraser BAFTA TV Awards 2016 at the Royal Festival Hall in London

PA

18/30 7 May 2016

Illustration View of the 'Empires' exhibition of Huang Yong Ping as part of Monumenta 2016 to Grand Palais from 8 May till 18 June 2016

Getty Images

19/30 6 May 2016

People, including Russian servicemen, attend a concert of Mariinsky Theatre in the amphitheatre of the Syrian city of Palmyra, Syria

Reuters

20/30 5 May 2016

A child looks at an artwork titled 'Bi-lateral Relations' by Uruguay artists Fernando Foglino and Valentina Cardellino during the Latin America and Caribbean Art Festival Visual Art Exhibition 2016 at the World Art Museum of the China Millennium Monument in Beijing. The exhibition runs until 26 May, and is part of joint activities to mark the China-Latin America and Caribbean Cultural Exchange Year

EPA

21/30 4 May 2016

(L-R) David Furnish, Lady Gaga and Macy's CEO Terry J. Lundgren attend Love Bravery by Lady Gaga and Elton John Launch at Macy's Herald Square in New York City

Getty Images

22/30 3 May 2016

The Hofburg palace is illuminated by a projection of Viennese artist Viktoria Coeln for the project Dystopia Eutopia in Vienna, Austria

AP

23/30 2 May 2016

A visitor looks at paintings by Yemeni female artists displayed at a gallery during an exhibition entitled Women Creativity for Peace in the capital Sanaa

Getty Images

24/30 1 May 2016

A man looks at an art piece during the Oshtoora festival in an open desert north Fayoum, Egypt. Oshtoora festival, or "A temporary sate," is held only once a year in a different locations within Egypt. The festival is based on expression of music, arts, and cultures in an open natural environment

AP

25/30 30 April 2016

Actress Lupita Nyong'o attends "Eclipsed" To Launch A Dedications Series In Honor Of Abducted Chibok Girls Of Northern Nigeria at Golden Theatre in New York

Getty Images

26/30 29 April 2016

Kabuki actor Shido Nakamura (in red) performs in a final dress rehearsal for the kabuki theatre show 'Hanakurabe Senbonzakura' in Tokyo, Japan. The latest digital technology kabuki theatre piece 'Hanakurabe Senbonzakura' is part of the Niconico Chokaigi festival in Tokyo. The festival was organized by video website Niconico, combining Kabuki, a traditional Japanese theatre art and cutting edge animation technology, co-starring kabuki superstar Shidou Nakamura and the popular virtual idol Hatsune Miku

Getty Images

27/30 28 April 2016

Members of the Australian ballet perform in the scene from "Scent of the Love" during the dress rehearsal for the national premiere of Symphony in C that comprises of five short ballet works at the Opera House in Sydney

Getty Images

28/30 28 April 2016

The statue of Christ the Redeemer is illuminated in Brazilian flag colours, including a projected face designed by Brazil based Italian-French lighting artist Gaspare Di Caro, to celebrate 100 days until the start of the Olympic Games Rio 2016

Getty Images

29/30 27 April 2016

A visitor looks at an artwork during the opening of the exhibition Lumieres d'Afriques (Lights of Africa) at the Charles Donwahi Foundation in Abidjan. The exhibition conceived by African Artists for Development (ADD) displays artworks including photographs, paintings and sculptures by 54 African artists, one from each country of the continent, who have created their pieces inspired by the theme The Illuminated Africa. The exhibition runs from 27 April to 6 June 2016

Getty Images

30/30 26 April 2016

A general view of the new Georg Baselitz exhibition in London. White Cube presents Wir fahren aus, a major exhibition of new works by the German artist Georg Baselitz. The exhibition, which will span the entire gallery space, includes large-scale paintings, bronze sculpture and an extensive body of works on paper. Baselitz's first solo exhibition at White Cube Bermondsey draws together two familiar strands within the artist's practice: portraiture and the process of remixing, whereby images are repeated and reinterpreted over time using different techniques and mediums. The exhibition is open to the public 27 April and 3 July 2016

Rex
The play will introduce their privileged audiences to the world of those considerably less fortunate – but Goold is hoping the traffic goes both ways. As well as featuring a large community chorus, Boy will be accompanied by a new outreach offering for disadvantaged young people. The Almeida has partnered with Arsenal in the Community; 40 young people will work with playwrights including Charlotte Josephine who wrote Bitch Boxer, and Stephen Camden aka performance poet Polarbear, writing short plays that respond to Boy and draw on their own experiences. These will be staged by professional actors and directors at the Almeida during Boy's run.
"Arsenal, as a football club, are also looking at what it means to be young, male and disenfranchised on some level – they have their own extensive programme around some of the estates that are also our local estates," says Goold. "We thought, wouldn't it be great to run a programme using that network, with people who don't really have any contact with theatre, or possibly the arts in general." Being in Islington, there is a risk their young people's programmes are attended by the kids of well-heeled, already culturally engaged locals; partnering with a football club gives the theatre access to a genuinely different cohort.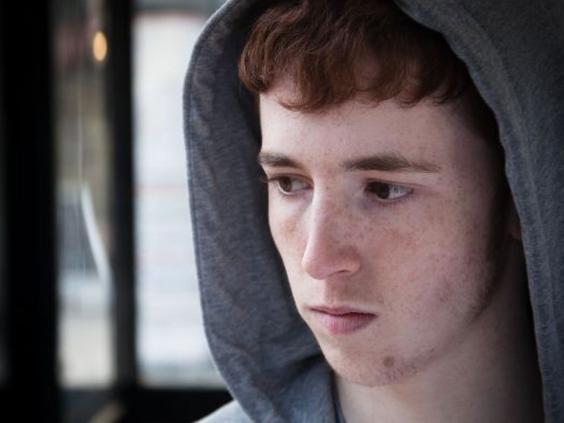 The younger members of the cast of 26 are also influencing the actual text in rehearsals. "I was writing some slang that probably was closer to 1998 than 2016…" acknowledges Leo Butler with a laugh. "It's great having such a big cast, and so diverse, and so many of them kids… I'm getting a really good education in contemporary slang!"
The character of Liam perfectly captures the rhythms of yoof speak too, what Goold calls the "incredibly vivid inarticulacy of contemporary urban language". Lines like "Oh, what really then isit?" or "So like then skills then, you think?" might appear virtually meaning-free, yet gradually a painful portrait of a lost young man emerges.
But Liam is also surrounded by a cacophony of other voices, of the Londoners he passes at bus stops, on trains, in estates. Many of these snatches of quotidian dialogue, from a drunk hen party to boasting hipsters to irate benefits claimants, are provided by Butler as an appendix to the script – an optional source of extra material.
"Liam is isolated and wandering round the city, but the people he encounters are as important as he is. There are characters from all walks of life, but they're all under economic pressure of some kind," elaborates Butler. "Creating an appendix meant I could throw in as much as I wanted. But we're finding we're using less as we go on – you only want things that seem to mirror Liam's journey."
What spurred Butler to write a play focusing on a white working-class teenager? "I've seen the character around – these teenagers who've left school and have nothing to do. There are lots of stories about young people overcoming the odds to do something amazing – the old X Factor or Billy Elliot story. But I was interested in a character that doesn't have that talent, [where] living a life with nothing to do and nothing to look forward to is just the norm."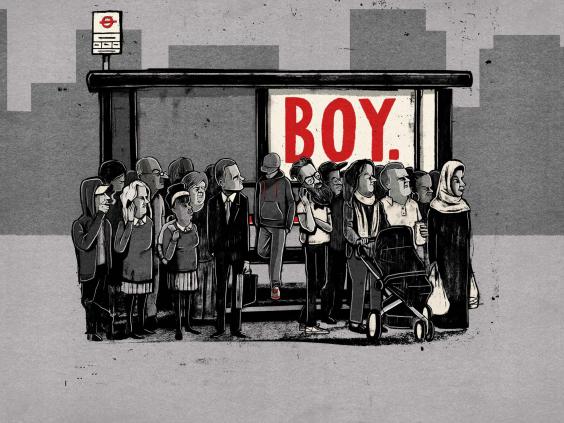 Boy is quietly heart-breaking, but there's always the risk that showing boredom onstage might just be, well, boring. But this production also promises to be an audio-visual sensory assault. "Sacha Wares, the director, had come across an early draft of Leo's play and had this very ambitious visual idea for it," says Goold. While he doesn't want to give away too much away, he describes it as a "collage" of speech, movement and sound design.
"The show is not a linear series of scenes with people talking to each other; it's more an environmental soundscape with movement. Boy looks at how someone could drift through a city very fluidly and yet be totally socially static – so the staging is a metaphor for that." Think more physical theatre than Royal Court-style new writing, he concludes: "A dreamy, dance version of Ken Loach."
'Boy' is at the Almeida theatre from 5 April to 28 May (almeida.co.uk)