Theatre directing is a notoriously unpredictable career, so it's instructive to talk to two younger practitioners who have defied the financial and artistic odds to make it work. Nadia Fall and Polly Findlay are two of the brightest talents in British theatre and both started out as assistant directors at the National Theatre. They got there by differing means, Fall via a strict Asian upbringing and Findlay as a former child actor, but this winter sees them at the helm of shows in the National's two biggest auditoria. Dara, directed by Fall, looks at the bloody history of the Mughal Empire in India, while Findlay's Treasure Island is the National's big-budget family offering. I met up with them to talk about their career paths so far, as well as their hopes – and fears – for the future.
Fiona Mountford: You started out at the National as assistant directors. Do you think it's the best training model?
Polly Findlay: I think from a pragmatic point of view it's excellent. The thing that was invaluable about working here was understanding the whole ecology of a building in a way that is extremely useful when you come to the point of putting together your own pieces of work.
Nadia Fall: I think it breaks that kind of mystique of scale, being able to be an assistant with lots of people in the room. Here you do actually get your hands dirty, you don't just make coffee. You do get to rehearse the understudy company and do an understudy version of the play. I think that's invaluable and I certainly learnt loads.
Bright young things: 10 faces to watch in 2015
Bright young things: 10 faces to watch in 2015
1/10 Film: Maisie Williams, 17

Maisie Williams has long excelled as the impish but endlessly defiant Arya Stark in HBO's Game of Thrones but she now looks set to make the transition to the big screen. She was very striking as the teenage rebel/cross-country runner Abbie in Irish comedy-drama Gold and she stars in Carol Morley's eagerly awaited new film, The Falling, about a hysterical fainting fit at an all-girls' school in the late 1960s. She has also been chosen as a Shooting Star at the Berlin Festival, an honour that Daniel Craig and Rachel Weisz likewise enjoyed at the start of their careers.

Getty Images

2/10 Music: Jinwoo, 27

Jinnwoo is Leicester-born, Brighton-based Ben Webb, a wyrd-folk singer-songwriter whose debut EP, Your Baby, appeared this summer, more recently followed by the single "I Am, I Am, the World's Oldest Man". These early songs hint at a reclusive, introspective character somewhat at odds with Webb's day-job as a professional photographer (he shot the cover for The Rails' debut album). There's certainly a quiet intensity to Jinnwoo's work that recalls influences as disparate as Sixties folkie Anne Briggs and Elliott Smith. Jinnwoo's debut album, Strangers Bring Me No Light, is scheduled for an autumn 2015 release.

3/10 TV: Colin Morgan, 28

DSI Stella Gibson had her pick of the police in The Fall, but it was DS Tom Anderson, who caught her eye. That should tell you something about the appeal of Colin Morgan, the actor who played him. Born in Armagh, Northern Ireland, Morgan has a background in theatre that includes Shakespeare at the Globe, but it wasn't until he landed the title role in BBC teatime favourite Merlin that he arrived on television. The Fall represents an intriguing shift towards more mature material and there's more to come in 2015, when Morgan stars alongside William Hurt in Channel 4's new sci-fi series Humans.

Getty Images

4/10 Dane: Marcelino Sambe, 20

The Royal Ballet's Portuguese-born first artist is already making waves. He's the kind of dancer who draws your eye even in smaller roles. Choreographers Kim Brandstrup and Alastair Marriott created roles for him when he was still in the corps de ballet, showing off his soaring jump and velvety flow of movement. Sambé has an impressive technique, matched with energy and stage presence. He's also a budding choreographer, selected by Youth Dance England and creating works for The Royal Ballet's Draft Works programme. In February, he's scheduled to dance in the virtuoso pas de trois in the Royal Ballet production of Swan Lake.

5/10 Books: Eliza Robertson, 27

At just 27, Eliza Robertson has already distinguished herself as a promising new voice on the literary scene. Wallflowers, her debut collection of short stories is published by Bloomsbury on 15 January. A bestseller in her home country, Canada, the New York Times hailed it as a "captivating" read. Her pre-published career was sprinkled with stardust too: while completing her MA in Prose Fiction at the University of East Anglia, she received the Man Booker Scholarship and the Curtis Brown Award for best writer. This debut collection is international in scope, spanning Pacific beaches, Lisbon cafés and the wilds of Canada.

6/10 Comedy: Dane Baptiste, 33

The south Londoner was nominated for the Best Newcomer prize at the Foster's Edinburgh Comedy Awards last August – the first black British comedian to make the shortlists. Smart, likeable and utterly at ease on stage, his material hops from his Grenadian roots to his twin sister, from nutmeg to wasps. With appearances on Seann Walsh's Comedy Spectacular and CBBC's The Johnny and Inel Show under his belt, last year he supported Katherine Ryan on tour and is now clearly destined for major television vehicles like Mock the Week and Live at the Apollo. In the meantime, see his award-nominated show Citizen Dane at London's Soho Theatre from 26 January.

7/10 Radio: Emma Barnett, 29

This award-winning journalist and broadcaster, who specialises in technology, women's issues and politics, started out on the graveyard shift at LBC. Having shown that the late-night callers were no match for her quick-wittedness, she was swiftly moved into the drive-time slot. Lately, however, Barnett's career has gone up a gear. Last October, she landed a new 5Live show, the news-and-tech-themed 5 Live Hit List, while this year she will be fronting various documentaries including Radio 4's Mindfulness: Panacea or Fad? and a series of Woman's Hour features in which she traces Sylvia Pankhurst's journey around the UK, examining the lives of working women.

Emilie Sandy/BBC

8/10 Theatre: Laura Jane Matthewson, 24

Laura Jane Matthewson made her professional London debut in the musical Dogfight and left no one who saw her in any doubt that a star was being born. She played Rose, the shy, dowdy waitress who retaliates with combative courage and creativity after the titular misogynistic prank. Matthewson has a radiant gift for combining warm, down-to-earth humour and soaring plaintiveness. Her delivery of Rose's wistfully yearning folk songs was devastatingly beautiful. It wasn't only Jamie Muscato's excellent marine who fell in love with that wry, tender emotional intelligence. Mark my words: this is the start of something big.

Alastair Muir/Rex Features

9/10 Classical: Max Hoehn, 25

Max Hoehn has just been announced as the winner of Independent Opera's £300,000 Director Fellowship for 2015, which will propel him into the limelight after four years working behind the operatic scenes in Zurich and Vienna, and at the Grimeborn Festival in east London and Glyndebourne. While still at Oxford, he co-adapted for the stage Bulgakov's epic novel The Master and Margarita. Hoehn also has founded a theatre company called Isle of Noise, which will perform radical new forms of music theatre. His big break should come this autumn when he stages the UK premiere of Simon Vosecek's Biedermann und die Brandstifter at Sadler's Wells.

10/10 Visual Arts: Elektra KB 29

Feminism returned in 2014 and we need a new generation of feminist artists to confront inequality afresh. Elektra KB was born in Soviet-era Odessa and moved to Colombia as a child. Now studying for an MFA at Hunter College, New York, her bold and graphic work often uses materials associated with "women's" craft, and considers "the demonisation of women and revolutionary culture since the heretics in the Middle Ages". Her subject matter has included police brutality during the 2012 agrarian workers' strike in Colombia and "Cathara Insurgent Women". Her work is dramatic and exciting. She is one to watch.
Is there a danger in being an assistant director of getting 'stuck', of not having the confidence to take that final step to directing your own work?
NF: I don't think it was a question of confidence, it was a question of getting a bloody break.
PF: The peculiar challenge of being an assistant is that it's very different on every job you do. As an assistant, part of what you have to do is a kind of conjuring trick to work out exactly where it is you're going to be most useful without anybody necessarily telling you that.
While assisting, what's the single production or director you learnt the most from working on/with?
PF: Assisting on War Horse and understanding what a huge journey a piece of new writing in the Olivier [auditorium, the National's largest] undergoes from the first day of rehearsals to the press night. I found myself falling back on that particular experience over and over again during the course of doing [Treasure Island] in particular.
NF: Nick Hytner. I learnt a hell of a lot from him and it took me a while to concede that. What he does looks so bloody simple, but it's extraordinary.
To what extent was theatre in your backgrounds?
PF: It was something that everybody in my family has been interested in. [Findlay's brother is an actor]. The other thing was that I started acting professionally when I was at school. It was such a big part of my growing up. It was always my 'other' life, so the experience was about shifting from my real life to my 'other' life when I left university.
NF: I did drama at school and loved it and I had secret longings about being an actor. My parents were disgusted by the thought of any of that, especially my father, who is the strict Asian father who wanted me to be academic and traditional and get married and have children. So no. I didn't know what a director was or anything like that until really quite shockingly late. It was more a mirage of theatre in the distance that I kept going towards.
What's the most useful piece of professional advice you have ever received, and from whom?
PF: Nick Hytner said, 'Don't try to be successful, try to be good'.
NF: That's a nice one. I wish I could remember who told me this, but on one of my moany days when I was thinking 'I might as well work in Waitrose', they said, 'You should just keep going because people do lose faith and get weary and give up and then some people stick around and keep doing it, so it's about the stamina of being an artist'. That's good advice.
A theatre directing career is a tough one, both financially and otherwise. Has it ever felt too difficult to achieve?
NF: It has felt really difficult. I have felt as though I can't afford to do this, I can't pay my bills, I'm sick of asking my parents for money. I've got a kid, [and have also thought] maybe I'm being really spoilt by wanting to do this and maybe I should just grow up and get a normal job like other people.
PF: I would completely agree with that. Just the mere fact of not knowing what you're going to be doing, generally speaking, after the next six months, forces you into a pattern of life that at some stage you would quite like to transcend. The inherent insecurity of the job is creatively bankrupting as well, because you spend so much of your energy trying to work out where the next pay cheque is coming from.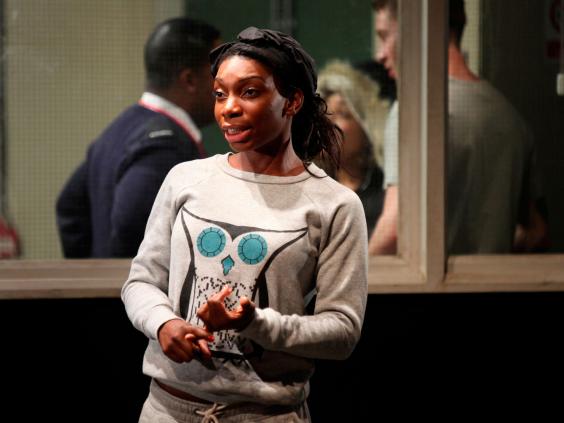 When was the moment that you thought, 'I can make a living from this'?
PF: I'm not sure that's ever happened! [Loud guffaws all round].
NF: I often think 'This show could be your last show'.
PF: You've got to have a bit of a sense of 'I might never get to do this again', otherwise your full heart wouldn't be in it. That's the difficult tightrope you walk, because of course you lose sleep over whether or not the next job is going to turn up, but at the same time it means that when the job appears, the energy with which you attack it has a certain kind of velocity. I wish it were possible to have one without the other, but sometimes I wonder whether it isn't.
Do you know what you're doing beyond these shows?
PF: For the first time ever, I know what I'm doing for a year.
NF: For the first time in my life I have a little bit of choice. I still have that kind of hoarding tendency that my mother has with food and [want to] say, 'Let's do all of them', but of course it's not physically possible.
PF: The ability to say 'No' has only really become concrete in the last 18 months.
NF: It's still really excruciating.
PF: I know, it makes you feel terrible. But sort of brilliant at the same time.
Are you interested in running a building one day?
PF: It certainly has been something I've been interested in doing [she was interviewed for the artistic director job at the Almeida Theatre, which eventually went to Rupert Goold]. At the moment, having worked in Germany last year, the direction I'm interested in is trying to work more internationally.
NF: Yes, if it was the right building at the right time. Not a building that is necessarily already fine, but one that has the potential to make really interesting work. If you're running a building that is your baby. [It has] to come at the right time, because [at the moment] I have an actual real baby!
Do you think that things are getting easier or harder for young directors now?
PF: I think it's harder. There's been a very real and obvious impact in terms of the cuts.
NF: The cuts happened during the time that we were still assistants, so I could feel the pinch when they happened. Even small pots of money that I used to be able to apply for to make small pieces of work on the Fringe were gone.
PF: I feel increasingly that there seem to be very few opportunities where already existing institutions are able to take a risk on younger practitioners. I'm on the board of the JMK Award [for young directors], so I find myself having a lot of conversations with young directors. I think there are certainly people who are going for that award now for whom it seems like some kind of last chance and that feels not right.
NF: These opportunities are so few and far between that you can't wait for an award to make a piece of work. You just have to try and make it.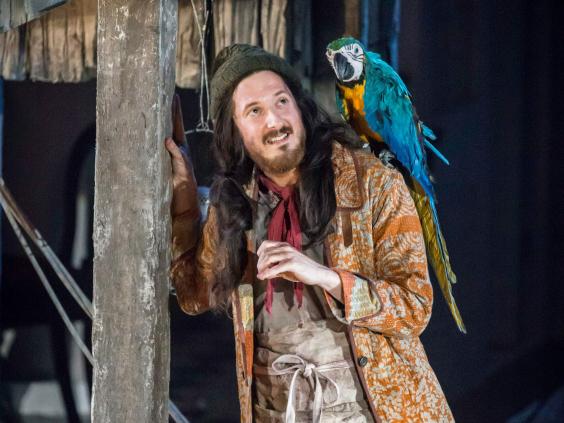 The issues of gender, cultural and class diversity in theatre have never been more relevant. If there was one thing that could be done to encourage diversity in those areas, what would it be?
NF: I don't think, for the kind of young person I was in the community I was in, that people realised these jobs and opportunities existed. I know it's a cliché, but education. This is a hugely successful industry, the arts, and for all the cuts there are opportunities.
PF: I think the thing that would make a difference is a properly organised pay structure. For example, if it carries on in this way, we won't have too many more leading female directors because actually you're not paid enough to justify the childcare.
NF: The only reason that I can do this job is because I get free childcare from my parents. That is a fact. It's not cost-free, that. It comes with a lot of life consequences. That's one of the reasons, besides learning, that staff directing here is so good, because you've got a regular wage. That was a lifeline for me, for years.
PF: There is something about the way the pay structure works which implies that everybody doing it is a privileged middle-class person and that has to stop because we won't rectify the balance in any of the areas you're talking about.
Is there any particular type of theatre that you'd like to do more of?
NF: Feature film! No, [I shouldn't say that], I'll never work again!
Is film something that interests both of you?
PF: Yes.
NF: Definitely.
PF: I know what I'm doing for the next year and after that I would be interested in trying to find something to get my teeth into.
NF: In order to really pursue a new thing like film, I'd have to put theatre down for a while and I said I would, but it just doesn't work like that. Theatre is so all-consuming.
What's the single most challenging production you've directed so far?
PF: This one!
NF: This one! People always say that!
PF: This one makes me feel like I'm on The Apprentice and I've got no idea.
At what point do you get a sense that a production is going to work?
PF: You don't really see what you've directed at all until the first preview. The introduction of the audience to the equation is the thing that makes you conscious of what you've done. It's like a terrifying meeting with yourself.
How do you feel about being described as a 'female director'?
PF: I haven't done an interview in the last five years where somebody hasn't asked me about my gender. I find it confusing.
NF: It's not as if you've ever been a man.
PF: The idea that being female means you're part of a genre, rather than representing the mainstream, is completely extraordinary.
NF: The generous thing to say would be that people are trying to get hold of who you are. But it's really lazy shorthand now.
What single piece of advice would you give to a young person who wants to be a director?
NF: I would say to do it. Be braver than I was. It took me so long to say, 'Mum, Dad…' There were loads of people saying 'No'.
PF: I would say that even through that struggle [of starting out], try and hang onto the fact that the moment where you are driven only by the thing you want to do is a golden period.
NF: Someone starting out has got that unique access to something very individual and that is kind of the Holy Grail.
PF: As soon as you're part of a theatre, you're part of an ecology and you have to be aware of your place within that ecology.
NF: Also you're light on your feet, so even though you've got no money, for the first couple of times you can beg, borrow and steal to make it happen somewhere. It's exciting and you've got the energy. You're forever trying to recapture that feeling.
Treasure Island runs until April 8, Dara runs from Jan 20 until April 4. Fiona Mountford chairs a Treasure Island Platform with Polly Findlay and adaptor Bryony Lavery on January 16th at 5.30pm, National Theatre, London SE1 (020 7452 3000, nationaltheatre.org.uk)
Reuse content