For fans like me coming from out of town, the walk to Southampton Football Club's stadium from the city's train station is pretty familiar: up the hill, across the park, past the Premier Inn and down Northam Road until you find yourself in the throng of congregating fans.
Last week, though, anyone making that journey might have been surprised to find it a little shorter than usual. If they'd looked to their left as they went past the council building, they would have seen something unexpected: a smaller but familiar looking football ground, in the middle of what's normally a tree-lined square.
 It's been a summer of turmoil for Southampton. But anyone thinking this represents a new nadir in the club's willingness to sell up for a quick profit can breathe easy. St Mary's stadium has not, in fact, been uprooted and plonked down next to the Guildhall. Instead, this is the brainchild of Sam Hodges, creative director of the Nuffield Theatre.
 Over a cup of tea just outside the pop-up ground, roughly where you'd normally be buying a hot dog or a programme at the better-established version, Hodges explains what it's there for. It was an idea he'd had in mind as soon as he got the job in late 2012, he says, and as he planned his first full season in charge, he "was struck by the need to do something in the city that spoke to the city".
The Nuffield's usual venue is a bit out of the centre of town, and sits on the university campus – not the easiest site from which to broaden the theatre's appeal. "It can be seen as slightly removed," Hodges says. "And engaging people is a fundamental part of regional theatre. It's all about getting new audiences. The institution can be a bit of an obstacle to that."
 It's the great struggle of people like Hodges everywhere, really: how do you appeal to the vast numbers of people with a thirst for stories, and no sense that the theatre is where to get them?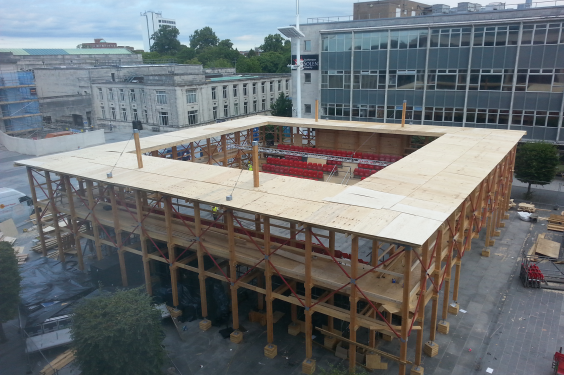 In the hope that football might provide one route, Hodges commissioned Luke Barnes, an award-winning playwright and Liverpool fan, to write something that would speak to people who might more naturally associate drama with 3 o'clock on Saturday afternoons than half past seven on a Saturday evening. And he set about the ambitious project of building the Nuffield's own stadium-cum-theatre in which to present it.
 The result, designed and constructed by the London architecture studio Assemble, is remarkable: put together in a matter of weeks, it really does feel like a miniature stadium, its stands, floodlights and scoreboard making good use of the commonalities between football and drama.
"Sarah Kane said that Old Trafford was her favourite theatre," Hodges, an Ipswich fan, observes. "This is about the games, but it's also about the experience of being a fan – the Saturday routine, the journey you go on, the mates you meet, the pubs you stop off at, the fanatics you walk past, the concession stands, and then this euphoric feeling as you come out into the stand, into the noise."
 According to Hodges, this drive for verisimilitude has been almost too successful: on press night, he says, two drunken fans came in "who I think really thought it was a football match". They left pretty quickly. The night I attend is a little more sedate.
With a cast of eight and the steeply raked seats only half-full, it's not easy for the cast of the play (sensibly entitled The Saints) to meet those lofty ambitions when I go to see the show that evening. But they make a decent fist of it.
The first few minutes are a cacophony of noise and frantic movement, perhaps somewhat exhausting to anyone expecting a more traditional theatrical experience, but undoubtedly arresting enough to get your attention.
Occasionally dodgy Southampton accents aside, the cast quickly establish their local bona fides with a few heavily emphasised in-jokes (I laughed, but "he looks like Egil Ostenstad" is not a line that's likely to draw the same guffaws in Cardiff or Newcastle) before embarking on the life story of Kenny Glynn, a Southampton obsessive struggling to deal with the death of his father, his mother's debilitating illness, the indifference of the woman he loves, and a total lack of prospects
Heavily indebted to Fever Pitch and any number of romantic comedies about men who have a hard time growing up, The Saints is not a strikingly original work, and resorts to some fairly clunky clichés along the way (the commentator whose role it is to make observations on Kenny's life is a device that can surely be put away now, please). It's also longer than it needs to be. But it does a good job of fulfilling its obligations to draw in football fans without proving totally impenetrable to the non-aficionado.
Above all, it's refreshing to see a play that focuses on taxi-drivers and florists without making a big deal of it, taking for granted the possibility of meaningful aspirations that don't involve leaving your home town or getting a sexy job.
"The life you want is this close," Cary Crankson's Kenny says at one point. "But you can't quite get it." Plus, there are video cameos from Matt Le Tissier and fellow Southampton stalwart Francis Benali as Kenny's guardian angels, which were more than enough to win me over on their own, to be honest.
For a play like this, the ends are in some ways more important than the means, and, to judge by the straw poll of attending Southampton fans I speak to afterwards, in that sense the production has been doing its job.
There's a smattering of red and white striped shirts around the venue, and almost everyone I speak to is a Saints fan. For the most part they are not regular theatregoers.
Elaine and Steve Kimber, both in full team regalia, are enthusiastic. Elaine goes to the theatre a lot, but for Steve this is the first visit for a while. "It gets what it feels like on a Saturday afternoon for us," he says. "It's not like being a Liverpool fan or a Manchester United fan, is it? They don't get the ups and downs."
Dan Horton, whose loyalties are evident in a small badge on his shirt, agrees. "I enjoyed it more than I thought I would," he says. "Le Tiss was awesome. And you could tell the people doing it got what it's like to be a fan."
Horton's only recent visit to the theatre was to Southampton's commercial behemoth, the Mayflower, for last Christmas's panto. Would he be more likely to come to another show now? "Maybe," he replied. "So long as they don't do one about Portsmouth, I'm not having that.
Reuse content