It is nearly 50 years since Tom Stoppard made theatre history at the National Theatre with Rosencrantz and Guildenstern Are Dead, an existential tragicomedy featuring bit-part characters drawn from Hamlet. Now Stoppard returns to the institution with The Hard Problem, the latest though, one hopes, not the last, play to be written by the 77-year-old.
Not much is known about the play that begins previewing at the new Dorfman Theatre next week and will be the first new Stoppard to premiere at the National since The Coast of Utopia trilogy in 2002. However, as Stoppard once joked (possibly to his regret, given the number of times it has been quoted) the title has nothing to do with erectile dysfunction. Rather it is taken from a term used by philosophers and scientists to describe the mire they get into when attempting to explain consciousness.
Theatre highlights of 2015
Theatre highlights of 2015
1/7 Hamlet - Barbican

The advance sales broke records, but there will be 100 £10 tickets held back for each day's performance of the most hotly anticipated classical production of the year: Benedict Cumberbatch as Shakespeare's brainiest hero, directed by Lyndsey (Chimerica) Turner.

2/7 Bend it Like Beckham - Phoenix Theatre

Gurinder Chadha directs a musical adaptation of her film about a Sikh girl who defies her family for football, scored by Howard Goodall. We're promised a celebratory state-of-the-nation comedy.

3/7 Hard Problem - National Theatre

The Hard Problem is consciousness in Tom Stoppard's first new play for nine years. It's set in a brain science institute and directed  by Nicholas Hytner, who steps down at the National Theatre  after a glorious reign, in April.

NT

4/7 The Hook - Royal & Derngate

To celebrate the Arthur Miller centenary, James Dacre directs a world premiere, adapted by Ron Hutchinson from Miller's FBI-suppressed screenplay about mobsters in the dockyards of 1950s Brooklyn.

Getty Images

5/7 Farinelli and the King - Sam Wanamaker Playhouse

Mark Rylance stars in this fascinating real-life story, dramatised by his wife Claire van Kampen, about Philippe V of Spain and the castrato whose voice cured him of insomnia and despair.

BBC

6/7 Antigone - Barbican and King's Theatre

The visionary Flemish director Ivo van Hove brings us Sophocles's great tragedy in a modern version starring Juliette Binoche.

Reuters

7/7 The Vote -Donmar Warehouse

James Graham aims for a media coup with his drama set in a fictional London polling booth in the last 90 minutes of Election Day 2015. The run culminates in a live broadcast on More4 on the day.

Reuters
We know too that the conundrum puts the play's heroine Hilary, a researcher at a brain-science institute, at odds with her employers and colleagues; that the period is contemporary though not current (the author has said it probably starts at around the millennium) and that the play's theme – the nature of consciousness – sounds characteristically daunting for a play by Stoppard. That's about it. Although perhaps just as significant is that the National's director Nicholas Hytner has been asking Stoppard to write a play for him to direct for years. It was delivered just in time to be Hytner's swansong production as National Theatre artistic director. With that background The Hard Problem is the theatre event of the year, though it may end up being much more important than that. Stoppard plays often are.
Hytner's deadline was useful. There have been suggestions that, rather like the Shakespeare in his Oscar-winning screenplay for Shakespeare in Love, Stoppard has been suffering from writer's block, something that he has neither emphatically admitted nor fulsomely denied.
"I wish I could remember how to write a play," he said a couple of years ago.
His previous stage play, Rock 'n' Roll, which was set partly in communist Czechoslovakia, the country of his birth, opened at the Royal Court as long ago as 2006. Still, it has been a productive 50 years or so. Stoppard has written more than 30 stage, screen and radio scripts, won numerous theatre awards, that Oscar (shared with Marc Norman) and in the eyes of many (and of the most recent Evening Standard theatre awards) become the greatest living playwright. When, while struggling to write The Hard Problem, he said, "my brain isn't good enough any more," it must have made playwrights who lack the dramatist's talent for finding drama in intellectual enquiry (probably all other playwrights) feel a bit thick.
Stoppard didn't go to university. By 1954 the 17-year-old had left school and was a newspaper reporter in Bristol. A few years later he would begin work on the debut play that would announce the arrival of a blazing new talent.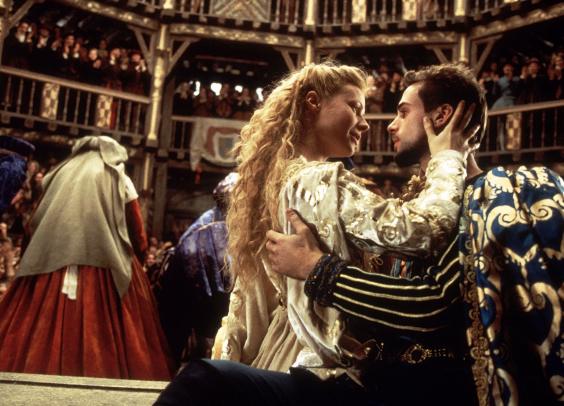 "It was the most classy situation comedy you can imagine" says Edward Petherbridge, the National's Guildenstern in 1967. He remembers Laurence Olivier, the National's first artistic director, calling him to his office. This was when the National was at the Old Vic and Olivier's office was a converted Coal Board hut in Waterloo.
"He was dressed to leave and his chauffeur-driven car was purring outside. He just handed me this script and said: "Guildenstern! Marvellous part, marvellous play."
The play's director, Derek Goldby, who was only 25 at the time, has more challenging memories of Olivier. "We had a very long meeting in Olivier's flat," recalls Goldby. "Me, Tom, [Kenneth] Tynan and Olivier went through the script. Olivier was scared. He wasn't sure this play would work at all. He had a particular problem with the moment when Rosencrantz and Guildenstern are on the boat and read the letter which says they're going to be put to death. Dramatically that is a very powerful moment. But Olivier would never accept it. He said: 'If they know they're going to be put to death, why don't they just jump off the ship?' Eventually he turned on me like Richard III and raged: 'You think I'm full of shit!' Tom was prepared to let us fight it out. He is a great diplomat and a gentleman. Very modest. Still is."
The rush of excitement that Petherbridge felt when he first saw Stoppard's script has stayed with the actor, who is now 77.
"I read the play on the bus back to Peckham, where I was living at the time. I thought I could hear it. I could hear the dialogue. If I could have asked an author for a bespoke play this would have been it."
Petherbridge would have been one of the very earliest people to have encountered that particular quality of Stoppard's. Today it's called Stoppardian. It's a mix of breathtakingly articulate dialogue, vaulting language, Wildean wit, but also the ability to combine all those things with complex collisions and intersections. In Arcadia for instance, which from February will be performed across the UK by English Touring Theatre, Stoppard abuts Classicism with Romanticism, art with nature, the 19th with the 20th century.
And it wasn't a quality that was developed by Stoppard gradually over a period of work. It landed as a fully formed theatrical force, unlike anything that had been seen before. For Antony Sher, who played the misremembering British consulate official Henry Carr in an RSC revival of Travesties, the language sets Stoppard apart from all other modern playwrights.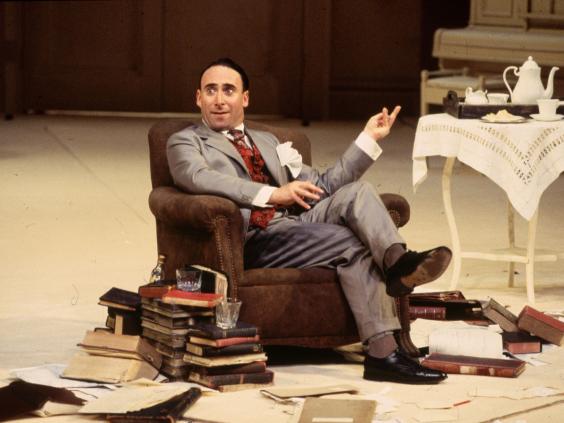 "As an actor the only modern playwright to present the same kind of challenges as Shakespeare is Stoppard," says Sher as he stands in his Barbican dressing room and prepares to put on his fat-suit for his current role, Falstaff.
"The challenge of speaking Stoppard is exactly the same as that of speaking text by classical writers. His language isn't like [that found] in other modern plays. Travesties begins with a 20-minute monologue – just a little starter for the actor playing Henry Carr.
"I remember seeing the original production with John Wood, not understanding it and feeling stupid. Then when I was offered it and I began to read it deeply I thought, 'no, this is fantastic'. It is the same challenge with Shakespeare. People complain that Shakespeare is going to be too difficult to understand. Our job is to take those worries away and to somehow communicate meaning. It's the same with Stoppard."
Derek Goldby has no doubt that Rosencrantz and Guildenstern changed the lives of everyone who was involved with the production, as well as the course of British drama. "Suddenly it was possible to put on plays that were clever in the same way that it was possible to put on working-class plays after Look Back in Anger."
It will be interesting to see if The Hard Problem affects audiences' hearts as much as it stimulates their minds. There was a time when the dramatist's reputation was for achieving the latter more than the former. But The Invention of Love (1997), which imagines the poet A E Housman encountering his younger self – "I'm not as young as I was. Whereas you, of course, are." – and discussing Sophocles and the nature of love, is anything but emotionally sterile.
Stoppard is now the same age as his elder Houseman. And it's tempting to imagine a similar meeting between the current, still rakishly handsome dramatist and his younger self.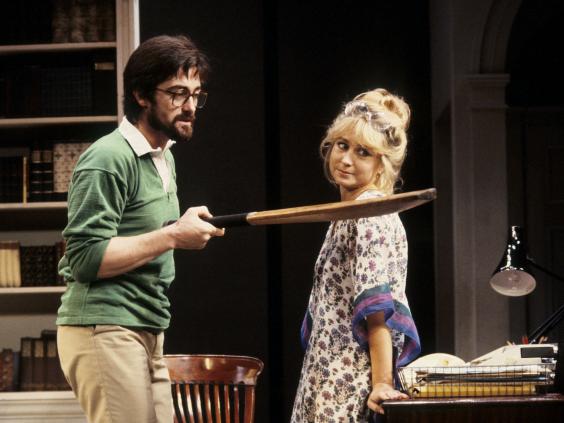 Love also loomed large in The Real Thing (1982) Its central figure is Henry, a playwright. "I love love," he says. "I love having a lover and being one. I love the way it blurs the distinction between everyone who isn't a lover." Henry leaves his wife for an actress.
The play is not based on personal experience. But to some extent life caught up with art when Stoppard's second marriage, to the writer and broadcaster Miriam Stoppard, broke up and was followed by a seven-year relationship with actress Felicity Kendal, who has starred in first productions of many a Stoppard play, among them Arcadia (1993) and The Real Thing. Last year Stoppard married again, this time to Sabrina Guinness, the brewery heiress.
The other marriages in Stoppard's life have been to his directors. After Goldby, Peter Wood became a long-standing collaborator, and then Trevor Nunn, who much to his frustration had missed out first time round on Rosencrantz and Guildenstern when he was a young director at the RSC. Nunn would later make up for it with premieres of Stoppard's Arcadia, The Coast of Utopia trilogy, Rock 'n' Roll and, eventually, a West End revival of Rosencrantz and Guildenstern.
As for Goldby, he never directed Stoppard again. "We were very different people. I was very left wing." But one moment still haunts him from that first production of Rosencrantz. "When we were getting to the last dress rehearsals Tom said to me, 'I'd really love it if I had just one meeting with the company to talk about the text'. I thought, 'why not?'. But it had a disastrous effect. It made people think, Derek's lost confidence. I regretted it. I lost face."
It didn't affect Goldby's career: he became a hugely respected international director. And it didn't affect the play, either. Rosencrantz went on to become the National's biggest hit, and win awards both here and on Broadway.
Among them was one for Sir Tom Stoppard: Most Promising Playwright.
Four Stoppard hits
Rosencrantz and Guildenstern Are Dead (1966)
Critical opinion has cooled a little towards Stoppard's audacious debut since its 1966 premiere, but as first plays go, the meta-theatrics of Rosencrantz and Guildenstern take some beating. In what also doubles up as a homage to Beckett's Waiting For Godot, the two bit-characters from Hamlet take centre stage as a wisecracking double act bewildered by the events taking place around them.
Jumpers (1972)
The collapsing marriage of a philosophy professor is the main thrust of this delicious satire, set in an alternative Britain ruled by "Radical Liberals" and where British astronauts have landed on the moon.
The Real Thing (1982)
Stoppard belied his reputation as a man interested only in the brain with this 1982 drama, in which Henry abandons his wife for the bewitching Annie only to experience his own betrayal. It is a gut-wrenching play, although with its play-within-a-play structure also a typically Stoppardian meditation on the line between appearance and reality.
Arcadia (1993)
Regarded as Stoppard's masterpiece – and one of the great post war dramas – Stoppard achieved a mesmerising synthesis of philosophical investigation and searing human drama in this play, set in two different centuries in the same Derbyshire country house. As the life of 19th-century maths prodigy Thomasina is pitted against that of her 20th-century counterparts, chaos theory, the unknowable forces of history and the existential tragedy of the human condition combine in a dazzlingly surefooted drama about the nature of uncertainty.
'The Hard Problem' runs at the Dorfman,  London SE1 (wwwnationaltheatre.org.uk) 21 January to 16 April