You would think when trying to encourage audiences to take a risk on a new musical, that rule 101, to use American parlance, would be to avoid using the word "urine" in the title.
"We really struggled with that question," says producer Hank Unger. "We asked, 'Is there any way we could change it?'"
"It's off-putting," agrees Greg Kotis, who put 'urine' in the title of Urinetown: the Musical, his three-times Tony Award-winning Broadway satire about water shortages and the consequent price of peeing, and, despite advice, pleas and complaints, kept it there.
We are sitting in the foyer of the St James Theatre in London, where Urinetown, co-written with composer Mark Hollmann, is receiving its UK premiere. Unger has been behind the show from the very beginning. Or at least since towards the end of Urinetown's first run of 10 days at the New York Fringe Festival during the stiflingly hot summer of 1999. The venue was a garage. There was no air conditioning. It was a hundred and five degrees in there, and the show's buzz was such that people were fighting to get in.
On today's more temperate stage at St James there is a lot of me, me, me-ing going on as director Jamie Lloyd's starry British cast, which includes West End beefcake Richard Fleeshman, the RSC's Jonathan Slinger and Sondheim specialist Jenna Russell, go through voice exercises. Fleeshman plays Bobby Strong, the show's rebellious hero. Although the real star may end up being designer Soutra Gilmour's set, a slice of urban dystopia featuring a row of stained, porcelain pissoires in what Kotis's script describes as "the poorest, filthiest urinal in town" and "Public Amenitynumber 9". This is where the poor in Kotis's future city queue to urinate, because only the rich have the fee to pee. In this allegorical vision of an ecologically disastrous future, anyone relieving themselves on the sly is exiled to Urinetown. Amenity Number 9 is a kind of soup kitchen – in reverse. Kotis got the idea during while backpacking across Europe. He quickly ran out of money and couldn't offered the paid-for public toilets in Germany and France.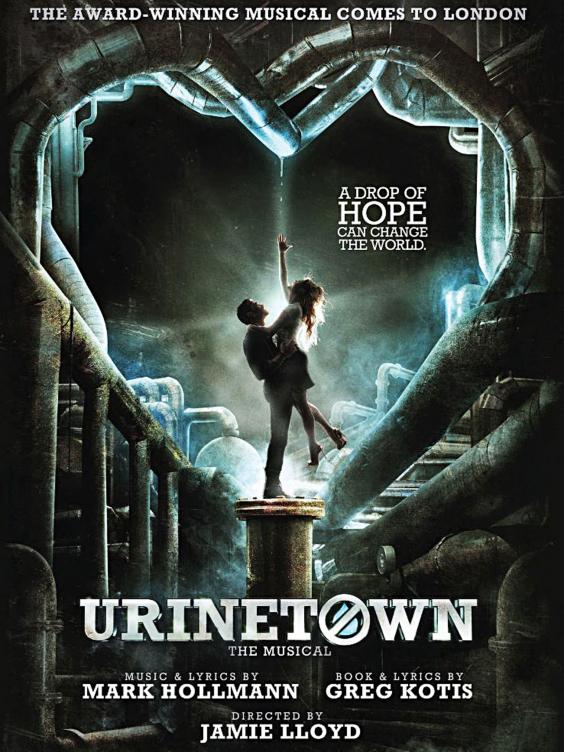 Kotis, 48, unshaven, quietly spoken and wryly funny, cut his satirical teeth in Chicago's fringe, a vibrant, storefront theatre scene. Urinetown was to be his final work. At 33 he had become a father, and it was time to concentrate on the day job as a location scout for the TV series Law and Order. His previous theatre pieces such as LBJFKKK, about vigilantes; Love Me, about advertising; All Eight Die, about the disappearance of a town; Rancho Obscuro, about bank failure, and another musical called Aftertaste! about fatal food, had not earned him a living. This would be his last show. Though it was never intended as a final shot at commercial success. With a name like Urinetown, how could it be?
"I had come to the conclusion that theatre was a kind of sickness that I had to purge myself of, an addiction. It was an unsustainable way to live," he says, unsustainability being a recurring theme of his work.
Back in the foyer, where we're sitting near the toilets, Kotis muses on other plays that have "difficult" titles, as Unger puts it.
"The Mutherfucker with the Hat [by Stephen Adly Guirgis], 7 Blowjobs [by Mac Wellman].
"The off-Broadway production of Cock [Mike Bartlett's Royal Court play] was dubbed 'Cockfight Play'," adds Unger, somewhat contemptuous of New York advertisers and reviewers who shied away from using the play's real title. But we agree that those titles are as likely to attract at least as many people as they repel. Urinetown leaves a nasty taste in the mouth.
"The title is your number one marketing tool," says Unger. ''And we've worked on other shows when we have changed the title. With Urinetown we considered "You're in Town" and sort of tricking the audience as they came in. But we learned that the audience has to come in with a certain level of suspicion, discomfort and unease. And we realised [by changing the title] we would be neutering the first conceit of the whole experience."
Kotis remembers how the show's director insisted that the show's title be changed. "He said, 'If you don't change the title I'm going to walk.' So we told the New York Fringe Festival that we were about to lose our director and had to change the title." But it was too late. Flyers had been printed.
"There was this initial aversion and revulsion," chuckles Kotis. Although there still is. Even after the show moved to Broadway, where it ran for three years, one of the producers who was to take the musical on a national tour wanted the title changed. School productions still prompt protests from parents, some of whom insists on Urinetown signage being removed. During an interview with Fleeshman on BBC Breakfast, presenter Bill Turnbull couldn't can't quite bring himself to say "urine".
"When we started sending the show out to theatres in the US we got rejected by everybody. We got the boilerplate rejection letters. But some people took the trouble to write in the margins. 'I will NEVER produce a show called Urinetown'.'' Passionate rejections, Unger calls them.
"We got it from all directions,'' says Kotis. "And we were like, maybe we'll just put that into the show."So they did. There is an exchange between a little girl and a policeman: "I don't think too many people will see this show," says the girl. "Don't you think people want to be told that their way of life is unsustainable?" says the policeman. "That – and the title's awful."
Urinetown is a musical that knows it's a musical. It doesn't need to break down the "fourth wall" because in this show it never exists. It's an aesthetic developed by the Chicago experimental theatre companies with which Kotis worked, such as Cardiff Giant, which he and Hollmann co-founded, and the Neo-Futurists ensemble. In terms of Broadway, Urinetown helped break the satirical ground currently occupied by The Book of Mormon. And it hasn't only survived its own title. It opened on Broadway only two weeks before 9/11 and it was the first musical to reopen two weeks later.
That exchange between the little girl and the policeman also reflected Kotis's expectations for the show. "That went in because my expectation was that the audience was going to be my friends, my Mom, and that everyone would be kind of embarrassed for us. I didn't expect anyone to see it."
After three years on Broadway, 2000 licensed productions and premieres in Melbourne, Toronto, Seoul, Berlin and Tokyo, Unger says it's been seen by over a million people. But that is probably because the title is misleading.
"The show is about political and social collapse prompted by ecological disaster," says Kotis. "It's really not a show about peeing."
'Urinetown: the Musical', St James Theatre, London SW1 (0844 264 2140) to 3 May
Reuse content