An enormous fire has torn through Battersea Arts Centre in South London, where staff believe the grand hall is "destroyed".
The fire is now under control, after as many as 12 fire engines and 80 firefighters worked into the evening to tackle the blaze, which broke out at around 4.15pm, according to the London Fire Brigade.
Crew attempted to bring the blaze under control, by dousing the flames from above using aerial appliances, which are similar to cherry pickers.
Everyone was safely evacuated from the building Battersea Arts Centre, and no one was injured.
The fire has engulfed a part of the building which is under refurbishment - believed to be the grand hall - as well as the roof. A spokesman for the London Fire Brigade told The Independent that 30 percent of the ground floor, first floor and roof have been damaged, respectively.
Senior Producer at the BAC Richard Dufty tweeted that the grand hall looks "completely destroyed".
Everyone is supporting everyone. Love to @GeckoTheatre whose show Missing was running in the Grand Hall.

— Richard Dufty (@RichardDufty) March 13, 2015
In a series of tweets, Battersea Arts Centre added that no performances will be running this evening, and said staff would contact those who have bought tickets about refunds and exchanges.
Staff went on to thank the emergency services for their "rapid" response to the situation.
We'd also like to thank @LondonFire, @metpoliceuk & @Ldn_Ambulance who are handling the situation rapidly, safely and compassionately.

— BatterseaArtsCentre (@battersea_arts) March 13, 2015
The resulting smoke could be seen for miles across the capital, causing the London Fire Brigade to advise those living and working nearby to keep doors and windows closed as a precaution.
Images tweeted by eye-witnesses show smoke filling the sky around the arts centre, which is hugely popular with locals, and hosts plays and performances, as well as weddings and tea dances for the elderly.
Looks like Battersea Arts Centre or one of those buildings is on fire, or at least was. Hope everyone is okay. pic.twitter.com/U6ePjziYPN

Ja'e Journalist (@JaesJournal) March 13, 2015
Lot of smoke coming from #Battersea art centre fire. Please close doors & windows if you're near pic @GlutenFreeMrsD pic.twitter.com/rATOBW65lB

London Fire Brigade (@LondonFire) March 13, 2015

 
Lots of smoke drifting over London from fire at Battersea Arts centre. Very sad. pic.twitter.com/6ep4Af9WFa

— Tom O'Leary (@TomOleary72) March 13, 2015
Mr Dufty tweeted earlier: "Terrible news. Battersea Arts is on fire. The Grand Hall roof."
Terrible news. @battersea_arts is on fire. The Grand Hall roof pic.twitter.com/OH1tLVPfSy

— Richard Dufty (@RichardDufty) March 13, 2015
Labour leader Ed Miliband, who visited the BAC two weeks ago, tweeted of his shock at hearing the news.
Terrible to see photos of Battersea Arts Centre engulfed in flames. I was there in February. Thanks to the firefighters fighting the blaze.

— Ed Miliband (@Ed_Miliband) March 13, 2015
Nicholas Bennett, a magistrate at nearby Lavender Hill Magistrates' Court, did not appear to be improving, as black smoke engulfed the entire area.
He said: "It appears to be getting worse, although I can't see the flames any more. But there is black smoke everywhere, engulfing the area.
At around 5:30pm, emergency services were still arriving on the scene, Bennett said, adding that a large number of people had gathered at road facing the fire.
Paul Foxcroft, 35, a comedian, was walking from his home in Battersea when he saw flames tear through the listed building's bell tower and thick black smoke billowing into the sky.
He said: "There were two ladies outside crying. I got the impression they were just so sad because they loved the building.
"It is an institution for the whole of the city of London. It is hugely popular so this fire will affect a lot of people. The back of the building was being renovated."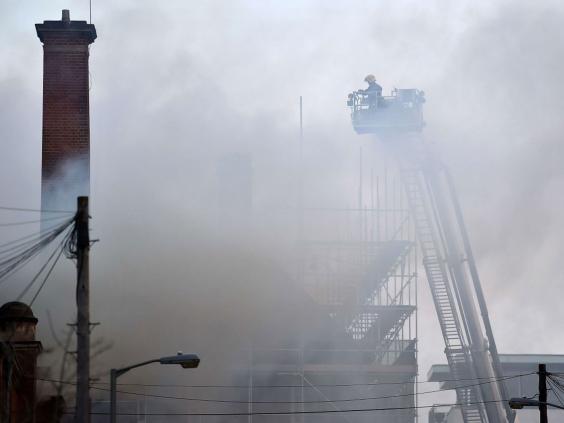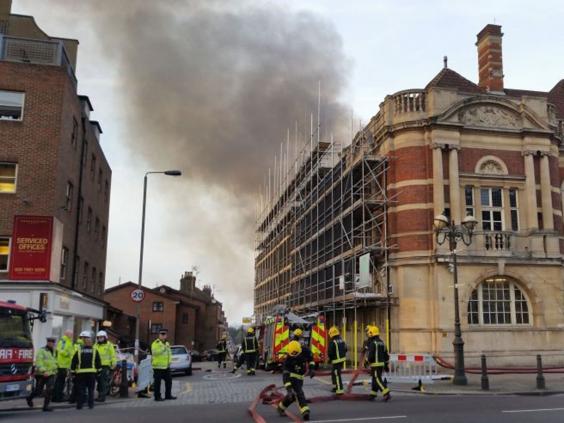 David Lister, Arts Editor of The Independent and i said: "The loss of the Battersea Arts Centre would be a massive shock. This venue has long punched far above its weight, producing some great, cutting edge theatre and comedy."
"For decades it has had a reputation that stretched well beyond the capital."
The performance art space near Clapham Junction pioneers new writing and works runs workshops with actors and theatre creators of all ages.
The historic building has been undergoing building works to excavate the ground around the courtyard to allow an extra floor, as well as the demolition of partition walls added over the last century.
The Grand Hall is currently closed in the daytime while construction work is carried out.
Between 2008 and 2013 a huge amount of development was undertaken to restore the Grand Hall, Lower Hall and Council Chamber to their original glory.
Reuse content