The Donmar Warehouse has launched a competition to find the most "electric" speakers of the monologues Shakespeare gave his leading men. The only condition is the entrants must be teenage girls.
One Take Shakespeare encourages girls of 13 to 18 years old to submit videos of themselves reciting speeches up to 90 seconds long made by the Bard's leading male roles, from Hamlet and Oberon to Coriolanus and Caliban.
This forms part of the London theatre's drive to draw more interest from young women in watching and performing Shakespeare. It comes on the back of its acclaimed all-female production of Henry IV, as well as Hamlet at the Royal Exchange Theatre in Manchester starring Maxine Peake as the lead.
The videos will be judged by a panel including Phyllida Lloyd, the director of the current Henry IV, which stars Harriet Walter in the title role.
"There will be a lot of people out there who don't even know how good they would be or what a great feeling it is to perform Shakespeare," Ms Lloyd told The Independent.
"Many at the Donmar had never done Shakespeare professionally before this production. When looking for the most electric speakers of the language, you find some people just have an instinct for it, even if they haven't studied the text before."
While the Donmar stressed it was not a competition to find the next star of its stage – the winner will receive tickets to the Donmar's next production City of Angels and a hotel room for the night – Ms Lloyd said: "I'm not saying this is a talent contest, but you can't help but get excited by people who have a real instinct for it."
She added: "This is about who is entitled to our culture and what happens when you offer up the so-called crown jewels to people who might not feel they are entitled to it or have access to it."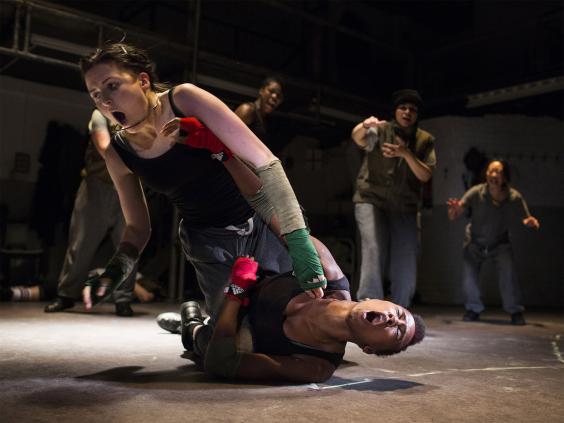 Sam Maynard, education manager at the Donmar, said the online competition was a new departure for the theatre company.
He said: "We've done a lot of work around this production about bringing Shakespeare to new audiences. This project is about hearing Shakespeare in the mouths of people you wouldn't expect.
"We want young women to own Shakespeare for themselves. Many would never have thought of trying it before; I'm so keen to see a 15-year-old's take on King Lear."
Stars of Henry IV made their own "one take" videos with Jade Anouka, who plays Hotspur, taking on Hamlet and Ashley McGuire, Falstaff in the play, reciting a speech by Caliban from the Tempest. Walter chose a speech by Shylock from The Merchant of Venice.
The production, which runs until 29 November, has met with huge acclaim, with one critic saying the recent production was a "welcome release from the tonal monotony of male-dominated Shakespeare".
Actresses including Fiona Shaw, Helen Mirren and Kathryn Hunter have all taken on major male roles in Shakespeare productions, and Maxine Peake was recently hailed for her performance as Hamlet at the Royal Exchange Theatre.
Ms Lloyd previously teamed up with Ms Walter for an all-female Julius Caesar at the Donmar in 2012. While Ms Lloyd said that two out of three roles in UK theatre currently go to men "but some big women hitters have got the keys to important theatres and that will be the start of a big change".
She pointed Josie Rourke, artistic director of the Donmar, and Vicky Featherstone who has that role at The Royal Court Theatre and said: "Things are changing but maybe it will quicken up a bit now."
Anouka, who has received plaudits for her performances in Henry IV, said: "I think it's good to engage people in Shakespeare, especially girls. There are so many male roles and most of them are a bit more exciting; as a girl you can feel excluded."
"With Shakespeare it wasn't until I had spoken the words that I really enjoyed it," she said. "Maybe girls who haven't connected to female parts can connect to male ones, it opens up all sorts of possibilities."
Ms Anouka added that because Henry IV was such a male-dominated play she had not previously looked at it, but reading for Hotspur she found "this exciting, brash character, I couldn't wait to play it".
Reuse content