A Turner Prize-winning artist has been hit with a repair bill after he went on a "wholly inappropriate" axe rampage causing damage to a brand new £25 million theatre after his play got scathing reviews.
Douglas Gordon, who became the first video artist to win the Turner, reportedly used a prop from a play he wrote and directed based on Little Red Riding Hood to damage Manchester's HOME theatre.
A chunk has been removed from the concrete walls of HOME and the artist is believed to have also scrawled graffiti of a wolf's claw which he then signed and dated.
Neck of the Woods, starring Broadchurch's Charlotte Rampling, opened as part of the Manchester International Festival last week.
Gordon is believed to have inflicted the damage at around 10.30pm on Saturday night. Poor reviews of his production were published online earlier that day.
The show, which features several axes as props, was described by The Telegraph as a "vanity project" with a script which "simply isn't very good".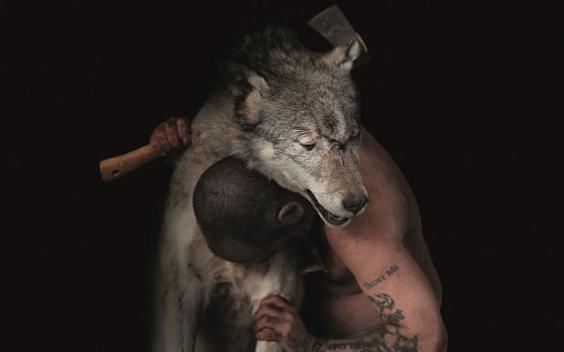 The Guardian's Lynn Gardner awarded the production two stars out of five and concluded that the show was "all style and no fangs" and made her want to howl.
MIF Artistic director Alex Poots condemned Gordon's actions as "totally unacceptable" and said he would "be paying for repairs".
"We understand that one of our artists acted in a wholly inappropriate way on Saturday night, causing slight damage to the fabric of HOME's new building," Poots said in a statement.
"MIF and the artist have contacted staff who were present and our co-commissioning partners at HOME to apologise."
He continued: "We do not support or condone reckless, inappropriate or intimidating behaviour and will work with our co-commissioning partners and artistic and producing teams to ensure this doesn't happen again."
Theatre highlights of 2015
Theatre highlights of 2015
1/7 Hamlet - Barbican

The advance sales broke records, but there will be 100 £10 tickets held back for each day's performance of the most hotly anticipated classical production of the year: Benedict Cumberbatch as Shakespeare's brainiest hero, directed by Lyndsey (Chimerica) Turner.

2/7 Bend it Like Beckham - Phoenix Theatre

Gurinder Chadha directs a musical adaptation of her film about a Sikh girl who defies her family for football, scored by Howard Goodall. We're promised a celebratory state-of-the-nation comedy.

3/7 Hard Problem - National Theatre

The Hard Problem is consciousness in Tom Stoppard's first new play for nine years. It's set in a brain science institute and directed  by Nicholas Hytner, who steps down at the National Theatre  after a glorious reign, in April.

NT

4/7 The Hook - Royal & Derngate

To celebrate the Arthur Miller centenary, James Dacre directs a world premiere, adapted by Ron Hutchinson from Miller's FBI-suppressed screenplay about mobsters in the dockyards of 1950s Brooklyn.

Getty Images

5/7 Farinelli and the King - Sam Wanamaker Playhouse

Mark Rylance stars in this fascinating real-life story, dramatised by his wife Claire van Kampen, about Philippe V of Spain and the castrato whose voice cured him of insomnia and despair.

BBC

6/7 Antigone - Barbican and King's Theatre

The visionary Flemish director Ivo van Hove brings us Sophocles's great tragedy in a modern version starring Juliette Binoche.

Reuters

7/7 The Vote -Donmar Warehouse

James Graham aims for a media coup with his drama set in a fictional London polling booth in the last 90 minutes of Election Day 2015. The run culminates in a live broadcast on More4 on the day.

Reuters
HOME opened in May and is believed to have cost £25 million.
Neck of the Woods runs until Saturday.
Glasgow-born Gordon, 48, was the first video artist to win the Turner Prize with Confessions of a Justified Sinner in 1996.
The artist was not available for comment at press time.
Reuse content