Barber Shop Chronicles, National Theatre, London, review: Staged with an exhilarating dynamism
The new play by Inua Ellams is set in barber shops in London, Lagos, Johannesburg, Accra, Kampala and Harare
5
Click to follow
The Independent Culture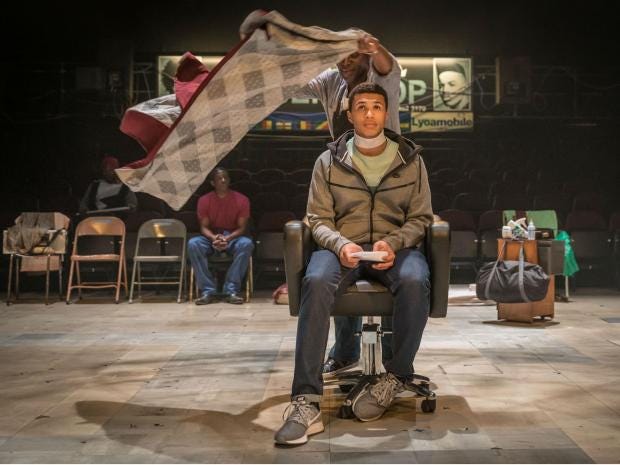 This is a joyous piece of theatre. Inua Ellams has had the smart and revealing idea of setting his new play in six different barber shops in London, Lagos, Johannesburg, Accra, Kampala, and Harare over the course of a single day.
As it jumps around these locations, it explores with sharp insight and sometimes laugh-out-loud humour the special role these enterprises play in the lives of African men who feel free to speak about what is on their minds, unconstrained by political correctness and safe enough to challenge prevailing views or to boast and brag.
In each of the half-dozen spots visited here, the barbers and their customers are watching the same Barcelona vs Chelsea football final, with varying comments about supporting a team and racism in the sport.  From confession-box to soccer-stadium, the barber shop covers a range of valuable functions.
The central focus is on the Three Kings barber shop in London where young Samuel (Fisayo Akinade) wields the clippers with Winston (Anthony Welsh) a thirty-something Caribbean and Emmanuel (Cyril Nri), the Nigerian proprietor. Believing that his dad was unjustly ousted as a partner in this business and wrongly sent to jail, Sam seethes with resentment at the kindly Emmanuel and we await climactic revelations.
Difficult relationships between fathers and sons – and the question of how you achieve a casting agent's idea of "strong, black masculinity" in the absence of role models – permeate the piece. These considerations intersect with the show's linguistic preoccupations (the importance, say, of pidgin as a language of protest). In Johannesburg, Simphiwe (Patrice Naiambana) recalls a childhood so impoverished as a result of paternal abandonment that he'd charge white kids a dollar to call him "kaffir", that deeply offensive Afrikaans term.
Bijan Sheibani stages the piece with an exhilarating dynamism in this brilliantly acted co-production between the National Theatre, the West Yorkshire Playhouse and Fuel. The audience sits round the perimeter and the changes of scene have a beauty and wit of their own – sometimes fully choreographed as a formation dance (barbers flapping out their capes like toreadors, etc) or in a soft chant of place names, the country indicated by the lit-up area on the great wire globe that hangs above Rae Smith's set.  
Arrive in good time as the mood of pleasurable inclusive warmth is established in a pre-show entertainment where punters (of whatever gender) can volunteer to have a quick consultation and a (pretend) cut in the chair and then a bop on the floor to pounding world music.
The evening resounds to the delighted laughter of recognition, especially when, in the London strand, Hammed Animashaun's hilarious Muhammad weighs up whether it's better to date a white woman or the black woman if they both like you but you don't have a good job.
The actors (some of them playing several roles) are beautifully attuned to the unsolemn vigour with which the characters discuss some touchy subjects, especially relating to South Africa (did Mandela sell out to the whites?) and to Robert Mugabe. You get to hear from a wonderfully diverse bunch of men and to feel the gathering emotional power as you become aware that there is a web of association linking these apparently disconnected figures.
Such an ambitious piece and so life-affirmingly realised. Go.
Reuse content
Comments