Ghost Dances, Sadler's Wells, London, review: Back after 14 years, it still works its spell
Rambert's much loved 'Ghost Dances' by Christopher Bruce is inspired by the oppression of the Pinochet regime in Chile
4
Click to follow
The Independent Culture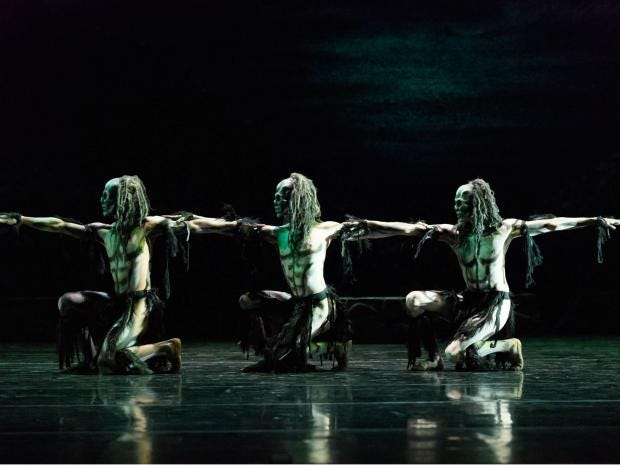 Back after 14 years, Ghost Dances, one of the dance company Rambert's most-loved pieces, still works its spell. Created in 1981, inspired by the oppression of the Pinochet regime in Chile, Christopher Bruce's work conjures up a community under pressure. It's part of a Latin-flavoured triple bill that takes different approaches to storytelling, and shows how vividly Rambert's fine dancers engage with their audience.
Using Day of the Dead imagery, Ghost Dances is framed by three figures of death, men with skeleton body paint and skull masks. (There's a memorably creepy moment when all three look out at the audience.) They watch or mingle with the human dancers, suggesting both the medieval dance of death and the ever-present threat of a repressive regime.
Bruce makes his points bluntly, but with strong theatrical energy. Set to South American folk music, the dances themselves are often joyful, full of fast, feathery footwork. Miguel Altunaga and Carolyn Bolton are marvellous in one flirty dance, full of teasing moves and irresistible rhythms. It ends with her perched on his back, before tipping back into the arms of the ghosts.
Didy Veldman's The 3 Dancers turns a Picasso painting into an an abstract story, with two trios battling through stylised emotions. It's a dense, rather dry work, though the whole cast dance stylishly.
​Aletta Collins's new The Days run away like wild horses piles up patterns into a witty collage of time, habit and personality. The curtain goes up on Katrina Lindsay's domestic set, with a single woman sitting at a table. Around her, other dancers come and go, over and over. A footballer throws his ball in through the window, climbs in to get it and dives back out again. A woman soothes a crying baby. On the other side of the room, what may be the same woman brings her lover home to have sex.
Each new character repeats the same actions, until the small space is crammed with overlapping bodies and stories, smartly set to the Cubam rhythms of Arturo Marquez's Danzones. Sometimes Collins freezes all but one thread, with the other dances holding still or rocking in time.
In later movements, Collins pushes back the set and the crowd, focusing on the seated woman and her partner. We see multiple versions of this couple, cast across gender: sharp, thoughtful duet versions, and one where the whole company dance the same people. Collins shows personality unified and seen from multiple angles, all at once.
Reuse content
Comments