Guards at the Taj, Bush Theatre, London, review: Rajiv Joseph's excellent play seizes on some potent philosophical issues
Jamie Lloyd directs this award-winning off-Broadway play from the Pulitzer Prize nominee that questions the price to be paid for creating supreme beauty
4
Click to follow
The Independent Culture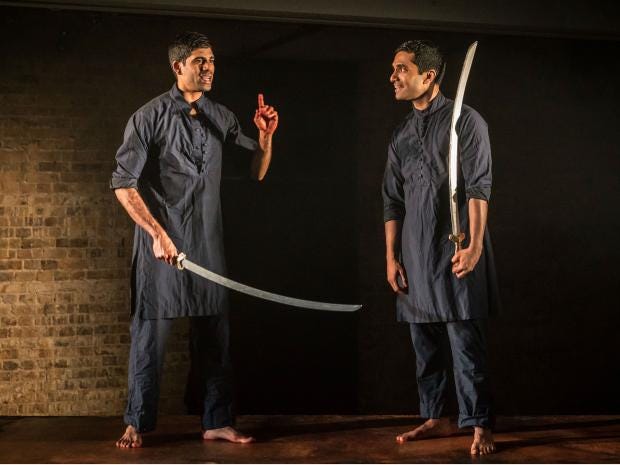 We're in Agra, India, in 1648 and the titular pair are up on a wall clearly in the rather infra dig position of being required to guard something special that they are not deemed fit to look upon directly. They seem less a part of the world that is being protected than on the same level as the great unwashed who are being frowned out. Rajiv Joseph's excellent play seizes on some potent philosophical issues and gives them a terrific comic snap and a sense of the wounding beauteous wonder of the ineffable – as has become par for plays in the tradition of Waiting for Godot and Rosencrantz and Guildenstern. As demonstrated by Jamie Lloyd's superbly cast UK premiere of the piece, Joseph's genius to plant his pair at a pivotal historical moment and to follow through so imaginatively on the resulting shocks to the system. These latter require a revision of some of the routine tropes of this genre.
The human price that it is permissible to pay in order to create supreme beauty is one of the considerations it confronts. Behind the guards, the sun is rising on the first day that the stupendous marble mausoleum of the Taj Mahal will be open to the sky. In our day where ever greater access to works of art and historic old buildings is demanded (some of the drawbacks of which were dramatised in Alan Bennett's last full-length play People), it's bracing to be admitted to a social set-up where a capricious ruler, Shah Jahan,wants such exclusive rights to the great work he funded that a simple favour asked of him by his genius of architect is deemed a gross insult and occasion for the berserk edict that is at the heart of this play. Rather than be allowed to wander round to view the fruits of their sixteen years of secret labour, the 20,000 men who built the Taj are to have their hands chopped off lest they ever try to emulate or surpass the Taj for another potentate at another site.
You will by now have guessed that the pun is very much intentional when one says that this is a two-hander with a difference. In Beckett, there is always the feeling that the double acts exemplify some compelling law of the universe in their metaphoric power.  "What is there to keep me here?" asks Clov in Endgame. "The dialogue" is Hamm's reply.  But when as, almost officially, the pair of underdogs in Joseph's play are ordered to carry out Shah Jahan's barbaric orders, the play is symbolically and viscerally severed from the body of this sub-genre.
Danny Ashok and Darren Kuppan as Humayun and Babur – cauterizer and chopper respectively – are both superb as they create a rapport in which the former is, roughly speaking, Ernie to the other's Eric in terms of imagined relations with authority. Blood-soaked, they slide round a stage pooling with gore. It's as though Rosencrantz and Guildenstern has had several buckets of Martin McDonagh chucked over it. I do not want to give away more. Except that there's a buoyant irony in the fact that Joseph's play about the less acceptable face of the construction marks the re-opening for business of the new-look Bush Theatre, heady with a wonderful redesign that, among many other things, gives a full rehearsal space to its productions and to the public a fantastic sense of airiness, space and aesthetically pleasing coherence.  For the first time, they have their own front door: darken it!
Reuse content
Comments