Roy Williams' spirited, raging drama investigates police corruption in Jamaica, as he returns to the theatre that staged his first ever play in 1996 - and returns to his own roots, exploring the country his parents emigrated from.
A white businessman is murdered in Kingston; James, a black British police officer (whose father abandoned him as a child to return to Jamaica) is sent to investigate.
Culture clash ensues: the uptight James makes a sharp(suited) contrast to the lively, limber Jamaican officers. They seem to make progress, when they arrest The Joker: a notorious criminal, but one also loved for looking after "his people".
Yet the law's grip further slackens after two of the force are kidnapped by his men - should they do a quiet prisoner swap where no-one gets hurt, or alert higher authorities, and risk starting a riot?
While the first half may be full of cocked guns, it pursues laughs at the expense of a sense of peril. This is redressed brutishly in a second half that gets nasty. Kingston 14 benefits from flash casting: Goldie - recording artist, DJ, film actor, classical music advocate - makes his stage debut as The Joker.
In designer ULTZ's canny set, he's seen prowling and glowering in a cell above the action; Goldie doesn't say much, but brings a suitably menacing presence.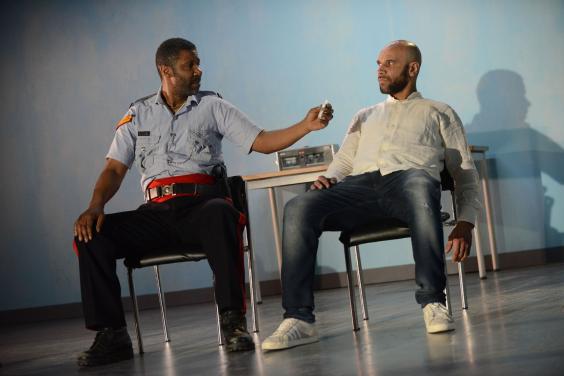 There are fine performances in Clint Dyer's production - Brian Bovell stands out as Marcus, a conflicted officer who isn't as hapless as he appears. The flown-in British cop James don't always quite convince, however, with Derek Elroy playing soft. Maybe we're too used to all those tough TV detectives: this one seems underpowered.
James is bewildered by the situation: everyone is either a crook, or crooked,  in each other's pockets for cuts of profits or cover ups. That's how the system works: functionally dysfunctional, a fact the meddling Englishman can't comprehend, and disastrously disturbs the balance of. And yet this endemic corruption is certainly also presented as a bleak, frustratingly intractable problem within Jamaican society - and it fuels the impotent rage that simmers in all its young men, be they police or gang members.
The play is delivered in dialect so thick and fast that screens provide translated surtitles. But to judge by the raucous laughter and whoops of recognition that erupt around the room, the material lands within its own community. This occasionally feels uneasy: lines you might have expected a wince at - homophobic references or matter-of-fact accounts of police brutality - prompt big laughs.
But Kingston 14 should also be lauded in staging a culture not exactly over-represented in British theatre. And Williams does explicitly explore the post-colonial legacy and tension between Britain and Jamaica. Sometimes too explicitly - state-of-nation speeches can feel shoehorned in. But the play convincingly suggests such tensions underpin both the island's chaotic political situation, and the wariness between the Jamaican police and the visiting Brit. There are sly nods to UK police corruption too - depressingly, a perennially fresh-sounding accusation...
There's a lot going on here, and while not all the big ideas flow at the pace of Williams' convincingly speedy dialogue, it proves a bracing evening.