Nice Fish, Harold Pinter Theatre, London, review: Mark Rylance's timing is superb
Direct from a sold-out New York run, Mark Rylance returns to the West End to star in his hit new comic show 'Nice Fish', which he also co-wrote with Louis Jenkins - and for anybody dressed up as a fish or fisherman, a limited number of free tickets are available at each performance
4
Click to follow
The Independent Culture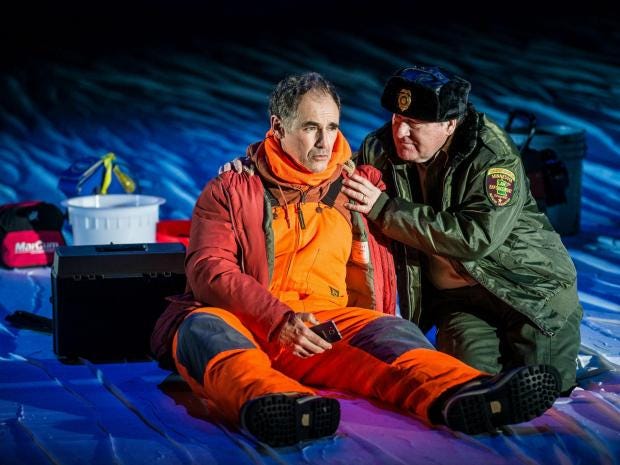 Prospective punters who turn up to this production kitted out as fish or fishermen have a chance of laying their mitts on the limited number of free tickets for box seats that are being dangled at each performance on a first-come-first-served basis. It's not every day that a show starring and co-written by a supremely great actor makes this kind of offer. But then Mark Rylance is a one-off in so many ways.  
Nice Fish is his collaboration with Louis Jenkins, the Minnesotan prose-poet whose work Rylance recited in lieu of an acceptance speech on two of the three occasions he has won a Tony Award. The current piece is a kind of quirky quilt made from Jenkins's writings – not a conventional play but a succession of absurdist monologues and vignettes that are punctuated with brisk, bathetic black-outs in Claire van Kampen's bewitching and beautifully-paced production. Imagine Waiting For Godot on ice, as adapted by Garrison Keillor and presented as if it were torn-off bits from a comic strip. Or a piece that, with its fishy milieu and keen sense of the transitoriness of life, could be subtitled "Fins Ain't Wot They Used to Be".  
The setting is a frozen lake to which Erik (Jim Lichtscheidl), a serious ice-fishing enthusiast, has brought his old chum Ron. Erik's morose dedication is sorely tried by the antics of Rylance's charmingly guileless goofball, Ron, who is less interested in being a weekend Captain Ahab than in fooling around with his novelty singing fish or impersonating a snowman. Rylance delivers Ron's ramblings with a slurring flat Midwestern drawl as though the character is suffering from a permanent slight concussion at the sheer oddity of the world. His timing is superb. "Being mostly water as we are, it's not so bad living in a cold climate like this one. It gives you a certain solidity" is typical of the character's and Jenkins's insights: playfully on-the-nose and off-kilter; funny, with an undertow of deep, yet lightly-borne melancholy. 
A number of other characters, all terrifically well-played, obtrude upon our mutually musing couple. Bob Davis's officious DNR man splits petty hairs over the regulations about payments and permits before, in a surreal segue, announcing to the audience that he's been elevated to form a secular sainthood for his extreme dutifulness, the only snag being all the floating that sanctity entails: "These days I take my meals standing up, tethered like the Hindenberg". Raye Birk is perfection as Wayne, the grizzled spear fisherman, who has one of the best lines, about old age – "First you forget to zip; then, as time goes by, you forget to unzip" – and who believes that every part of nature would retaliate for our predations, given the right circumstances. Who is to say that mushrooms would not eat us, if we lay still for long enough? "That would be a slow death," reckons Erik. Though warmly and winningly played by Kayli Carter, Wayne's sprite-like granddaughter – with her readings from Moby Dick and her sing-a-longs – may strike you as a little too close to Manic Pixie Dream Girl for comfort.  
The ice booms and cracks. Wolves howl. A sweep of rippled white sheet evokes the frozen lake in Todd Rosenthal's beautifully evocative and impish set, which suggests the mighty distances by playing games with perspective – dinky trees; miniature puppets, and (a bizarrely incongruous touch of a Las Vegas-type 'desert island') a fibre optic palm tree twinkling away in the tundra. You don't need a worrying weakness for whimsy to enjoy this piece. If (as I do) you think it's a delectable gag for Ron the Snowman to cite one of his favourites songs as Don't Get Around Much Any More (those young snowmen – a byword for gallivanting), then you will be home and away. Which is why at first I thought the final meta-theatrical and self-reflexive sequence – "Old people are exiting this life as if it were a movie, 'I didn't get it'" – felt unduly like an insurance policy. It's all redeemed though, I'm glad to say, by the climactic image, which upends the central metaphor of the piece with a blissful jokiness, and is proof positive that Nice Fish does not let itself off the hook.
Buy tickets for Nice Fish with Independent Tickets
Comments