No's Knife, Old Vic, London review: Lisa Dwan is back with Beckett in another extraordinary tour de force
No's Knife has been selected and arranged by the actress from Texts for Nothing
4
Click to follow
The Independent Culture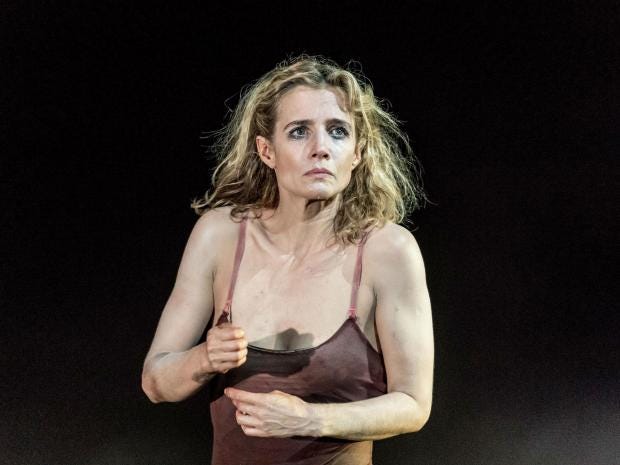 There is nothing, it seems, that Lisa Dwan will not do for Samuel Beckett. To perfect her astonishing performance as the frantically jabbering disembodied mouth in Not I she strapped her head to the banisters during rehearsals at home and suffered a couple of herniated discs and a temporary loss of vision while taking the piece round the world. The hour-long trilogy in which she delivered Not I along with two other short solo works (Footfalls and Rockaby) established Dwan as the foremost exponent of this author, in apostolic succession to the great Billie Whitelaw, who was a mentor of hers.  
Now Dwan is back with Beckett in another extraordinary tour de force that feels as liberating as it is punishing. This time, though, there's a categorical difference. No's Knife has been selected and arranged by the actress from Texts for Nothing, 13 fragmented prose pieces – interior monologues in which language is on the brink of breakdown – that were written in the early 1950s and not intended for theatrical presentation. This means that not only is the performer/adaptor no longer supported by the stringency of the stage directions in Beckett's play texts but she has to find a suitable habitat for the haunted consciousness that can't quite give up the ghost.  
The 70-minute production, which Dwan has co-directed with Joe Murphy, gets off to a startling start. Closed eyelashes, projected in giant insect-resembling close-up on a billowing curtain, suddenly part and we're plunged inside the expanding pupil of the eye to a womb where the adult Dwan is floating in amniotic fluid  – "the amniotic padded cell", as Beckett calls it elsewhere in one of his great grim jokes, not being a big fan of conception. There are laboured exhalations and then the curtain plummets to afford us a stomach-lurching aerial view of the slight figure of Dwan, clad in only a dark slip and with bleeding, filthy legs,"down in the hole the centuries have dug". Seen later from another perspective, this landscape is both the "sucking peat" of Irish bog and a smoky immemorial battle-field in Christopher Oram's evocative design.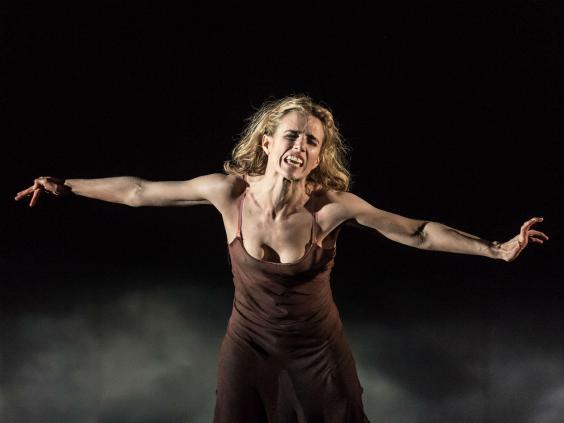 To be human is to be in exile from home and from an identity that is perhaps merely a story concocted by our perpetually rabbiting  consciousness. In a fine programme essay, Fintan O'Toole makes a powerful case that the condition Beckett writes about is not an intellectually rarefied one. "Can you feel at once profoundly stuck and yet entirely uprooted?" he asks, linking the plight of the protagonist to the "millions of stateless people" and the "limbo of refugee camps". This is not the first attempt at a stage version of Texts for Nothing, but it is the first occasion that the attempt has been made by a woman. Her performance is far from genderless but it seems to transcend gender (especially in those places where the text evidently has a man in mind). In elemental quality, it intensifies the sense that were all in this together.  
"Nothing like breathing your last to put you new life in you": this may be a person at the end of her tether but the Irish-accented Dwan brings out all the passion, wit, and anger in the script in a remarkably vigorous feat of vocal virtuosity. She can swoop and pounce with sardonic derision – "He has me say things saying it's not me, there's profundity for you" – or hiss out her inner antagonist's side of the conversation with an almost possessed fury. She perfectly points up the glinting humour of Beckett's web allusions. "The posture is immaterial, so long as one is on earth" – who would have thought we'd hear an echo of Lady Bracknell ("The line is immaterial") in such extreme circumstances? The evening unfolds in movements, as in a piece of music; it's a progression that sees her gradually step beyond the proscenium frame and closer to the audience, the heart laid absolutely bare. Unforgettable.
Buy tickets for No's Knife with Independent Tickets
To 15 October; 0844 871 7628
Reuse content
Comments