The Old Vic kicks off its second season of in-the-round productions with a witty, blistering play by  American dramatist Jon Robin Baitz, the intimacy of the new configuration serving well its sharp, unwavering focus on a feuding, politically divided household.
 It's Christmas Eve 2004 and we are in the affluent Palm Beach home of the Wyeths, an old Hollywood family. 
Arch-Republican Lyman Wyeth (excellent Peter Egan) was a gunslinging movie star who was later made an ambassador when his pal, Ronald Reagan, became President. 
His even more right wing wife, Polly, is a Texan Jew who transmogrified herself into a fearsomely well-groomed goy. 
In the Sixties, she wrote a series of popular MGM comedies with her sister, Silda, a leftie lush who is just back from rehab, broke, dependent but mordantly uncowed.
Returning for the festivities are the couple's two surviving adult children.  Trip is the producer of a Judge Judy-type reality TV show and, as Daniel Lapaine's fine performance indicates, puts a lot of effort into maintaining the impression of buoyancy.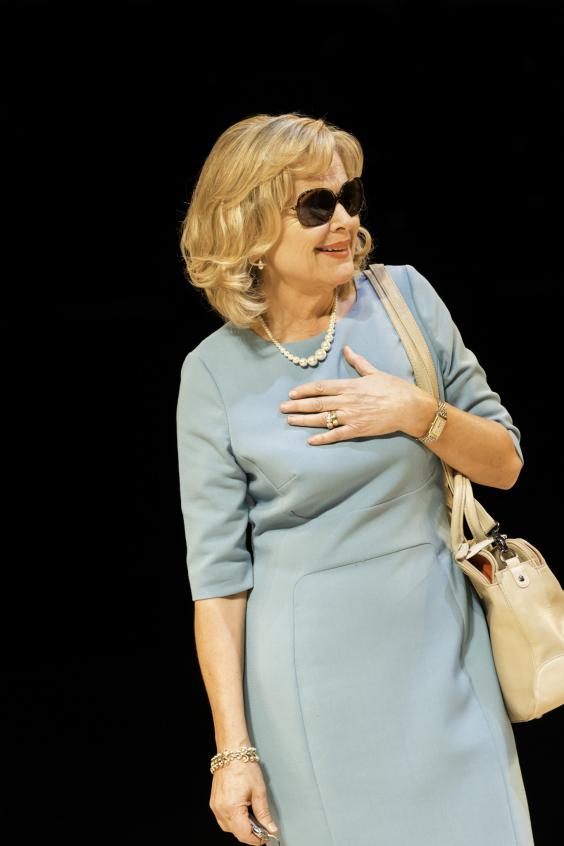 It's the novelist daughter Brooke (Martha Plimpton) who triggers emotional turmoil. 
After a prolonged spell in hospital for depression, she has written a revealing family memoir that deals with the suicide, years before, of their older brother, Henry, who had joined an anti-war hippie cult and was implicated in the fatal firebombing of a US army recruitment office. 
Her parents are aghast at her disloyalty and at the thought that a book which portrays them as "right-wing sociopaths" who destroyed Henry might soon be excerpted in the New Yorker.
As Lindsay Posner's superlatively well-acted production richly demonstrates, this is not a play that allows your sympathies to settle comfortably – and not just because there's a devastating and not-wholly-plausible revelation in the second act that forces you to reassess much of what's gone before. 
Brooke may have some right on her side but, as Trip astutely notes, she thinks that having had a breakdown entitles her to a special licence to speak with impunity whereas , in fact,"depression," he argues, "makes you banal". 
American actress Martha Plimpton beautifully captures the mix of anguished vulnerability and dangerous authorial self-regard.  "I am as sorry I am a writer as you are.  I wish I had been made differently," she admits in a moment of empathetic clarity before pressing indeflectibly on.
In her fear of weakness, Brooke is a lot like her mother Polly who is brilliantly portrayed here by Sinead Cusack.  Launching the character's reactionary zingers, "It's all or nothing with your generation.  Either vegans or meth addicts or both at the same time..." with lethal comic timing, Cusack lets you see the Nancy Reagan-esque will-power and ferocious control that have gone into the manufacture of Polly's immaculate facade. 
"Honey, this Pucci is a lot more real than your Pat Buckley shtick," declares Clare Higgins's sparky, wise-cracking Silda who slops around in garish, bargain-rack prints.  But by the end of Baitz's clever, even-handed play, this unreconstructed liberal is looking pretty compromised and inauthentic too.  A great start to the in-the-round season.
To May 24; 0844 871 7628
Reuse content