I want to love Rambert's new Dark Arteries, which puts a brass band on stage and frames it with a large cast of dancers. The playing of Tredegar Town Band is sonorous and splendid, but Mark Baldwin's choreography is full of gestures that don't connect. When the curtain goes up on all those gleaming instruments, standing out from Michael Howells' shiny set, the audience oohs with pleasure – something the work doesn't tap into.
Dark Arteries is driven by its music, written by former Rambert music fellow Gavin Higgins. He grew up in the British band tradition, which is rooted in mining communities; this work marks 30 years since the miners' strike.
Baldwin, Rambert's artistic director, fills his dance with images of community, performed by a cast of twenty. Lines of women, dressed in full skirts and moving into deep crouches, evoke modern dance pioneer Martha Graham.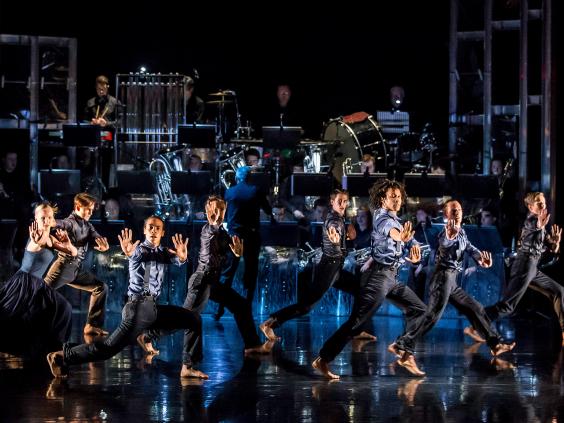 By putting those styles together, Baldwin is joining two socially-engaged traditions, both grounded in style. His dance is too lightweight to make it work. What should be monumental looks rushed, failing to match Higgins' layers of chiming, rumbling sound. Male and female soloists step out from the crowd, some dressed in brightly-coloured leotards. Two women step forward pointing and gesturing. They look like narrators for a story they don't make clear.
Where Dark Arteries aims for imposing and misses, Alexander Whitley's Frames just looks aimless. Bringing on steel poles, dancers use them as staffs, build ballet barres out of them, and finally construct tilting frames out of them. There's a lot of clanking about.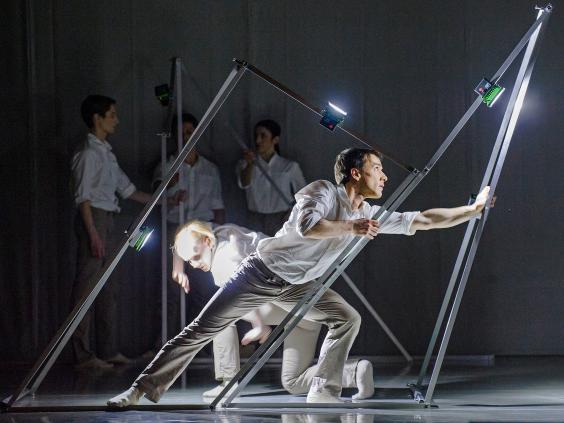 Rambert's dancers give it as much energy as they can. Dane Hurst pours drive into his solos, bringing out every contrast. Their costumes, white shirts and beige trousers, make them look preppy and anonymous; Whitley's steps are well-mannered but lacking drive. The music, by Icelandic composer Daniel Bjarnason, gives the work some clatter.
Lucinda Childs' Four Elements, created in 1990, mixes a colourful set with minimalist dancing. Dressed in luridly patterned leotards, backed by paintings of gardens and skeletons, the dancers move through sculptural steps. It's rigorous but dry.