Natalia Osipova moves through Connectome like a connecting spark. Alastair Marriott's new work for The Royal Ballet was inspired by the wiring of the brain, connections that make up identity. It's elegant, but even with such starry casting, it remains the quiet one in a lively triple bill.
Connectome could be seen as Marriott's take on the style of his fellow Royal Ballet choreographer, Wayne McGregor: it has a scientific theme, high-tech designs and some very bendy steps. Yet Marriott approaches this material from a more conventionally balletic angle, with undistorted lines and a storytelling instinct.
We first see Osipova moving among the white rods of Es Devlin's stage design, projections flickering around her. The rods lift to reveal an open stage and video designs by Luke Halls, lighting up with neural connections. The Arvo Pärt score is serene and hypnotic, with fine playing from violinist Vasko Vassilev.
Marriott responds to the crackle of Osipova's stage presence, the lofty spring of the Russian ballerina's jump.  She's the only woman in a cast of seven, partnered by the charismatic Steven McRae and Edward Watson and a fine corps of four men. She zigzags her way through the ballet until she is left alone on a darkened stage.
There's a religious edge to a sequence for McRae, who is lifted by the corps, spotlit and yearning for the divine. At last he folds up and vanishes among the circle of men, who arch outwards like the petals of a flower. Osipova and Watson have an intricate, stretchy duet, displaying their extreme flexibility with touches of tenderness. Marcelino Sambé stands out among the supporting men.
Connectome is a very polished production, but it's a little too polite. A connectome gives each individual their own wiring, their own identity. Marriott's fluent ballet needs more personality.
There's plenty of gusto elsewhere. McRae is a dazzling Oberon in Frederick Ashton's The Dream, a commanding fairy king with quicksilver dancing. Flitting through the scherzo, he whirls with impossible speed, and then gets faster, as if mortal laws can't catch him. As Titania, Roberta Marquez can't match his authority.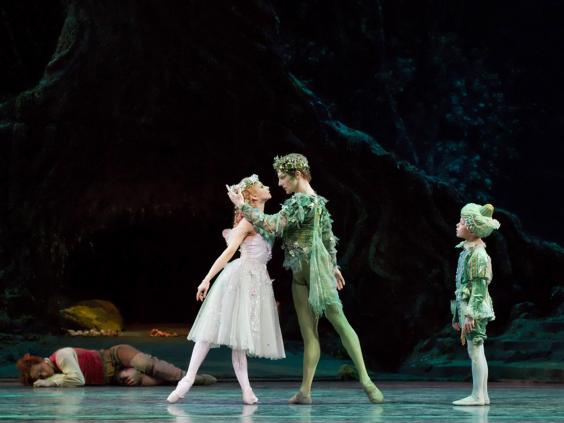 There's real sweetness from Bennet Gartside as a naïve and enchanted Bottom, and a bouncy cast of lovers and fairies. Created 50 years ago, The Dream is still fresh, still magical. This revival brought a fond extra curtain call for Anthony Dowell and Antoinette Sibley, the first Oberon and Titania, who coached this revival
Jerome Robbins' The Concert is a broader comedy, playing out the fantasies and accidents of a group of concertgoers at a Chopin recital. Lauren Cuthbertson is very funny as floaty artlover, so entranced by the music that she doesn't notice that her chair has been snatched from under her. Gartside gives a sharp edge to the resentful husband, with Laura Morera splendidly frosty as his wife. Robert Clark, the harried pianist, combines confident playing and nice comic timing.
Reuse content