The 'Neath, The Vaults, Waterloo, London, review: At one point, he asks me to pee on him
The immersive fantasy created for Vault Festival 2017 has a devilish pop-up bar with an interactive performance and a loose plotline
3
Click to follow
The Independent Culture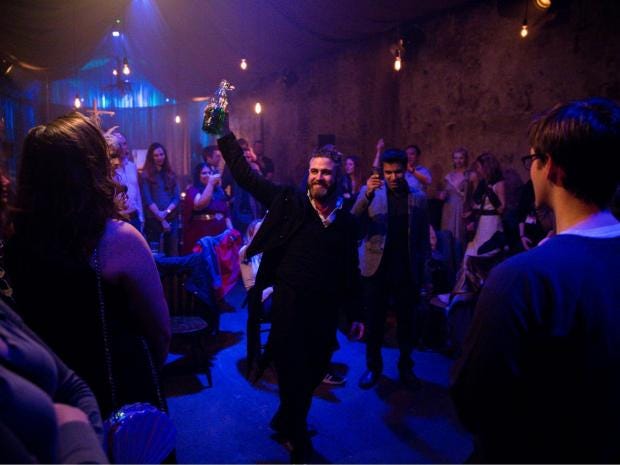 This bar with a difference has been set up as part of the Vault Festival, which has grown into a major London festival, mainly focusing on theatre but also showcasing new and rising talent in comedy, music and film.  
The 'Neath, located in one of the Vault's many tunnels, is free to visit for Vault Festival members (which costs £30) or £26.75 for non-members. It's produced by Dean Rodgers who has worked on the successful escape the room games and immersive experiences including Time Run and The Crystal Maze.
In one sense, it's a glorified bar. Beers are £4.50 a can and cocktails about £8. But then, you're not just paying to go to a bar, you're paying to be entertained for a hour and a half while you're enjoying the bar. The conceit is that you are in a sort of underworld, where if you confess your sins you'll get a chance to drink some green-coloured water that will absolve you of a debt to the devil.  
The bar is owned by a 'friend of the devil' who personifies pride, but is also quite terrifyingly pervy. At one point, he asks me to pee on him. He gets to say whether your sin is bad enough to qualify for a sip from the emerald liquid and considering some of the terrible stuff that the crowd confesses to, he sets the bar very high, or low, depending on your perspective.
In order to get to approach the devil's friend you have to confess your worst sin to one of many nymph-like creatures frolicking about the room, they are all quick-witted and up for some banter. There's also a lurching dog-like man obsessed with daubing everyone with shoe polish, I'm not sure which underworld creature this was meant to represent. There's a loose plotline about a doomed love story which is the only moment where participants actually get to do some puzzle-solving, but it's not enough to keep everyone in the room occupied. 
Giving this a star-rating is difficult because if you've got it for free, then it's a really fun addition to your evening out and much more interesting than your normal pint and a packet of crisps scenario but if you're thinking of paying full-price for an immersive night, maybe save your cash for one of the other plays or comedy acts at the Vault Festival, which runs until 5 March, there's something for all tastes, and you won't have to reveal your sins to a roomful of strangers. 
Comments