The Tempest, Sadler's Wells, London, review: 'The story's political tensions barely register'
Birmingham Royal Ballet's new production of 'The Tempest' is lavish with designs by Rae Smith of 'War Horse' fame and a new score by Sally Beamish
2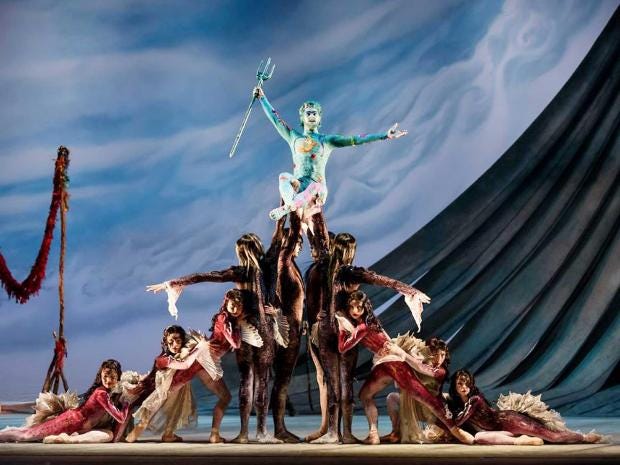 Birmingham Royal Ballet's new production of The Tempest has plenty of spectacle and little emotional depth. Silken waves billow, masques of sea sprites or goddess pop up at the waft of a magic staff, but the dramatic temperature rarely varies.
The Tempest is a long-planned project for the company and its artistic director, choreographer David Bintley. It's been achieved on a lavish scale, with designs by Rae Smith of War Horse fame. Sally Beamish's new score starts with the recorded sound of waves, then dives into lyrical themes and perky hornpipes.
The meat of the story is trickier. Shakespeare's play has magical imagery and themes of redemption and forgiveness. Its plot is intricate, full of subplots and flashback narratives, with very few female characters.
Bintley follows the play's narrative closely, with clear storytelling but plodding pacing. The story's political tensions barely register. Prospero, a magician and deposed duke, has set himself up as ruler over an enchanted island, whose original inhabitants have become his servants. Bintley's Ariel is a happy sprite, a Puck figure who doesn't chafe in Prospero's service – which flattens both characters. Colonial themes are mostly ignored, but it really does not help that Tyrone Singleton's Caliban is stuck with a costume that suggests a Halloween American Indian.
There's an evenness of tone across the ballet, with one big setpiece following another. Mathias Dingman's elegant Ariel flies in on wires to conjure the storm, picking up a model boat before we cut to the chaos on the full-scale version. It's a very pretty staging, from the gilded ship to a sea of silk, but there's not much fear or mischief in it.
Bintley's best scenes are for Prospero, his daughter Miranda and Ferdinand, who falls in love with her after being washed up on the island. Their first duet is sweet. Having grown up in isolation, she's both attracted and surprised by him, teasing him over his formal, courtly gestures. Jenna Roberts and Joseph Caley make the most of it, spontaneous and lively. Their later dances are blandly lyrical.
There's a touching moment where Prospero, after remembering the loss of his kingdom and his wife, faces his daughter's departure, cradling her abandoned doll. Miranda breaks away to comfort him, before moving back to Ferdinand. Iain Mackay is vivid in Prospero's divided impulses, grief and hope. Bintley's Tempest needs more of this emotional conflict, more awareness of its characters' contradictions.
The emphasis on pageantry includes plenty of danced divertissements. Shipwrecked characters are flown through underwater scenes with chorus girl nymphs. The wedding masque brings on huge numbers of allegorical figures – and increases the number of female roles. I enjoyed Céline Gittens's Ceres, a harvest goddess who combines 1930s Hollywood glamour with expansive, generous dancing.
The divertissements are overlong, but they're very well danced: Birmingham Royal Ballet has plenty of strong soloists, showing off technique and bringing personality to their roles. Bintley has more fun when he brings the masque characters back for a choreographed encore, with greater pace and variety to their steps. Throughout, his dancers do him proud. 
Reuse content
Comments