The Wild Party, The Other Palace, London, review: Gorgeous jazz score – played to perfection by Theo Jamieson's smoking-hot eight piece band
This darkly comic musical set in Manhattan in the Twenties is about a vaudeville showgirl and vaudeville clown who decide to throw a debauched party like no other
4
Click to follow
The Independent Culture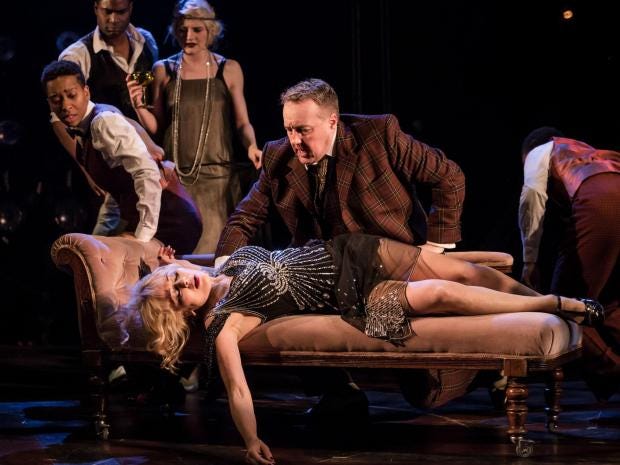 There seem to be no honest-to-goodness nibbles at this thrash – mixed nuts canapes, sausages on sticks, that sort of thing.  And where, may I ask, is the fruit cup? Cocaine, yes – and "gin, skin, sin and fun". The gin, by the way, is bootleg. This is, after all, the prohibition era.  One of the invitees self-mockingly characterises himself as "born into champagne, but doomed to wallow in bathtub gin". Oh, there's a bathtub, too, where some folk get up to less public-spirited tricks than concocting a better class of booze.
The venue in Victoria, formerly known at the St James Theatre, has been taken over by Andrew Lloyd Webber and rebranded as the The Other Palace. Under the artistic directorship of Paul Taylor-Mills, the theatre is now purposed to be a creative hub for the development of boundary-pushing new musicals and for championing neglected gems that have never reached these shores.
It's the latter part of that mission that's achieved here by Drew McOnie's bold, stunningly well-cast UK premiere of this show by Michael John LaChiusa and George C Wolfe, which had a short-lived run on Broadway in 2000. The brevity can probably be explained by the fact that potential punters were a bit baffled. Opening that same season was another musical (by Andrew Lippa) with the same title and drawing on the same source – Joseph Moncure March's Jazz Age narrative poem, The Wild Party, that had recently come out of copyright.
LaChiusa's take on the material gives a dazzling, dizzying, darkly comic edge to the debauchery and a sizzling sense of coked-up horniness that should set off police sirens. The show unabashedly borrows from Chicago the idea of presenting the proceedings as a corrupt vaudeville. We're in Twenties Manhattan and ageless showgirl Queenie and her lover and performing partner Burrs (a clown with an Al Johnson voice and a temperament that always seems to be pushing him to the brink of homicide) decide to reinvigorate their ailing relationship by throwing the party to end all parties. Cue a parade of guests that include a gigolo, a stripper, a lesbian actress with her junkie girlfriend, an ex-boxing champ, a pair of impresarios – Gold and Goldberg – who squabble over their dead giveaway names, and the D'Armono Brothers, a black sibling/lover dancing duo whose seamless synchronisation and faint, unsettling ambiguity are conveyed with mesmeric power here by Gloria Obianyo and Genesis Lynea.  
The dialogue may start to get on your nerves with its unrelenting bitchiness, but the gorgeous jazz score – played to perfection  by Theo Jamieson's smoking-hot eight-piece band – is full of raunchy wit and rage and rue. McOnie's knock-out choreography helps to mask the show's problems as a piece of drama – a first half that feels too much like a variety bill of back-stories and an unravelling in the second half that suffers from the fact that, to my mind, the show doesn't keep regular enough tabs on the central pair.
Coming to this fresh from portraying a female Captain Hook at the National (you would have to imagine someone playing Roxie Hart straight after giving us her female Long John Silver to get the bizarre bravura of this segue in proportion), Frances Ruffelle is wonderfully louche and vulnerable and slippery. As Burrs, John Owen-Jones, seething and in tremendous voice, is a horrific crime-scene waiting to happen. The actors give us acrid whiffs of this pair's toxic chemistry: I just wish the show brought them together more.
It's the onslaught of high-definition dancing, though, and its gob-smacking precision as the party gets ever more wayward – the crazy euphoria of the Charleston-ing, the jazz hands in mad spasm, the feral cavorting round the bathtub – that are the main reason for seeing the show. Watching thesps being divinely decadent all over the place can sometimes excite in me the desire for a nice month in monastery. Not this time. "I've been to a marvellous party," sang Noel Coward. Could one claim the same here? Let's just say that I left exhausted and rather exhilarated and resolved to accept further invitations from this rejuvenated joint.
Reuse content
Comments