This was James Brining's debut in the chair as artistic director in Leeds and he was always going to have to opt for something a little more radical than a quick trim and a blow dry to stamp his mark on the house. 
Brining, who has been in post for more than a year, said he had chosen Sondheim's classic slash horror musical for its relevance to the present travails of our society and those of the not so distant past.
Transported from Victorian London to a capital transitioning uncomfortably to the 1980s (the time the musical was written) he draws comparisons between the play, the social turmoil of the Thatcher era and today.
"The message, in the broadest terms, is that if society is permitted to be constructed in a particularly unjust way, there will be dire consequences," he remarks in his programme notes.
It is hard to disagree with that.
But if there is any particularly compelling contemporary traction in this thrilling work it is surely because its gory charms are universal and timeless. The cut-throat fable dreamed up in the "penny bloods" and polished in the public bars on the street of ink is a comic fantasy of the small man's revenge with a strong moral conclusion. It does not feel particularly like a manifesto.
But that is not really the point. Sweeney Todd is above all cracking high class entertainment with a pulsating score and a fascinatingly lurid cast of characters that is at times little more than a singing freak show – though it is none the worse for that.
For this joint production with Manchester's Royal Exchange, the Quarry Theatre was at its most cavernously imposing. An industrial set looked like it had been liberated from the nearest scrapyard whilst a strong chorus of voices invited us to strap in and enjoy the ride. That was not difficult partly because of the sheer brilliance of the music – always manically teetering on the edge of breakdown – but also because of the strength of the central performances.
David Birrell brought an eerie stillness to the menace of the barber and if one struggled to be convinced of his murderous potential at the beginning there was little doubt by the gruesome finale that this was not a man you would want inquiring whether you required a little bit more off the top.
So too for Gillian Bevan as Mrs Lovett who undergoes a similarly unsettling transformation from London lowlife to Lady Macbeth reborn through pastry and flesh.
West Yorkshire Playhouse to 26 October. Royal Exchange, Manchester 1-30 November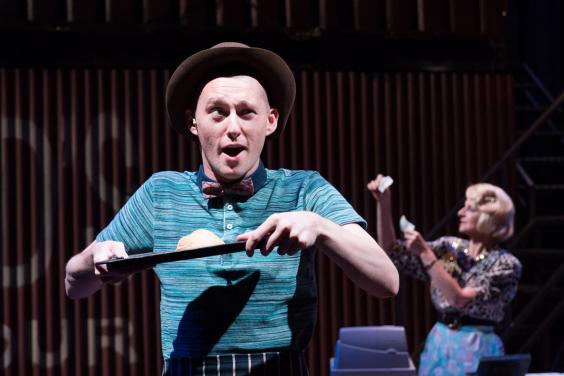 Reuse content