Ventoux, Vault Festival, The Vaults, Waterloo, London, review: The actors pedal furiously on their stationary racing bikes
The show, about the rivalry between cycling superstars Lance Armstrong and Marco Pantani, dramatises a clash of personalities and their fall from grace
4
Click to follow
The Independent Culture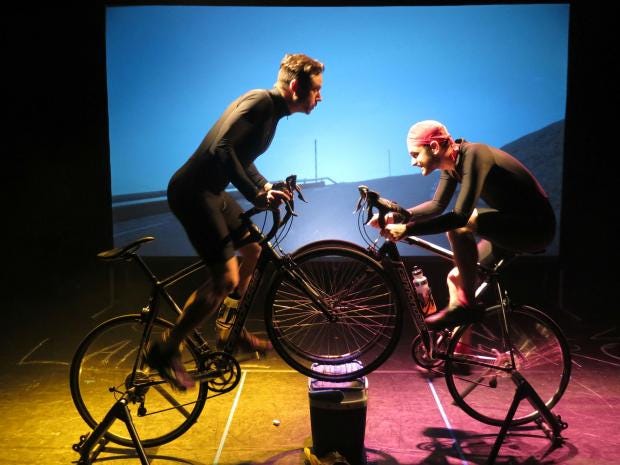 It may sometimes leave folk who don't have much prior knowledge hungry for more information, but there's not a pedestrian moment in this vividly suggestive hour-long show about the rivalry between cycling superstars Lance Armstrong and Marco Pantani. Mont Ventoux – characterised by Roland Barthes as "a God of Evil, to which sacrifices must be made" – is the most daunting leg of the Tour de France and in 2000 it was the scene of a historic battle between the two sportsmen, ending in wounded pride and rancour as the Texan appeared to let the Italian reach the summit first. The tour that year was the second of Armstrong's seven overall victories –  of which he has since been stripped as a result of long-term doping offences. Pantani had no more professional successes thereafter and went into steep decline. He died alone in a hotel room in 2004 from acute cocaine poisoning.
In this powerful, sparely staged production – directed for the Nottingham-based 2Magpies Theatre by Matt Wilks – Alexander Gatehouse and Tom Barnes (playing Armstrong and Pantini respectively) pedal furiously on their stationary racing bikes into footage of the route that they themselves filmed. It's a titanic uphill struggle evoked with great immediacy and ingenuity, with the protagonists sometimes wrenching their vehicles into new configurations (there is one that suggests both locked antlers and fiercely concentrated mutual snubbing). From the present tense of the race (replete with some original audio commentary), this artfully structured piece – which was devised by the company and Andy Routledge – flashes backwards and forwards in time.  
Ventoux makes overt but never cruel use of the benefit of hindsight as it dramatises a clash of temperaments and traces the differing trajectories of two spectacular falls from grace. It's a dichotomy summed up here towards the end in Armstrong's own words: "If I was the carpenter, Pantani was the artist". Gatehouse exudes indeflectible self-belief as Armstrong and shows how this operates for better and worse. The athlete's courageous conquest of cancer (he chalks its spread in outline on his body suit) gave rise to his LiveStrong Foundation charity, but here we wince at his bullish motivational talks claiming it's absurd to think a cancer survivor would abuse his own clean body with performance-enhancing drugs.
He carries on pedalling and raising his arms in victory through a symbolic sequence, during which Barnes's wiry but psychologically fragile Pantani – haunted by the suspicions that took some of the lustre off his own golden career – empties a cooler box of indictment-containing envelopes over his rival, who reads them out and tears them up.   
The technocrat versus the poet? The man who through intimidation of colleagues kept the doping culture that suited him under wraps versus the man whose inner demons of reproachful self-doubt eventually proved fatal to him? One of the ways that Ventoux complicates the severity of any such verdict is to let Armstrong deliver his own eloquent appreciation of Pantani's superior qualities (the ability to step off a bike and become a human being) as the piece draws to a close. Worth catching either during its run at the Vault Festival (until 19 February) or thereafter during its 40-stop national tour.
Comments