Liam (beautifully portrayed by David Moorst) is a geeky 17-year-old – a fastidious mummy's boy whose mother has recently died. With nowhere else to go till he gets his A Levels, he's been forced to move from the north to the Welsh valleys and live with Rick (Jason Hughes), the lager-swilling, hard-nut father whom he's never known but whose nickname ("Vile" for violence) is no misnomer. 
Premiered in Hamish Pirie's splendidly acted in-the-round production, Gary Owen's new play fizzes with scabrous humour and grows convincingly darker but its grim, nightmarish conclusion I found unpersuasive.
Costumed as Matt Smith's Dr Who and Amy Pond respectively, Liam brings his attractive college friend Jen (Morfydd Clark) home from a science fiction convention. She's drawn to this bookish, witty nerd who could well have "landed in a blue box from another planet". Will she finish with her macho rugby- playing boyfriend for him?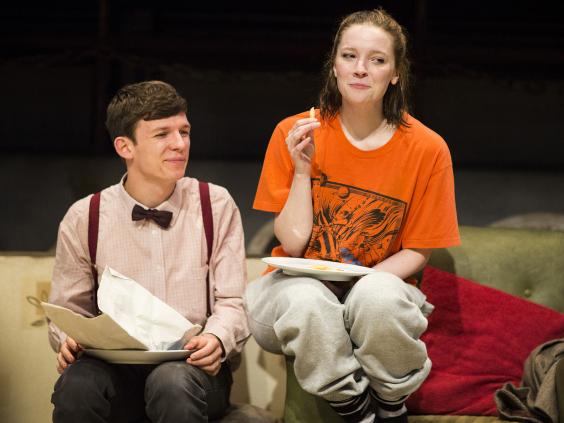 The lewdly chauvinist Rick and his vulgar girlfriend (Siwan Morris) egg the lad on to take the initiative. The tensions between father and son and violence as an escape from intolerable emotions are handled very well. But I don't think the play makes it plausible that Liam would wind up disastrously following Rick's advice and so the ending feels, to me, contrived and deterministic.
To July 11; 020 7565 5000
Reuse content