As someone who has lived through every British culinary revolution since Alpen, boil-in-the-bag spaghetti Bolognese and the Chinese takeaway – there are good revolutions and bad – I am grateful for the transformation in the food we have available to us at home, in the supermarket and, of course, when dining out. So don't get me wrong: I admire anyone who can do something creative with a spud (and, yes, feel free to contact me with whatever obscene anecdotes you may wish to share about what you and/or our partner[s] have managed to do with/to a potato. I'm a bit bored just now and I need a laugh). 
All that said, like Mr Creosote in the famous Monty Python sketch, you can have too much of a good thing, and, I confess, I got to the wafer-thin mint moment a little before the end of Bake Off: Crème de la Crème. Like the delicately crafted patisserie prepared by these wannabe celeb chefs – an ambition universally shared these days – I don't quite know where to start, but why not with Angus Deayton? Shall we?
Angus's commentary was delivered with that same wry, laconic style brought so memorably to his chairmanship of Have I Got News For You. But now, almost cruelly, he seemed permanently in search of a devastating punchline that could never come, because he has to be sweet to the contestants and the judges. He exists, now, in a state of satirical purgatory. Someone should let him back on HGNIFY. He's suffered enough.
Then there are those top chef judges, Cherish Finden and Benoit Blin, names that sound like exotic dishes. Cherish looked so vengefully at one hapless chef who had the audacity to present her with a messy coffee and chocolate slice-thing that I feared she was about to whip out her seven-inch Sabatier Professional knife and prepare a pair of tasty sweetbreads using his very own freshly sliced-off home-reared offal. Benoit Blin is the nice one, and is blessed with a comedy French accent exceeding anything that Antoine de Caunes (him off Eurotrash, if you remember that), Peter Sellers or 'Allo 'Allo!'s Arthur Bostrom ever managed to entertain us with – "peuff pastreee", "temberton" (tr. Tim Burton) and "squuezie" (tr. squidgy, I think).
The format is a mess, a right botched mille-feuille, of two groups of five teams each competing across three heats in nine episodes. None of whom you get to know or care about. I did learn a few things though, such as what joconde, mousseline and cremeux mean, though I'm not sure when I'll be able to show off my new found vocab. Maybe next time I'm in Greggs. 
At crunchy cashew base, I am just not bothered about cakes. When I'm solemnly informed that one team has "a big issue with their sponge" while another's "second attempt at pistachio joconde is baking unevenly" I don't really give a flying fig, walnut and fennel roulade. Neither, I sensed, did Angus. So why should I?
Bake Off: Crème de la Crème represents the crumbs from the Great British Bake Off franchise, the morsel left behind when the rest of the gateaux migrated off to Channel 4. I'd advise the BBC to have another look at the recipe and stick Bake Off: Crème de la Crème back in the oven for the other half of its required baking time.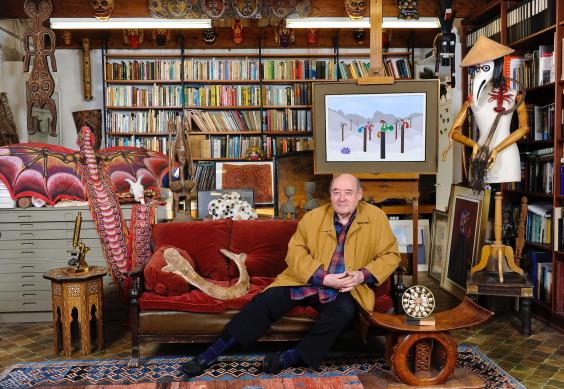 How delightful it is to see the old Naked Ape himself back on our screens in The Secret Surrealist: Desmond Morris. Now pushing 90, in the 1970s the ubiquitous Morris delivered pop anthropology to virtually every living room in the land through books and TV series, reminding us that, in so many ways, we are far closer to chimps and gibbons than we might like to think we are. Manwatching, in particular, was masterpiece of revelation.
Maybe it is fitting, then, that this time round Morris is showing us how different from the animal kingdom we are, a spart of BBC4's surrealism night. Morris became the "secret surrealist" in his teens, partly as some kind of reaction to the early death of his father during the war; otherwise as a near-normal version of adolescent behaviour (of a kind he'd be familiar with at an academic level). So he painted his teenage bedroom completely black – but added brightly coloured ornamentation to it. His are Dali-esque creations, blobby inhabitants of a parallel world he calls "biomorphs", and painted between the hours of 10pm and 4am.
As Morris puts it, he is "dreaming on canvas"  when others are doing so more conventionally. Apparently they were inspired by illustrations and encounters with the intestines of animals, which he found "beautiful", especially when seen in antique books. So Desmond's was the second load of telly tripe I had to sit through in one evening, though much more palatable than Angus's one. 
Reuse content