I'm in a hotel room in London's underbelly of Soho. I met Bianca Del Rio here 20 minutes ago, and her hand is in my mouth. But I'm not brawling with the notoriously sharp-tongued drag queen, she's just resting her hand as she gently brushes foundation onto my face to make me over. 
Sorry to disappoint, but Del Rio is a delight. She may be an insult comic by trade, but offstage she is utterly charming, warm and happily co-operative - even when I repeatedly blink as she applies waterproof eyeliner, spreading it all over the wrong part of my eyelid. 
"She's fired!" she laughs, calling me a turd, then reassuring me: "it's a rite of passage to have something go wrong when you have your first go at drag make up." Later when I change into my gaudy golden floor-length gown to complete my look she rushes over, alerts me that my necklace is on backwards and reaches around my neck to fix it, as if I'm the star here. 
Having spent two decades working as a theatrical costume designer by day and a stand-up in the gay clubs of New Orelans and New York City by night, Del Rio, 40, made her name as an international star after being crowned the season 6 winner of RuPaul's Drag Race. 
Debuting in US in 2009, the show finally started airing in the UK on TruTV late last year. The programme is an addictive marriage between competitive fashion shows Project Runway and America's Next Top Model, given a twist with staples of drag culture including lip synching, sewing, and "reading".
The format means that the show is filled with the delicious moments you'd expect from reality TV, but it's also a sequin-drenched celebration of the artistry of all forms of drag; the support network of "families" and "houses" that queens operate in; and the civil rights struggle that has lead to such a show even being able to air.
Taking its title from its creator RuPaul - a 1980s club kid now affectionately referred to as "Mumma Ru" after bringing the art of drag into the US mainstream - it's now in its seventh season.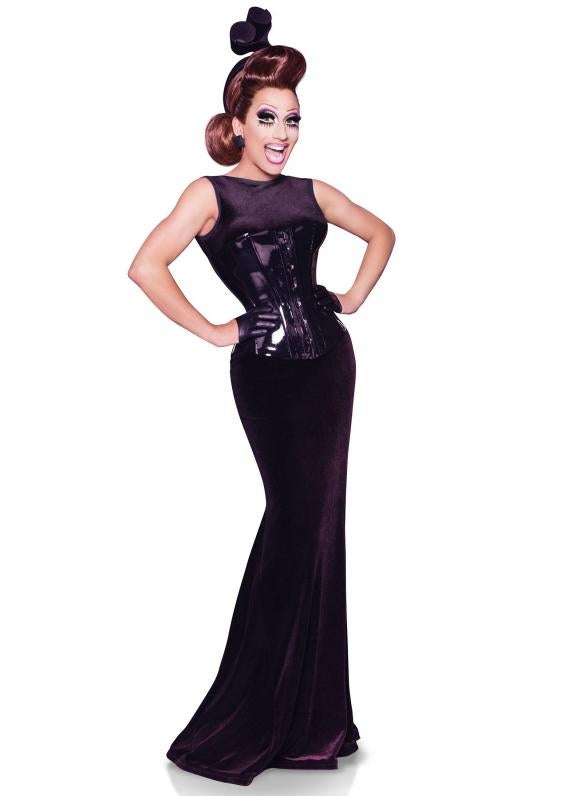 But a quick scroll on forums shows that the programme's tight-nit group of fiercley devoted fans who had watched season 7 in the US were left wanting. Viewers complained that while the show was still wildly entertaining, some of the contestants were flat or didn't appear to appreciate the history of drag culture. 
After Del Rio, an enviably skilled former Broadway costume maker armed with cutting jokes from her self-styled "Rolodex of hate", future contestants had a lot to live up to.
She was clearly a force to be reckoned with from the start of the show, and when in one episode RuPaul asks Del Rio if she is being helped by any of the other contestants she smirks: "Well, they're all helping me out by being horrible [at drag] and making me look better." 
However, in the two hours that we spend together it becomes obvious that Del Rio doesn't have an ounce of ego, and takes each day as it comes. The queen is deeply grateful, and perhaps a little overwhelmed, by the attention she has received since winning the show in 2014. The race to get tickets to her sell-out comedy shows is just one example of this. The hoards of fans who follower her every move is another. 
Del Rio is the creation of costume designer Roy Haylock, the fourth of five children in a family of Cuban and Honduran descent from New Orleans. First realising his love for costume design and performance in high school, his talents were recognised aged 17 when he won the citywide Big East Entertainment award for best costume design for the Snow Queen: an almost prophetic hint to the character that would give him stardom.
Del Rio gradually developed after Haylock's first drag performance in the show Pageant at the New Orleans Opera, where he was working as a make up artist and costume designer. 
"There was a small drag role in a play and they asked me to do it because I was already around doing costumes and makeup. So I did it and it just kind of snowballed into a drag career and it was like 'OK let's try this'."
"Did I think I'd be doing it this long? Hell no."
Perhaps these beginnings - dressing performers as well as taking to the stage - are why Del Rio is so affable in person despite her onstage persona. On Drag Race she cannot help but be kind by boosting Trinity K Bonet's waning confidence, and lending Adore Delano a corset when she is told off for not cinching in her waist. 
As we chat, Del Rio doesn't have a harsh word to say about anyone, even when I bring up Laganja Estranga, a queen who appeared on the show aged 24. She was painted as overly emotional, attention-seeking, and deeply irritating to Del Rio.
"She's actually a great girl. She lost her mind on the show but she's a good queen. Everybody handles stress differently and I think that's what people don't realise. It's a very stressful situation, to accomplish all of that stuff in a very short period of time.
"I can only imagine what I would've been like at 20 so we'll cut her some slack."
It would be easy to read the kindness of the seasoned queen as complacency and certainty that she'd win, but that would be wrong. She worked tirelessly on the show, never landing in the bottom. Those who find themselves in this position must lip-synch to a pre-learned song, and win the approval of RuPaul to save themselves from elimination. 
 If it's not your cup of tea don't watch it, don't look at it, don't listen to it
"I learned every song just in case because you never know what's going to happen. I was like 'phew dodged that bullet, what's next, what's next?' It wasn't so much winning as getting through each day."
"I'm appreciative of this opportunity. I think if this had happened to me at 20-years-old I would've had a different outlook and would have believed that I'm changing the world. I'm getting to do what I've always wanted to do, which is perform and travel and it's now at a level that is global."
The show has certainly propelled Del Rio onto TV and computer screens around the world, and her Rolodex of Hate tour has seen her playing locations from London to Amsterdam, Australia to Dublin.
As her star rises, is she tempted to tone down her acerbic, close-to-the-edge comedy often compared to that of Joan Rivers?
"I always say that if I didn't wear a wig I'd be called a nasty, hateful fag, and then when I wear a wig I'm called hysterical. So for me it [drag] is the packaging to get away with murder."
As a seasoned drag queen, Del Rio cut her teeth in the club circuits, long before social media and the pitfalls it brings. 
"I was fortunate enough to do drag prior to Drag Race so I have a thick skin. Back in the day you just had to walk up to somebody and say 'I hate you' and run the risk of getting punched in the face. That was what I preferred. 
"I think we live in a world now, thanks to social media, where you begin to hate people before you even know them because everyone has a f***ing opinion on something."
"I can dish it as well as take it. In my opinion, people are little too sensitive. If it's not your cup of tea don't watch it, don't look at it, don't listen to it. There's nothing wrong with standing up for your rights and what you feel is important, but I think now it's a little bit too much. You really can't say or do anything without someone being offended and I think it's so ridiculous"
"With doing insult comedy you have to start with yourself. You're the biggest joke there is. I'm a man in a wig, by no means am I changing the world or curing cancer. It starts with my owns sense of humor and self deprication."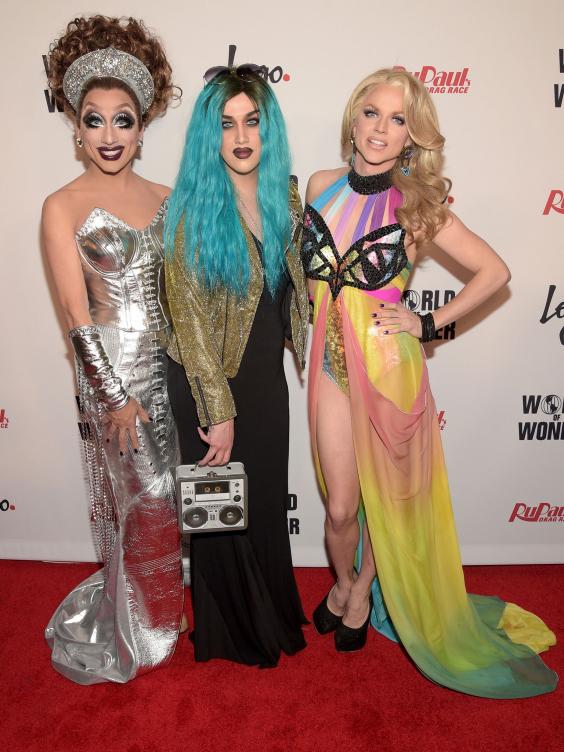 And as Drag Race spreads farther across the world, Del Rio may have to defend her humor more and more. 
Drag Race first appeared as a platform for queens to celebrate, present, and defend different aspects of the artform. As it grew, it became a crash course in the tucking, padding and contouring that goes into creating a look for those new to the scene. 
Last year the show's popularity hit new heights as a handful of Del Rio's fellow contestants performed alongside Miley Cyrus at the MTV VMA Awards. 
Does she worry that drag, once largely confined to smoky nightclubs and seen as a form of activism by many, will lose its way in the mainstream? 
"No I think it's great! I think it shows another side of our [drag performers'] world. It [Drag Race] shows all sides of it [drag], it's not just black or white."
Culture news in pictures
Culture news in pictures
1/30 24 June 2016

US artist Joan Jonas poses during the presentation of her exhibition 'Joan Jonas: Stream or River. Flight or Pattern' at the Bitin Foundation in Santander, northern Spain. The display featuring experimental film and video-installation of pioneering Jonas will be open to the public from 25 June to 16 October 2016

EPA

2/30 23 June 2016

Evie Ferris and Georgia Scott-Hunter, Artists of The Australian Ballet next to one of Edgar Degas' iconic ballet dancer paintings 'Dancer with Bouquets' during the media preview for the 'Degas: A New Vision' exhibition at National Gallery of Victoria in Melbourne, Australia. The exhibition will run from 24 June to 18 September as part of the Melbourne Winter Masterpieces series

Getty Images

3/30 22 June 2016

Figures of characters from the comic series 'Uncle Walt' by US cartoonist Frank King are on display in the exhibition 'Pioneers of the Comic Strip. A different Avant-Garde' at the Schirn Kunsthalle museum in Frankfurt am Main, Germany. The exhibition that features the works of six primarily US illustrators created between 1905 and 1940, runs from 23 June 2016 to 18 September 2016

EPA

4/30 21 June 2016

(L-R) Actors Jonathan Holmes, Paul Moniz de Sa, Daniel Bacon, Chris Gibbs, Jemaine Clement, Penelope Wilton, Mark Rylance, Ruby Barnhill, Bill Hader, Rebecca Hall and Rafe Spall arrive on the red carpet for the US premiere of Disney's "The BFG," directed and produced by Steven Spielberg. A giant sized crowd lined the streets of Hollywood Boulevard to see stars arrive at the El Capitan Theatre

Getty Images for Disney

5/30 20 June 2016

Tony Bennett attends as the Friars Club Honors Tony Bennett With The Entertainment Icon Award - Arrivals at New York Sheraton Hotel & Tower in New York City

Getty Images

6/30 19 June 2016

A woman walks in front of the paintings 'Without title' (1960), left, and 'Come closer' (1960), right, during the opening of the exhibition 'Xanti Schawinsky - From the Bauhaus into the World' in Magdeburg, Germany. The exhibition starts on 21 June and lasts until 25 September

AP

7/30 18 June 2016

Recording artist Johnny Bond (L) and Van McCann of Catfish and the Bottlemen perform onstage at Firefly Music Festival in Dover

Getty Images for Firefly

8/30 17 June 2016

Students from both the Richmond and Covent Garden schools perform for Prince Charles, Prince of Wales, in his role as President of The Royal Ballet, as he visits The Royal Ballet School, White Lodge campus in Richmond Park in London

Getty Images

9/30 16 June 2016

A part of the installation 'The Floating Piers' by Bulgarian-born artist Christo Vladimirov Yavachev known as Christo is seen on the Lake Iseo, northern Italy

REUTERS

10/30 15 June 2016

A unique outdoor gallery has been revealed in Hampstead Heath, to mark the return of the Affordable Art Fair in London. The colourful 'running gallery' previewed seven of the artworks going on show at the fair this week from 16 – 19 June. These works, along with thousands more original pieces will be going on sale as the fair opens – all priced between £100 - £5,000

Oliver Dixon/Imagewise

11/30 13 June 2016

The artwork 'Accumulation: Searching for Destination' (2014-2016) by Japanese artist Chiharu Shiota is on display at the show Unlimited in the context of the international art show in Basel, Switzerland. Unlimited is Art Basel's exhibition platform for projects that transcend the limitations of a classical art-show stand, including out-sized sculpture and paintings, video projections, large-scale installations, and live performances. Unlimited is curated by New York-based curator Gianni Jetzer. The Art Basel exhibition is open to the public from 16 to 19 June

EPA

12/30 12 June 2016

A costumed artist performs with fire during International Kiev Fire Fest show. Teams from Greece, Belarus, Lithuania, Slovakia, USA, Czech Republic, Scotland and Ukraine, take part with their fire-shows in the two-day festival in Kiev

Getty Images

13/30 14 June 2016

A man leaves his house as anotherone walks past murals painted as part of a program of the municipality that aims at rescueing public spaces of the historical center in Mexico City. The murals were made on shops' metallic shutters

AFP/Getty Images

14/30 11 June 2016

People look at an art installation named "Fog Assembly" by Danish artist Olafur Eliasson in the castle of Versailles, near Paris

Getty Images

15/30 10 June 2016

Tomatoes float in an aquarium which is part of an artwork entitled 'Something that Floats/Something that sinks' by Japanese artist Shimabuku during the 13th Triennial of smale-scale sculpture in Fellbach, Germany. The exhibition runs from 11 June until 2 October

EPA

16/30 9 June 2016

Swiss artist, Olaf Breuning, stands in front of his artwork 'Text Butt' (2015) in the NRW-Forum in Duesseldorf, Germany. The retrospective can be seen in Duesseldorf from 11 June until 21 August

EPA

17/30 8 June 2016

An artwork entitled 'Hang it all' by Colombian artist Gabriel Sierra is seen during the exhibition 'Under the Same Sun: Art From Latin America Today' at the South London Gallery. The gallery is the final venue on the exhibitionís international tour, following the Guggenheim Museum, New York in June 2014 and the Museo Jumex, Mexico City in November 2015

EPA

18/30 7 June 2016

An interior shows British artist Michael Landy's artworks in the exhibition 'Michael Landy. Out of Order' at the Museum Tinguely in Basel, Switzerland. Landy is one of the Young British Artists (YBAs) generation that emerged in London in the 1990s. The exhibition runs from 8 June to 25 September

EPA

19/30 6 June 2016

A Banksy mural is left painted on the side of one of the classrooms at Bridge Farm Primary in Bristol. The 14ft piece, showing a child with a stick chasing a burning tyre, was discovered at the school along with a letter to the caretaker and was said to be a thank you by the elusive artist after the school recently named a house after him

Getty Images

20/30 5 June 2016

More than 6,000 Colombians pose in the nude for American art photographer Spencer Tunick at Bolivar Square in Bogota. Tunick, famous for his pictures of huge crowds of naked people, convinced more than 6,000 Colombians to strip down in Bogota's main public square - all in the name of peace

Getty Images

21/30 4 June 2016

Bulgarian artist Christo poses in front of the monumental "Mastaba" art work at the Maeght Foundation (Fondation Maeght) on the opening day of the exibition in Saint-Paul, southeastern France. The exibition takes place from 6 June to 27 November

Getty Images

22/30 3 June 2016

Dutch King Willem-Alexander attents the opening of the SONSBEEK '16: transAction, an international contemporary art exhibition in Arnhem, The Netherlands

EPA

23/30 2 June 2016

A sculpture by Colombian artist Fernando Botero is displayed during the opening of an exhibition entitled 'Botero in Hong Kong' at Central district. The outdoor public art installation showcases nine monumental sculptures by Botero from 3 June to 14 August

EPA

24/30 1 June 2016

Everything by my side, a theatrical performance that sees actors in white beds whisper to individual audience members, created by Argentinian artist Fernando Rubio, is unveiled as it makes its UK debut at Canary Wharf in London. Free to the public from 1-3 June. Everything by my side is presented by LIFT, a London-wide festival of international performance and it is the first time the work has been shown since New York City in 2014

PA

25/30 31 May 2016

Visitors look at the painting 'The Unequal Marriage' (1862) by Russian artist Vasili Pukirev during the exhibition 'The Secrets of Old Paintings' at the Tretyakov Gallery in Moscow, Russia. The exhibition is open from 1 June to 27 August as part of the project 'The Tretyakov Gallery opens its store rooms'

EPA

26/30 30 May 2016

The view of an art installation by the artist group Wanda Barcelona, which is made of 8,000 sheets of A0 paper at the 'Drupa' print media trade fair in Duesseldorf, Germany. Drupa, the world's largest trade fair for print media, takes place from 31 May until 10 June 2016 in Duesseldorf

EPA

27/30 29 May 2016

Musician Alice Cooper and Johnny Depp of Hollywood Vampires perform onstage at Hessentags-Arena during the 56th Hessentag in Herborn, Germany

Getty Images

28/30 28 May 2016

Bosnian artist Vedad Trbonja stands in front of the mural painting of David Bowie during the unveiling ceremony in Sarajevo. The mural is a result of a four-month work of a Sarajevo's group of artists led by Vedad Trbonja. According to its creators, this is the largest mural in the world, dedicated to British rock legend, David Bowie

Getty Images

29/30 27 May 2016

An image of an indigenous Australian man is projected onto the sails of the Sydney Opera House during the opening night of the annual Vivid Sydney light festival in Sydney

Reuters

30/30 26 May 2016

A woman walks on steps lined with plastic cups, an art project of four college students, in Wuhan, China

Reuters
Seeing the show as an opportunity to humanise the LGBT community, she goes on: "I think its opening their eyes and minds to it [drag]. When you're filming the show for 70 per cent of it you're out of drag, so they [viewers] see you as a person and they realise where you come from.
"There's so many misconceptions of it. People automatically think you want to be a girl but it's not the case. Being transgender is completely different. That struggle is a little more personal, whereas drag is just being accepted for 'hey this is my job this is what I do.' I think that any time it's out there and any time there's any discussion of it it's a good thing."
"Gay men have been subjected to it [drag] all for so long. People who are watching it on TV are fascinated by it. The majority of the people that I meet, especially in the US, are girls that are hooked on the show, I think it's fabulous."
"It's kind of unreal that all of this is being accepted by the world. I'm sitting in a hotel room in London talking to you. That wouldn't have happened twenty years ago for me."
But at the same time, Del Rio isn't interested in universal acceptance and approval.  
"You don't like it don't watch it. That's how I feel when people say they're against gay marriage. What does it matter? If you're straight you're not going to marry a gay person so don't worry about it."
Del Rio's next project will see her explore homophobia in a feature-length film Hurricane Bianca, which tells the story of a man being sacked from his job in a conservative US town for being gay: something which is currently legal in 29 states. Crowdfunding for the project started before Drag Race, but the publicity has enabled her to collaborate with US comedian and actress Margaret Cho and Scottish actor Alan Cumming. 
As our time together nears its end, I start to understand a fraction of the hard graft that goes into Del Rio's job.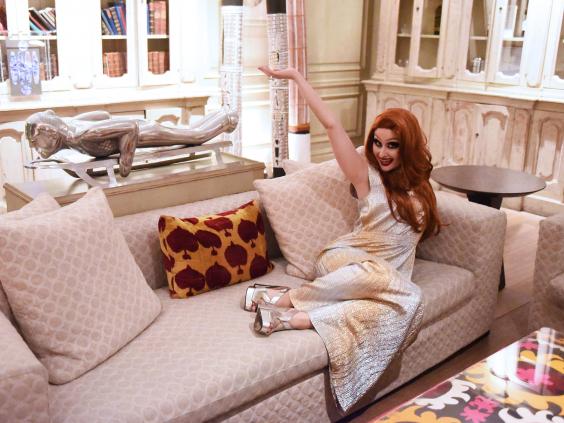 Nothing quite emphasises the effort that goes into drag like putting it on, attempting to function in it, and taking it off. 
My head is getting hotter as I speak, and I squint through enormous lashes. When taking the makeup off, my usually trusty facewash is left in the dust as my lipstick is somehow on my head and streaking down my chin. My eyebrows are defiantly glued to my face and covered in foundation.
Can she see herself doing this for another ten years? 
"Hopefully not in a wig," she admits, "We'll see. I didn't plant these past ten years and that has kind of been the amazing thing about it. 
"I'm looking forward to the future and, you know, if it means drag then great, if it doesn't then it has been an amazing ride. I have no complaints and it's just been a brilliant journey.
"I've never been one of those to sit down and say 'this is what I want'. I've also been good with saying 'this is what I don't want'. So we'll see, we'll see where the journey takes us."
RuPaul's Drag Race airs on Mondays at 10pm on truTV, freeview channel 68 and Sky 198, followed by RuPaul's Drag Race: Untucked at 11pm.