I'm in a hotel room in London's underbelly of Soho. I met Bianca Del Rio here 20 minutes ago, and her hand is in my mouth. But I'm not brawling with the notoriously sharp-tongued drag queen, she's just resting her hand as she gently brushes foundation onto my face to make me over. 
Sorry to disappoint, but Del Rio is a delight. She may be an insult comic by trade, but offstage she is utterly charming, warm and happily co-operative - even when I repeatedly blink as she applies waterproof eyeliner, spreading it all over the wrong part of my eyelid. 
"She's fired!" she laughs, calling me a turd, then reassuring me: "it's a rite of passage to have something go wrong when you have your first go at drag make up." Later when I change into my gaudy golden floor-length gown to complete my look she rushes over, alerts me that my necklace is on backwards and reaches around my neck to fix it, as if I'm the star here. 
Having spent two decades working as a theatrical costume designer by day and a stand-up in the gay clubs of New Orelans and New York City by night, Del Rio, 40, made her name as an international star after being crowned the season 6 winner of RuPaul's Drag Race. 
Debuting in US in 2009, the show finally started airing in the UK on TruTV late last year. The programme is an addictive marriage between competitive fashion shows Project Runway and America's Next Top Model, given a twist with staples of drag culture including lip synching, sewing, and "reading".
The format means that the show is filled with the delicious moments you'd expect from reality TV, but it's also a sequin-drenched celebration of the artistry of all forms of drag; the support network of "families" and "houses" that queens operate in; and the civil rights struggle that has lead to such a show even being able to air.
Taking its title from its creator RuPaul - a 1980s club kid now affectionately referred to as "Mumma Ru" after bringing the art of drag into the US mainstream - it's now in its seventh season.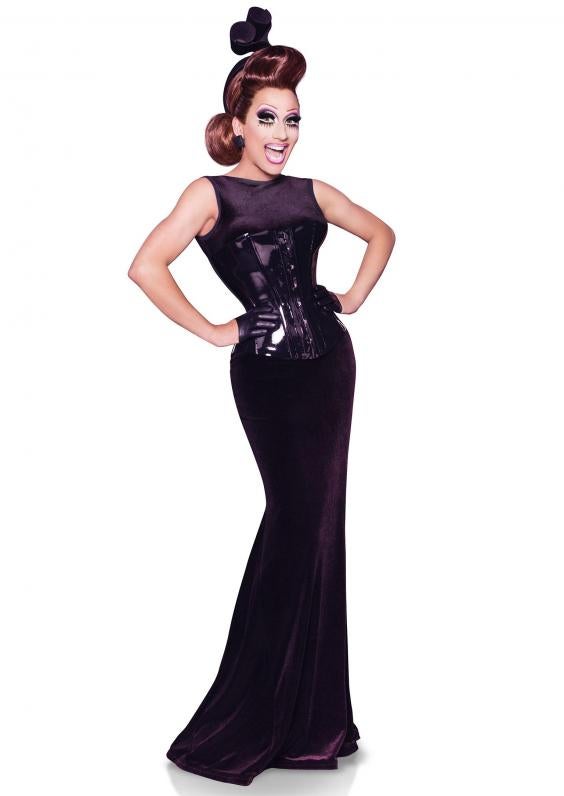 But a quick scroll on forums shows that the programme's tight-nit group of fiercley devoted fans who had watched season 7 in the US were left wanting. Viewers complained that while the show was still wildly entertaining, some of the contestants were flat or didn't appear to appreciate the history of drag culture. 
After Del Rio, an enviably skilled former Broadway costume maker armed with cutting jokes from her self-styled "Rolodex of hate", future contestants had a lot to live up to.
She was clearly a force to be reckoned with from the start of the show, and when in one episode RuPaul asks Del Rio if she is being helped by any of the other contestants she smirks: "Well, they're all helping me out by being horrible [at drag] and making me look better." 
However, in the two hours that we spend together it becomes obvious that Del Rio doesn't have an ounce of ego, and takes each day as it comes. The queen is deeply grateful, and perhaps a little overwhelmed, by the attention she has received since winning the show in 2014. The race to get tickets to her sell-out comedy shows is just one example of this. The hoards of fans who follower her every move is another. 
Del Rio is the creation of costume designer Roy Haylock, the fourth of five children in a family of Cuban and Honduran descent from New Orleans. First realising his love for costume design and performance in high school, his talents were recognised aged 17 when he won the citywide Big East Entertainment award for best costume design for the Snow Queen: an almost prophetic hint to the character that would give him stardom.
Del Rio gradually developed after Haylock's first drag performance in the show Pageant at the New Orleans Opera, where he was working as a make up artist and costume designer. 
"There was a small drag role in a play and they asked me to do it because I was already around doing costumes and makeup. So I did it and it just kind of snowballed into a drag career and it was like 'OK let's try this'."
"Did I think I'd be doing it this long? Hell no."
Perhaps these beginnings - dressing performers as well as taking to the stage - are why Del Rio is so affable in person despite her onstage persona. On Drag Race she cannot help but be kind by boosting Trinity K Bonet's waning confidence, and lending Adore Delano a corset when she is told off for not cinching in her waist. 
As we chat, Del Rio doesn't have a harsh word to say about anyone, even when I bring up Laganja Estranga, a queen who appeared on the show aged 24. She was painted as overly emotional, attention-seeking, and deeply irritating to Del Rio.
"She's actually a great girl. She lost her mind on the show but she's a good queen. Everybody handles stress differently and I think that's what people don't realise. It's a very stressful situation, to accomplish all of that stuff in a very short period of time.
"I can only imagine what I would've been like at 20 so we'll cut her some slack."
It would be easy to read the kindness of the seasoned queen as complacency and certainty that she'd win, but that would be wrong. She worked tirelessly on the show, never landing in the bottom. Those who find themselves in this position must lip-synch to a pre-learned song, and win the approval of RuPaul to save themselves from elimination. 
 If it's not your cup of tea don't watch it, don't look at it, don't listen to it
"I learned every song just in case because you never know what's going to happen. I was like 'phew dodged that bullet, what's next, what's next?' It wasn't so much winning as getting through each day."
"I'm appreciative of this opportunity. I think if this had happened to me at 20-years-old I would've had a different outlook and would have believed that I'm changing the world. I'm getting to do what I've always wanted to do, which is perform and travel and it's now at a level that is global."
The show has certainly propelled Del Rio onto TV and computer screens around the world, and her Rolodex of Hate tour has seen her playing locations from London to Amsterdam, Australia to Dublin.
As her star rises, is she tempted to tone down her acerbic, close-to-the-edge comedy often compared to that of Joan Rivers?
"I always say that if I didn't wear a wig I'd be called a nasty, hateful fag, and then when I wear a wig I'm called hysterical. So for me it [drag] is the packaging to get away with murder."
As a seasoned drag queen, Del Rio cut her teeth in the club circuits, long before social media and the pitfalls it brings. 
"I was fortunate enough to do drag prior to Drag Race so I have a thick skin. Back in the day you just had to walk up to somebody and say 'I hate you' and run the risk of getting punched in the face. That was what I preferred. 
"I think we live in a world now, thanks to social media, where you begin to hate people before you even know them because everyone has a f***ing opinion on something."
"I can dish it as well as take it. In my opinion, people are little too sensitive. If it's not your cup of tea don't watch it, don't look at it, don't listen to it. There's nothing wrong with standing up for your rights and what you feel is important, but I think now it's a little bit too much. You really can't say or do anything without someone being offended and I think it's so ridiculous"
"With doing insult comedy you have to start with yourself. You're the biggest joke there is. I'm a man in a wig, by no means am I changing the world or curing cancer. It starts with my owns sense of humor and self deprication."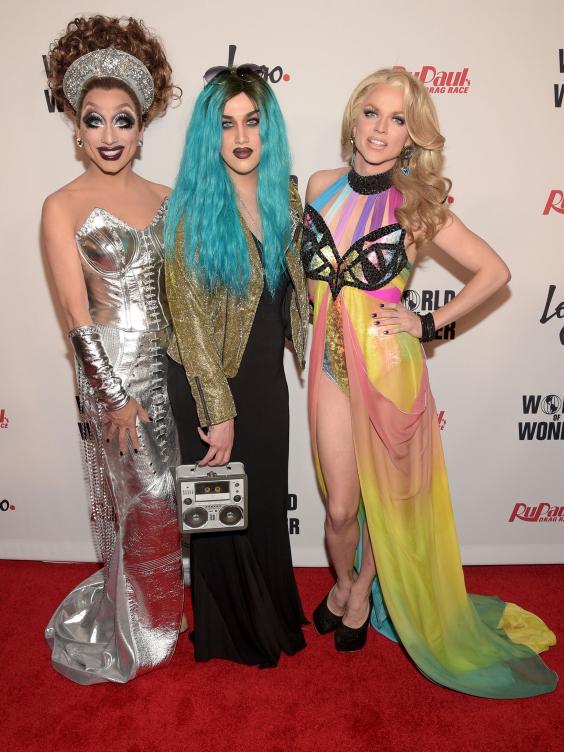 And as Drag Race spreads farther across the world, Del Rio may have to defend her humor more and more. 
Drag Race first appeared as a platform for queens to celebrate, present, and defend different aspects of the artform. As it grew, it became a crash course in the tucking, padding and contouring that goes into creating a look for those new to the scene. 
Last year the show's popularity hit new heights as a handful of Del Rio's fellow contestants performed alongside Miley Cyrus at the MTV VMA Awards. 
Does she worry that drag, once largely confined to smoky nightclubs and seen as a form of activism by many, will lose its way in the mainstream? 
"No I think it's great! I think it shows another side of our [drag performers'] world. It [Drag Race] shows all sides of it [drag], it's not just black or white."
Culture news in pictures
Culture news in pictures
1/30 30 September 2016

An employee hangs works of art with "Grand Teatro" by Marino Marini (R) and bronze sculpture "Sfera N.3" by Arnaldo Pomodoro seen ahead of a Contemporary Art auction on 7 October, at Sotheby's in London

REUTERS

2/30 29 September 2016

Street art by Portuguese artist Odeith is seen in Dresden, during an exhibition "Magic City - art of the streets"

AFP/Getty Images

3/30 28 September 2016

Dancers attend a photocall for the new "THE ONE Grand Show" at Friedrichstadt-Palast in Berlin, Germany

REUTERS

4/30 28 September 2016

With an array of thrift store china, humorous souvenirs and handmade tile adorning its walls and floors, the Mosaic Tile House in Venice stands as a monument to two decades of artistic collaboration between Cheri Pann and husband Gonzalo Duran

REUTERS

5/30 27 September 2016

A gallery assistant poses amongst work by Anthea Hamilton from her nominated show "Lichen! Libido!(London!) Chastity!" at a preview of the Turner Prize in London

REUTERS

6/30 27 September 2016

A technician wearing virtual reality glasses checks his installation in three British public telephone booths, set up outside the Mauritshuis museum in The Hague, Netherlands. The installation allows visitors a 3-D look into the museum which has twenty-two paintings belonging to the British Royal Collection, on loan for an exhibit from 29 September 2016 till 8 January 2017

AP

7/30 26 September 2016

An Indian artist dressed as Hindu god Shiva performs on a chariot as he participates in a religious procession 'Ravan ki Barat' held to mark the forthcoming Dussehra festival in Allahabad

AFP/Getty Images

8/30 26 September 2016

Jean-Michel Basquiat's 'Air Power', 1984, is displayed at the Bowie/Collector media preview at Sotheby's in New York

AFP/Getty

9/30 25 September 2016

A woman looks at an untitled painting by Albert Oehlen during the opening of an exhibition of works by German artists Georg Baselitz and Albert Oehlen in Reutlingen, Germany. The exhibition runs at the Kunstverein (art society) Reutlingen until 15 January 2017

EPA

10/30 24 September 2016

Fan BingBing (C) attends the closing ceremony of the 64th San Sebastian Film Festival at Kursaal in San Sebastian, Spain

Getty Images

11/30 23 September 2016

A view of the artwork 'You Are Metamorphosing' (1964) as part of the exhibition 'Retrospektive' of Japanese artist Tetsumi Kudo at Fridericianum in Kassel, Germany. The exhibition runs from 25 September 2016 to 1 January 2017

EPA

12/30 22 September 2016

Jo Applin from the Courtauld Institute of Art looks at Green Tilework in Live Flesh by Adriana Vareja, which features in a new exhibition, Flesh, at York Art Gallery. The new exhibition features works by Degas, Chardin, Francis Bacon and Sarah Lucas, showing how flesh has been portrayed by artists over the last 600 years

PA

13/30 21 September 2016

Performers Sean Atkins and Sally Miller standing in for the characters played by Asa Butterfield and Ella Purnell during a photocall for Tim Burton's "Miss Peregrines Home For Peculiar Children" at Potters Field Park in London

Getty Images

14/30 20 September 2016

A detail from the blanket 'Alpine Cattle Drive' from 1926 by artist Ernst Ludwig Kirchner is displayed at the 'Hamburger Bahnhof - Museum for Contemporary Arts' in Berlin. The exhibition named 'Ernst Ludwig Kirchner - Hieroglyphen' showing the complete collection of Berlin's Nationalgallerie works of the German artist Ernst Ludwig Kirchner and will run from 23 September 2016 until 26 February 2017

AP

15/30 20 September 2016

A man looks at portrait photos by US photographer Bruce Gilden in the exhibition 'Masters of Photography' at the photokina in Cologne, Germany. The trade fair on photography, photokina, schowcases some 1,000 exhibitors from 40 countries and runs from 20 to 25 September. The event also features various photo exhibitions

EPA

16/30 20 September 2016

A woman looks at 'Blue Poles', 1952 by Jackson Pollock during a photocall at the Royal Academy of Arts, London

PA

17/30 19 September 2016

Art installation The Refusal of Time, a collaboration with Philip Miller, Catherine Meyburgh and Peter Galison, which features as part of the William Kentridge exhibition Thick Time, showing from 21 September to 15 January at the Whitechapel Gallery in London

PA

18/30 18 September 2016

Artists creating one off designs at the Mm6 Maison Margiela presentation during London Fashion Week Spring/Summer collections 2017 in London

Getty Images

19/30 18 September 2016

Bethenny Frankel attends the special screening of Disney's "Beauty and the Beast" to celebrate the 25th Anniversary Edition release on Blu-Ray and DVD in New York City

Getty Images for Walt Disney Stu

20/30 17 September 2016

Visitors attend the 2016 Oktoberfest beer festival at Theresienwiese in Munich, Germany

Getty Images

21/30 16 September 2016

Visitors looks at British artist Damien Hirst work of art 'The Incomplete Truth', during the 13th Yalta Annual Meeting entitled 'The World, Europe and Ukraine: storms of changes', organised by the Yalta European Strategy (YES) in partnership with the Victor Pinchuk Foundation at the Mystetsky Arsenal Art Center in Kiev

AP

22/30 16 September 2016

Tracey Emin's "My Bed" is exhibited at the Tate Liverpool as part of the exhibition Tracey Emin And William Blake In Focus, which highlights surprising links between the two artists

Getty Images

23/30 15 September 2016

Musician Dave Grohl (L) joins musician Tom Morello of Prophets of Rage onstage at the Forum in Inglewood, California

Getty Images

24/30 14 September 2016

Model feebee poses as part of art installation "Narcissism : Dazzle room" made by artist Shigeki Matsuyama at rooms33 fashion and design exhibition in Tokyo. Matsuyama's installation features a strong contrast of black and white, which he learned from dazzle camouflage used mainly in World War I

AP

25/30 13 September 2016

Visitors look at artworks by Chinese painter Cui Ruzhuo during the exhibition 'Glossiness of Uncarved Jade' held at the exhibition hall 'Manezh' in St. Petersburg, Russia. More than 200 paintings by the Chinese artist are presented until 25 September

EPA

26/30 12 September 2016

A visitor looks at Raphael's painting 'Extase de Sainte Cecile', 1515, from the Uffizi Gallery in Florence during the opening of a Raphael exhibition at the Pushkin State Museum of Fine Arts in Moscow, Russia. The first Russian exhibition of the works of the Italian Renaissance artist Raffaello Sanzio da Urbino includes eight paintings and three drawings which come from Italy. Th exhibit opens to the public from 13 September to 11 December

EPA

27/30 11 September 2016

Steve Cropper and Eddie Floyd perform during Otis Redding 75th Birthday Celebration - Rehearsals at the Macon City Auditorium in Macon, Georgia

Getty Images for Otis Redding 75

28/30 10 September 2016

Sakari Oramo conducting the BBC Symphony Orchestra, the BBC Symphony Chorus and the BBC Singers at the Last Night of the Proms 2016 at the Royal Albert Hall in London

PA

29/30 9 September 2016

A visitor walks past a piece entitled "Fruitcake" by Joana Vasconcelo, during the Beyond Limits selling exhibition at Chatsworth House near Bakewell

REUTERS

30/30 8 September 2016

A sculpture of a crescent standing on the 2,140 meters high mountain 'Freiheit' (German for 'freedom'), in the Alpstein region of the Appenzell alps, eastern Switzerland. The sculpture is lighted during the nights by means of solar panels. The 38-year-old Swiss artist and atheist Christian Meier set the crescent on the peak to start a debate on the meaning of religious symbols - as summit crosses - on mountains. 'Because so many peaks have crosses on them, it struck me as a great idea to put up an equally absurd contrast'. 'Naturally I wanted to provoke in a fun way. But it goes beyond that. The actions of an artist should be food for thought, both visually and in content'

EPA
Seeing the show as an opportunity to humanise the LGBT community, she goes on: "I think its opening their eyes and minds to it [drag]. When you're filming the show for 70 per cent of it you're out of drag, so they [viewers] see you as a person and they realise where you come from.
"There's so many misconceptions of it. People automatically think you want to be a girl but it's not the case. Being transgender is completely different. That struggle is a little more personal, whereas drag is just being accepted for 'hey this is my job this is what I do.' I think that any time it's out there and any time there's any discussion of it it's a good thing."
"Gay men have been subjected to it [drag] all for so long. People who are watching it on TV are fascinated by it. The majority of the people that I meet, especially in the US, are girls that are hooked on the show, I think it's fabulous."
"It's kind of unreal that all of this is being accepted by the world. I'm sitting in a hotel room in London talking to you. That wouldn't have happened twenty years ago for me."
But at the same time, Del Rio isn't interested in universal acceptance and approval.  
"You don't like it don't watch it. That's how I feel when people say they're against gay marriage. What does it matter? If you're straight you're not going to marry a gay person so don't worry about it."
Del Rio's next project will see her explore homophobia in a feature-length film Hurricane Bianca, which tells the story of a man being sacked from his job in a conservative US town for being gay: something which is currently legal in 29 states. Crowdfunding for the project started before Drag Race, but the publicity has enabled her to collaborate with US comedian and actress Margaret Cho and Scottish actor Alan Cumming. 
As our time together nears its end, I start to understand a fraction of the hard graft that goes into Del Rio's job.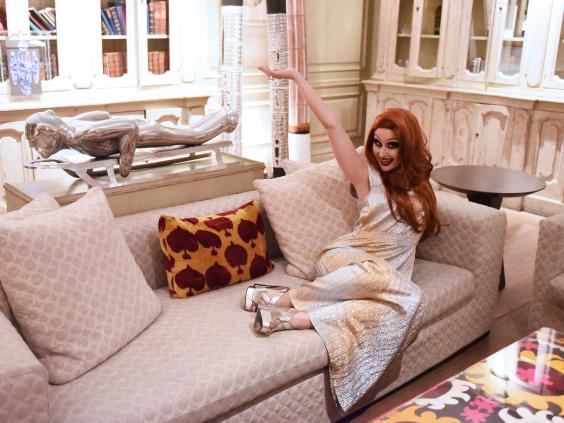 Nothing quite emphasises the effort that goes into drag like putting it on, attempting to function in it, and taking it off. 
My head is getting hotter as I speak, and I squint through enormous lashes. When taking the makeup off, my usually trusty facewash is left in the dust as my lipstick is somehow on my head and streaking down my chin. My eyebrows are defiantly glued to my face and covered in foundation.
Can she see herself doing this for another ten years? 
"Hopefully not in a wig," she admits, "We'll see. I didn't plant these past ten years and that has kind of been the amazing thing about it. 
"I'm looking forward to the future and, you know, if it means drag then great, if it doesn't then it has been an amazing ride. I have no complaints and it's just been a brilliant journey.
"I've never been one of those to sit down and say 'this is what I want'. I've also been good with saying 'this is what I don't want'. So we'll see, we'll see where the journey takes us."
RuPaul's Drag Race airs on Mondays at 10pm on truTV, freeview channel 68 and Sky 198, followed by RuPaul's Drag Race: Untucked at 11pm.
Reuse content