Broadchurch 3 reached the halfway point with this instalment and the cast treated us to more of the best acting on telly. Julie Hesmondhalgh as rape victim Trish Winterman deserves as many accolades as the industry can throw at her (which they will, I'm sure). This week she delivered another moving performance, vividly capturing the visceral emotion of someone reliving trauma. Olivia Colman and David Tennant as DS Miller and DI Hardy continued to be the top double-act on our screens – thank you, writers for sending Hardy, a man about as relaxed as a tightly coiled viper about to strike, on a Tinder date. While there were a couple of plot holes, and everyone except Mark Latimer (Andrew Buchan) wants to forget Joe Miller's acquittal, the storyline that dominated the ropey second series, this is a rare whodunit that manages to both grip for the hour but stick in the mind – and not just because we're all trying to work out who the culprit is. 
First, let's talk about Julie Hesmondhalgh, who showed us different sides to Trish. There was the traumatised rape victim we have become used to, a woman muted. This time she was retracing her movements on the night of her attack, an exercise that left her crawling on the grass by the lake, shaking and eventually vomiting as she remembered the vodka on his breath and lights in her face. It is one thing for an actor to do their research, but another to plausibly capture the physical and emotional toll of such an attack. "I could barely handle that," said DS Miller. She was not alone.
We also met pre-attack Trish as she recalled the night of the party. In a floral-patterned dress, fag and drink in hand on the dance floor, she radiated confidence and a zest for life. The contrast with the shaking woman who could barely walk we saw moments later just showed us how good she is. Later, we found out the identity of the man she had slept with on the morning of the attack, and perhaps what Jim Atwood (Mark Bazeley) had used at least one of those box of condoms for. "I just wanted sex," she admitted to Hardy and Miller. "It's not wrong, to want that."
Talking of sex, Cath Atwood (Sarah Parish) told Miller that she was in a loveless marriage and Jim reiterated that yes, that did mean in the physical sense. That was his excuse for sleeping with his wife's best friend on the morning of her fiftieth birthday party anyway. Miller, as you would expect, was doing a lot of her "I'm disappointed in mankind face" this week.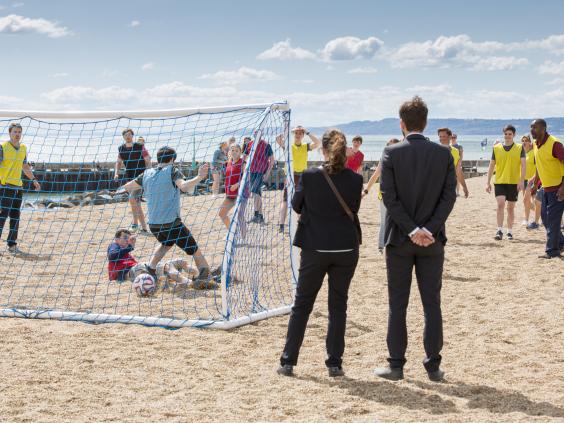 DI Hardy was also on great form. Trish's emotional recollection tipped him into man possessed territory. What was the light Trish had seen during the attack? Why didn't the slightly odd owner of Axehampton House mention the wheelbarrow of potential murder weapons he and his wife had recovered from the grounds? And I'm sure I wasn't the only viewer wondering why the hell the crime scene people hadn't noticed the proliferation of old cricket bats lying around the place? 
The best bit of this episode though was Hardy's date. Awkward doesn't quite cover it. It was as though he'd never sat opposite anyone who wasn't in an interview room before. He didn't know how to relax his hawk-like body language and seemed entirely uncomfortable in his own skin, with his own voice (I predict another raft of "he's mumbling" complaints. I can't wait for date two.
Elsewhere, we met another particularly unpleasant suspect. Aaron Mayford (Jim Howick, Gerard from Peep Show) claimed he had been wrongly found guilty of rape. He admitted that he just had a penchant for tying and gagging girls while he had sex with them. Each to their own and all that, but it was definitely not on to get into DC Harford's surveillance car and make some seriously sleazy comments. Still weird fetishes does not a rapist make, just ask Christian Grey, so we can't be sure yet if Mayford's just a red herring there to bamboozle us.
There were plenty of others getting up to what looked like no good. Not least Trish's ex-husband rushing to wipe date from the laptop he used to share with Trish, and his girlfriend admitting to sending Trish anonymous texts, before she was raped. Mark Latimer was ignoring everyone and banging on about finishing what he started with Joe Miller. He attempted to get the priest to go on what I suspect would be an Ungodly pilgrimage to track him down. Hardy too should probably take a break from detecting and Tinder swiping and find out what's bugging his daughter. It doesn't take a young millennial to think she may be the victim of some online trolling/ potentially the subject of Tom Miller's porn obsession.
Bearing all this in mind, I'm still trying to get my head around why a whole gang of potential suspects and people with things to hide would all turn up at a football match, hastily organised by Cath this episode, ostensibly "to put a smile on people's faces". Who knew Maggie the newspaper editor had such a sweet left foot on her? The only purpose the scene seemed to serve was to remind us how many suspects there are – enough to field two full teams - and to give Hardy another opportunity to talk about fishing twine. Still, weird beach football tournament aside, this was moreish telly. Bring on the second half. 
Reuse content