You might not recognise Chipo Chung today, but give it a month or two and you'll know exactly who she is. The Chinese/Zimbabwean actress is about to star in two of the biggest dramas on American television: A.D and Fortitude.
She takes the lead in A.D playing Mary Magdalene in a sequel to Lightwork Media's hit 2013 series The Bible which became the best-selling DVD series of the year – even shifting more copies than Game of Thrones season 2.
The series, which airs on NBC on Easter Sunday, was filmed in Morocco and follows the Christ's followers in the aftermath of his death and resurrection.
"I went to Catholic school and learned about Jesus' life but we're not taught what happened after his Crucifixion, about the group of people who started a movement which spread to Rome and almost the whole of the Western world," Chipo told The Independent.
The actress, who has appeared in Doctor Who alongside David Tennant and also trodden the boards with Dame Helen Mirren in the National Theatre's Phedre, took the part of Mary Magdalene because "she's one of the few recognised female disciples".
"She's important because there aren't very many women in the Bible. She was the woman to whom Jesus presented himself in his resurrected form," Chipo says.
"I think Jesus was really advanced in his views on women… he chose to present himself to a woman and I think that was an acknowledgement that women can be and are as fully human as men; as fully and spiritually capable. It's a huge honour to play that."
The actress, 37, who trained at both Rada in London and Yale in America, did lots of research into Mary Magdalene before taking the part: "There's so much gossip about Mary Magdalene. I initially thought of her as the prostitute from Jesus Christ Superstar because I loved that show when I was a kid. And then of course there's the whole Da Vinci Code saga."
"I believe, from my research, that she was his spiritual companion. I don't think there's any evidence that they were lovers. And I think it's very easy when women work with men for stories to be told about them. Having thought about it over six months [of filming] I think that she was actually a very spiritually advanced person and a very important person in the Church and that's what I'm playing."
Easter 2015: Unusual films involving resurrection
Easter 2015: Unusual films involving resurrection
1/10 Alien (1979)

Sigourney Weaver, as Ripley, in Alien.

20th Century Fox

2/10 The Terminator (1984)

Schwarzenegger in The Terminator, sent from the future to kill an unborn child that is destined to defeat his organisation.

Rex

3/10 Beloved (1998)

A young woman killed by her mother to save her from a slave owner returns to haunt her. Based on the novel by Toni Morrison.

4/10 It's A Wonderful Life

After wishing he had never been born, an angel grants George Bailey's wish - only for him to realise how many lives he's affected in his own.

AP

5/10 The Lion King (1994)

The circle of life, the moment before newborn cub Simba is shown to the rest of the kingdom.

Rex Features

6/10

After being stranded on earth E.T is rescued by a small group of children - but events soon transpire against them.

7/10 The Crow

After he and his fiancée are murdered on the night before their wedding, musician Eric Draven rises from the dead to take vengeance.

8/10 The Chronicles of Narnia: The Lion, the Witch and the Warderobe (2009)

C.S. Lewis' tale sees Aslan - a loose depiction of Christ - sacrifice himself for the traitor Edmund. Aslan later rises from the dead in the presence of sisters Susan and Lucy.

All Rights Reserved

9/10 A Matter of Life and Death (1947)

David Niven and Kim Hunter star in a film about a wrongful survival and eventually death.

Rex

10/10 Meet Joe Black (1998)

A young man (played by Brad Pitt) is killed in a car accident and his body inhabited by death. Later, in return for his experiences, death restores life to the man.

REUTERS/HO Old
British viewers might recognise Chipo from Sherlock and Camelot but she is probably best known for her turn as the Master's Assistant Chantho opposite Derek Jacobi in Doctor Who in 2007.
Like Selma star David Oyelowo, David Harewood and Benedict Cumberbatch, she is vocal in her criticism of the lack of opportunities for ethnically diverse talent in Britain and is a big supporter of the Act for Change campaign
"When you're a mixed race actor you don't really fit in. I'm not quite black enough and I'm not quite Asian enough. There's a level of racism that takes place in casting that people aren't even conscious of," she says, and explaining she is "delighted" at the increasing opportunities in the US.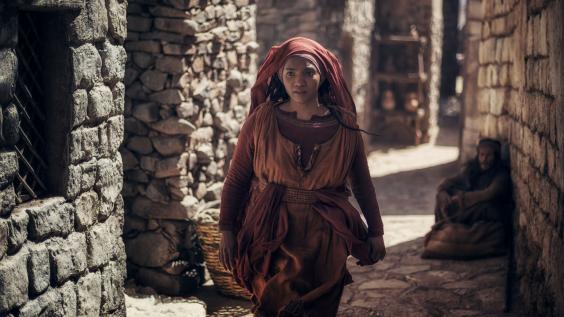 Chipo, who has a Chinese mother, was born in Tanzania but grew up in Zimbabwe. "I and am very much Zimbabwean. I grew up in a very idyllic Zimbabwe, a model African nation in the 1980s and '90s and I'm very proud of that."
She has spent the last six months filming A.D in soaring temperatures in Morocco and the previous six months filming Fortitude in subzero temperatures in Iceland. In the Sky Atlantic drama she stars alongside Michael Gambon and Christopher Eccleston as Trish, a bored writer who is the wife of Professor Charlie Stoddart and is having an affair with her best friend's husband.
"I love the fact that acting lets me travel. I'm a nomad, I come from a family of nomads," she says, "My mother's parents moved from China to Africa and I've moved from there to here. It's the world we live in."
A.D starts tonight on NBC
Reuse content