Unless you've managed to avoid watching any of the cinema stomping Marvel films, you've probably already seen Peggy Carter in action. Now, finally, the UK will be able to watch the ass-kicking agent in her own show, Agent Carter, thanks to FOX UK.
So, without giving away any many spoilers, here's everything you need to know about the not-so-new TV show.
What's it all about? Set just after the end of WW2, Agent Carter picks up where the first Captain America left us. Peggy – played by the fantastic Hayley Atwell – is working for the Strategic Scientific Reserve (S.S.R) in New York, a working environment plagued with 1940s sexism that the agent refuses to accept.
When she finds out her comrade Howard Stark – yes, that's Tony Stark/Iron Man's father – is  a wanted man for supplying deadly weapons to the enemy she has to adopt a double life; on the one hand appearing to help the S.S.R catch Howard while on the other aiding him to prove his innocence.
Wait, so who do we know from the movies? Well, Peggy Carter has previously featured in both Captain America films, Avengers: Age of Ultron and has a minor role in the upcoming Ant-Man. She was also in a Marvel One Shot – a direct-to-video short film – which was attached to Iron Man 3 and saw Ms Carter forming S.H.E.I.L.D exactly a year after the events of the first Cap.
Howard Stark also plays a recurring role in that film, with Dominic Cooper once again playing Tony's Dad. More prominently featured in the show is Benedict Cumberbatch lookalike James D'Arcy who plays the posh yet clumsy Edwin Jarvis AKA Howard's butler and Iron Man's AI J.A.R.V.I.S.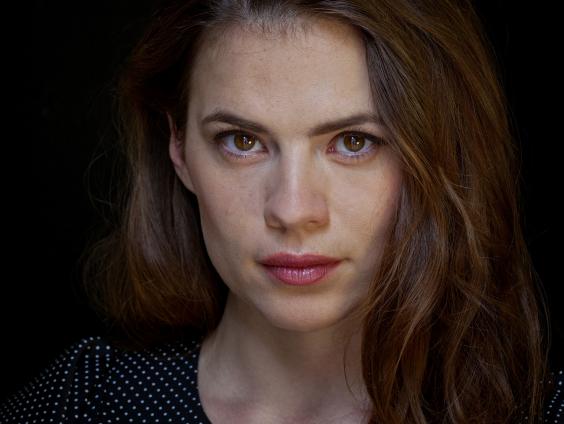 When does it air?

Having already aired in the US, Agent Carter will be available in the UK for the first time via FOX UK on Sunday 12 July at 9.00pm, with episodes showing weekly thereafter.
How do I get FOX UK? Unfortunately, to watch FOX UK you need to be subscribed to a TV provider such as Sky, Virgin or BT – sorry Freeview viewers.
Why has it taken so long to come over here? We're not really sure! No UK broadcaster wanted to buy the rights off of ABC even though it has a primarily British cast and has the Marvel name. You would have thought someone would have nabbed it quicker than you can say The Incredible Hulk.
Upcoming Marvel films
Upcoming Marvel films
1/10 In 2019: Inhumans

12 July 2019

2/10 In 2019: Avengers: Infinity War Part 2

3 May 2019

Marvel

3/10 In 2018: Black Panther

6 July 2018

Marvel

4/10 In 2018: Avengers: Infinity War Part 1

4 May 2018

Marvel

5/10 In 2017: Thor: Ragnarok

3 November 2017

Marvel

6/10 In 2017: Untitled Spider-Man

28 July 2017

Marvel

7/10 In 2017: Guardians of the Galaxy 2

5 May 2017

Marvel

8/10 In 2016: Doctor Strange

4 November 2016

Marvel

9/10 In 2016: Captain America: Civil War

6 May 2016

Marvel

10/10 In 2015: Ant-Man

17 July 2015

Marvel
Is it any good? Yes, according to IMDB where it currently holds an 8.2 and Rotten tomatoes where it is 97% fresh.
What did the critics say? "A strong script and a terrific female lead in Hayley Atwell makes Agent Carter one to watch," says Ben Travis of The Telegraph, while the New York Observer called it "ridiculously enjoyable." Not bad.
Let's talk season 2. The first season may not have aired over here, but season 2 is already in the works. According to the synopsis Carter has moved from NY to LA, and is dealing with aftermath of atomic bombs since WW2.
Rumour has it that we could be seeing a young Hank Pym, AKA Ant-Man, pop up but it's unlikely Michael Douglas would be in the role.
Atwell has hinted that Jarvis and Howard will be in it, and that there will be a slight film noir feel to it, but that's about it. Oh, and it will be 10 episodes long, but that's seriously it, everything else is just internet rumours.
Reuse content