Meet the Rayburns. The gilded clan at the centre of Netflix's newest series Bloodline are the kind of close-knit family everyone wishes they had.
They gather for warm-hearted reunions at their parents' beautiful Florida Keys hotel, take part in mock-fierce tug-of-war games on the beach and throw big, noisy parties where the drink and chatter flow equally readily and the music drifts over the sand through the early hours.
Except that's not quite the whole story: for though Bloodline may look like a family saga, it's certainly no Parenthood. Amid the bonhomie, there are subtle tensions between father and sons, quiet threats delivered from brother to brother and an air of secrecy that suggests the family's apparent perfection has come at a cost.
"We all know families have secrets," says Kyle Chandler, who plays second son John, the family rock who has seemingly spent his life holding the clan together while eldest son Danny screws up, youngest son Kevin goofs off, and only daughter Meg treads her own path. "I bet if I said to you now think of three dark secrets in your family suddenly you'd have six – that's the way families work …."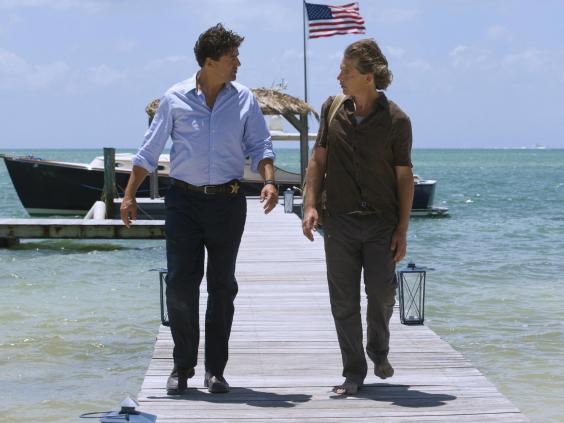 Produced by the creators of legal thriller Damages, Bloodline is expert in its mix of complex characterisation and killer twists and should be just the ticket for any Netflixers seeking another dark drama binge, post-House of Cards.
"After we'd finished Damages we realised we really wanted to approach the subject of family," says Todd Kessler, who co-wrote the show with brother Glenn and their long-time writing partner Daniel Zelman.
"We wanted to tell a straight-ahead family with a heightened situation which allowed us to take a step back and really go very deep into relationships and inter-personal dynamics." Indeed, without giving too much away, what makes the series so compelling is the contrast between the public life the family present to hotel guests and the private pain they're desperately trying to hide.
Surprisingly perhaps, the Kesslers and Zelman drew inspiration for the series not from other TV dramas but from 1980s Hollywood potboilers such as Body Heat and Fatal Attraction. "In the beginning of those movies, life is good. You know Glenn Close and Michael Douglas's characters [in Fatal Attraction] just kind of meet at a party and you have no idea what's coming. We were aiming for [that trajectory]. Some shows put something right at the top to grab the audience but we want you to get to know the characters first. We're going to take you on a hell of a ride but at the same time we want you to draw your own conclusions."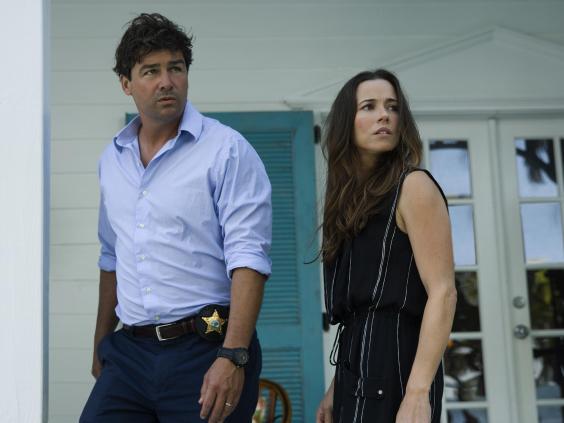 It helps that they've assembled an impressive cast to tell their tale. The Rayburn parents, sweetly vague Sally and guitar-strumming Robert, are played by Sissy Spacek and Sam Shepard, who bring to the roles a shared history, honed in films ranging from Raggedy Man to Crimes of the Heart. "When we set out to sell the show we were describing the characters and we'd get to Robert and Sally and always say 'think Sissy Spacek and Sam Shepard'. So to then get them is just extraordinary," Kessler admits.
Chandler, who first made his name on TV with his acclaimed turn as coach Eric Taylor in Friday Night Lights before forging a successful movie career with roles in The Wolf of Wall Street, Argo and Zero Dark Thirty, agreed to sign on as John, because the part of the seemingly straightforward family man seemed like "a lot of fun … his decentness and his obligations to the world are actually a tremendous burden".
Meanwhile the role of estranged eldest son Danny, a troubled drifter who is both terrifying and oddly vulnerable, went to Ben Mendelsohn, the Australian actor who has cornered the market in screen sociopaths through his work in films such as Animal Kingdom and Starred Up."He was the only actor we met with," says Kessler. "We knew he'd be able to give you the sense of wild animal within."
Best Netflix originals to watch in 2015
Best Netflix originals to watch in 2015
1/11 Orange is the New Black (Season 3)

Aussie model Ruby Rose has confirmed she will be the next star in stripes at Litchfield Penitentiary when OITNB returns on 10 July.

2/11 Daredevil

Marvel's new Netflix series will be released on 10 April (all 13 episodes), starring Charlie Cox as blind lawyer by day and masked vigilante by night Matt Murdock.

Netflix

3/11 What Happened, Miss Simone?

Music legend and civil rights activist Nina Simone is the subject of this film from Oscar-nominated Liz Garbus. Expect unheard recordings and rare archival footage.

Netflix

4/11 Marseille

The French port city of Marseille will be the focus of a new drama about the local mayor, who is forced to face the man he chose as his heir in the elections.

Simon Calder

5/11 Grace and Frankie

Jane Fonda will arrive on Netflix on 8 May in this show about two rivals brought together after their husbands announce they are in love and plan to marry. Also starring Lily Tomlin.

Reuters

6/11 Sense8

No not The Matrix - but directors Andy and Lana Wachowski have created a new sci-fi drama series involving eight strangers from around the world who suddenly become mentally and emotionally connected after a tragic event.

Rex Features

7/11 Narcos

Ten-episode series Narcos will see Brazilian actor Wagner Moura play notorious Colombian drug lord Pablo Escobar.

8/11 Dreamworks Dragon

This will bridge the gap between How to Train Your Dragon 2 and the third film. Storylines include Hiccup's new flight suit, the secrets of his dragon blade and the young Viking's budding romance with Astrid.

9/11 Better Call Saul

The Breaking Bad spin-off series began in February starring Bob Odenkirk as sleazy lawyer Saul Goodman. The drama documents the trials and tribulations of Goodman before he moves to his strip-mall law office in Albuquerque.

Netflix

10/11 House of Cards (Season 3)

Kevin Spacey is back as the conniving Frank Underwood on 27 February for the third season of this hit White House drama.

AP

11/11 Crouching Tiger, Hidden Dragon: The Green Legend

The sequel to this Oscar-winning martial arts epic hits Netflix on 28 August - the same day of its cinematic release.

Netflix
Another of the show's trump cards is its location, in keeping with the trend for today's best crime dramas to concentrate as much on a sense of place as the story they're telling – think True Detective's soupy Louisiana bayou, the frozen vistas of Fortitude, even Broadchurch's endless honey-coloured beach. The long chain of islands at the tip of Florida known as the Florida Keys has always been a favourite locale for thrillers – from the 1948 Bogart/Bacall film noir classic Key Largo to the crime novels of Carl Hiaasen and Tom Corcoran – and Bloodline's atmosphere similarly thrives off their murkily tropical beauty and alien remoteness.
"The Keys are so picture-postcard beautiful but at the same time you're down in the mangrove [swamps] environment so it also stinks," says Mendelsohn. "They call alcoholism 'the Keys disease' and you can see that … there's a range of people down here and definitely more than one person who's come to the Florida Keys to be on the lam."
And, sure enough, the Rayburns are all "on the lam" from something, whether from the law or simply their collective past. Not that they can escape the latter easily. "To me the key is that, regardless of how many decisions you make about your siblings, no matter how many times you say 'no more', what do they have to say to make you say 'OK, one more time, and ' love you so much'?" says Chandler. "And what does making that decision then do to you? That's the real key to this piece."
Series 1 of 'Bloodline' launches on Netflix on 20 Mar
Reuse content