Most of what is on TV this Christmas will be as unsurprising as someone yelling at someone else in the Queen Vic, but there is some original programming amid the glut of Christmas specials, and even a few things to stretch the over-indulged mind.
Doctor Who (BBC1)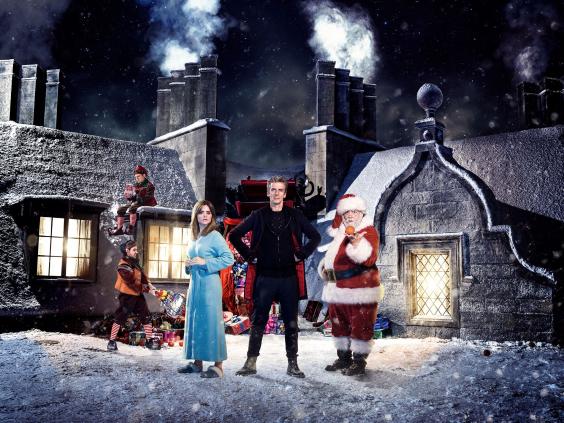 Jenna Coleman's Clara returns to the bosom of the Tardis and Peter Capaldi's tetchy Doctor, but is it just (as has been rumoured) for one last, climactic send-off? Of course we wouldn't and couldn't tell even if we knew. Suffice to say that it all takes place in the Arctic, Nick Frost plays Father Christmas and Michael Troughton, son of 1960s Time Lord Patrick Troughton, alsofeatures.
Downton Abbey (ITV)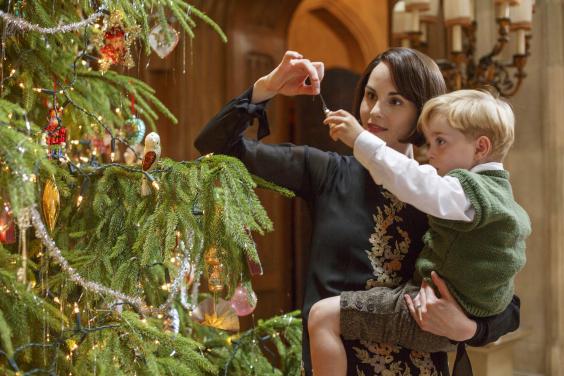 A Downton Christmas special that's actually set at Christmas for a change, with snow and all that, but which once again sees the Crawley family on the move, this time spending the season with the newly-wed Rose and Atticus (the episode was filmed at Alnwick Castle in Northumberland – the setting for Hogwarts in several of the Harry Potter films). Matthew Goode guest stars, George Clooney won't, and Tom Branson and Daisy might both leave.
Mapp and Lucia (BBC1)
Those with cherished memories of the sublime 1980s Channel 4 adaptation of EF Benson's delicious comedy of interwar small-town snobbery may wish to avoid it, but Steve Pemberton's new version is still pretty good – with Anna Chancellor and Miranda Richardson as the warring queen bees of Tilling. Pemberton and League of Gentlemen co-star Mark Gatiss also feature.
Game of Thrones (Sky Atlantic)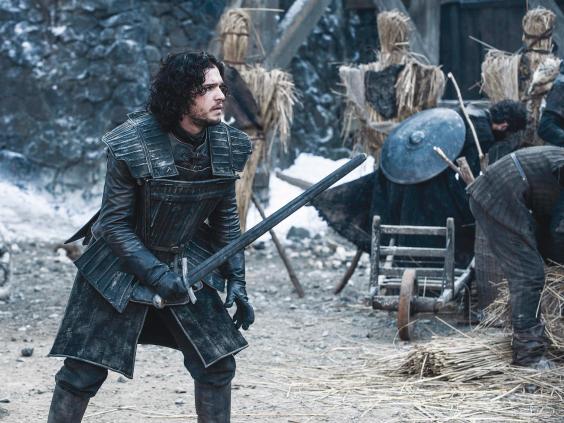 A bit behind with events in Westeros? Why not spend the entire Christmas fortnight there – as Sky Atlantic screens the entire back catalogue, starting on 20th December (they're calling it the 12 slave of Christmas). Alternatively record it and avoid both being seen as anti-social, and the price of multiple box-sets.
TV specials to watch this Christmas
TV specials to watch this Christmas
1/14 Doctor Who

Nick Frost plays Santa Claus in the Doctor Who Christmas special

BBC

2/14 Downton Abbey

The cast of Downton Abbey up sticks to Northumberland for a shooting party this Christmas

ITV

3/14 The Wrong Mans

Matthew Baynton and James Corden in the Christmas episode of The Wrong Mans

BBC

4/14 The Great British Bake Off Xmas Masterclass

Christmas cooking can be a right nightmare, but never fear, for Mary Berry and Paul Hollywood are here

BBC

5/14 Top Gear

The Top Gear Patagonia Special is going ahead despite complaints from the Argentinian government

BBC

6/14 Miranda

Miranda Hart will put her sitcom character to rest after two Christmas specials

BBC

7/14 Mrs Brown's Boys

Agnes Brown returns for two Mrs Brown's Boys episodes this Christmas

BBC

8/14 Call The Midwife

Miranda Hart will be all over our screens as she also stars in the Call The Midwife festive special

BBC

9/14 Black Mirror

Jon Hamm stars in an episode that will see people 'blocked' in real life

Channel 4

10/14 Esio Trot

Dustin Hoffman and Judi Dench star in the BBC adaptation of Roal Dahl's children's novel

BBC

11/14 The Boy In The Dress

David Walliams' latest children's comedy promises a cameo appearance from Kate Moss

BBC

12/14 The Incredible Adventures of Professor Branestawm

Harry Hill makes his acting debut in this family drama about an absent-minded, mad professor who causes chaos with his hare-brained creations

BBC

13/14 Attenborough's Paradise Birds

It wouldn't be Christmas without David Attenborough's soothing tones

BBC

14/14 EastEnders

The Carter family pose for a photo in the EastEnders Christmas special

BBC
Agatha Raisin and the Quiche of Death (Sky1)
Adapted from the books of MC Beaton – the Scottish writer also responsible for Hamish Macbeth. Ashley Jensen plays a high-flying London PR whizz who retires to the Cotswolds and becomes an amateur sleuth. An ensemble cast with Hermione Norris, Robert Bathurst  and Matthew Horne should make up for the  unpromising title.
Tubby and Enid (That We Sang) (BBC2)
That rarity, a television musical. Set in 1929, when 250 children travelled to Manchester to record "Nymphs and Shepherds" with the Hallé Orchestra, and in 1969, when a TV documentary reunited two of those children – now lonely, unfulfilled adults – Victoria Wood's adaptation of her own big-hearted stage hit, That We Sang stars Imelda Staunton and Michael Ball.
Olive Kitteridge (Sky Atlantic)
Fancy something downbeat amidst all the enforced jollity? Frances McDormand gives a remarkably complex performance as the New England maths teacher in HBO's four-hour adaptation of Elizabeth Strout's Pulitzer-winning collection of short stories.
Playhouse Presents: Marked (Sky Arts 1)
Kiefer Sutherland and Stephen Fry, who appeared together in 24: Live Another Day, reunite for a one-off drama. In the midst of a crisis, downtrodden James (Sutherland) agrees to carry out a hit for his neighbour in return for a large sum of money. And, yes, you can feel a seasonal moral coming on…
Reuse content