Television shows on commercial networks are understandably reluctant to incorporate sections where very little happens. Each episode of Countdown, however, contains up to seven and a half minutes of footage of two contestants writing stuff on bits of paper, accompanied by an insistent xylophone tune. We're used to it now, but it's unusual.
Countdown is a rule breaker. And each 30-second countdown, according to the former contestant Charlie Reams, is crucial to the show's success and longevity. "When you watch a normal quiz," he says, "the contestants are usually faster than you. They give the answer before you've had a chance to think. In Countdown you get 30 seconds, no matter what. You feel involved."
Last Friday, Countdown was recognised by Guinness World Records as the game show with the most series under its belt: 70, to be precise. With the length of a "series" being a fairly arbitrary thing, it's not necessarily the best measure of longevity (indeed, the French show Des Chiffres et des Lettres, on which Countdown is based, has been going strong since 1965), but one thing is clear: Countdown has been around for ages. Sufficiently long, in fact, for it to be labelled "an institution" – or, as its current presenter, Nick Hewer, once described it, "a punctuation mark in the stability of British society".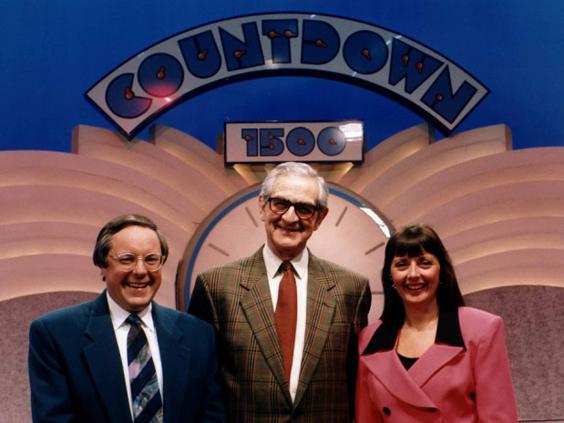 Anagrams and arithmetic are noticeably absent from the rest of the British television schedule, perhaps betraying our ambivalence towards spelling and sums as a leisure activity. It's certainly true that the Countdown audience has dwindled from a high of four million in the heyday of Richard Whiteley and Carol Vorderman to somewhere below half a million today. "I must confess that I don't watch Countdown," says Paul Stevenson, another former contestant. "It's on at a time that's a bit useless for me as someone who goes out to work. But before I went on the show, I'd watch it on 4OD and play along with pen and paper. My day job is as a theoretical physicist, so my real fear was screwing up the numbers game and looking stupid." But whether we're watching or not, we like to know it's there. "When you get rumours that it's being axed, people are reminded how much they like it," Reams says. "It's like when Heinz said that it was getting rid of salad cream. Countdown's never going to be a big Saturday night ratings winner, but it has a dedicated fan base and that's enough to keep it going."
Reams, who appeared on Vorderman's final Countdown show ("There was a news clip with her crying and me looking a bit uncomfortable"), has observed the Countdown obsession at first hand, having built a website that allowed people to practise against their friends. Today, that site, Apterous, has become an essential tool for anyone preparing to go on the show. "For the last four or five years," he says, "every single series champion has practised using Apterous. You're at a massive advantage compared to anyone who just watches on TV and plays one game a day – but yeah, there are people using it who've spent an unhealthy number of hours on there."
Countdown obsessives have their in-jokes (one of them is GANDISEEG – too complex to explain here), their favourite moments (the occasions where "WANKER" or "WANKERS" have been proposed) and their favourite contestants (such as James Martin, who memorably completed a numbers game by multiplying up to 23,850 and dividing back down again to get the answer of 952, much to Vorderman's amazement).
But it's those 30-second gaps that keep Countdown-o-philes glued, because it's their chance to participate. And the composer who receives cash every time that xylophone tune is played, Alan Hawkshaw, donates a percentage of its royalties to help young musicians at Leeds College of Music. Proof, if any were needed, that Countdown is truly a force for good.
Reuse content