Has the watershed moment in scheduling finally arrived? Not quite, said BBC director-general Tony Hall in a wide-ranging interview in this week's Radio Times, but the day is fast approaching. "The watershed is still a useful way of judging the content and sensitivities, and taste and decency issues," he conceded, but, "has the watershed got a future in 20 or 30 years' time? I suspect not."
Media futurologists have been predicting the imminent demise of the 9pm witching hour for some time and for obvious reasons. First introduced in 1964, under pressure from conservative campaigner Mary Whitehouse, the watershed is a relic of a time before catch up TV and YouTube. It was intended as a means to protect children from exposure to unsuitable material, while ensuring grown-ups could still get their kicks from sex scenes, swear words and drug references, provided they were willing to stay up late enough. Nowadays explicit content beyond Whitehouse's most lurid imaginings is available online in seconds, so why so we still bother with a watershed?
One reason is that the future of television hasn't arrived as fast as predicted. According to Ofcom's latest survey of media habits, Britons spend an average three hours and 52 minutes watching television every day and the vast majority of that time is still made up of live TV viewing. Moreover, some trends in digital TV watching, such as 'double-screening' (watching TV while simultaneously using another other device) lend themselves to live viewing. You can't join in the Twitter conversation about your favourite show, unless you're watching it at the scheduled time along with everyone else.
So before we consign the watershed to TV's past (along with Teletext and coat-hanger aerials), let's remember there are reasons cherish it. Recent controversies concerning pre-watershed naughtiness have demonstrated that as content proliferates and cultural standards evolve, a nationally agreed barometer of taste is more useful than ever. The EastEnders 8pm rape storyline, for instance, was deemed acceptable by Ofcom in part because of "the programme's role in presenting sometimes challenging or distressing social issues." On the other hand the raunchy dance routines performed by Rihanna and Christina Aguilera on The X Factor however, were "at the limit" of acceptability for a pre-watershed broadcast.
It may be harder now to generalise about the viewing schedules of certain audiences, but the watershed — even if it only exists as an abstract notion — helps remind broadcasters that viewers still want them to make a variety of programming that's suitable for different audiences and to to distinguish clearly between these programmes. If we wanted all television to resemble one long Rihanna video, we'd all be watching YouTube. A watershed may not be enough to save young minds from corruption, but it might just save us all from too much terrible telly.
What the Party Leader debates should look like
It does seem like David Cameron would do absolutely anything to get out of a televised debate, but let's give him the benefit of the doubt. Perhaps the problem is only that broadcasters are yet to come up with a format that's daring enough to really tickle his fancy.
Four men standing behind podiums shouting in turns is boring, but a debate modelled on ITV's hit dating show wouldn't be. In Take Me Out (And Vote) each party leader would come shimmying down in the lift to a pop tune, before attempting to impress a merciless panel of those much-sought-after women voters.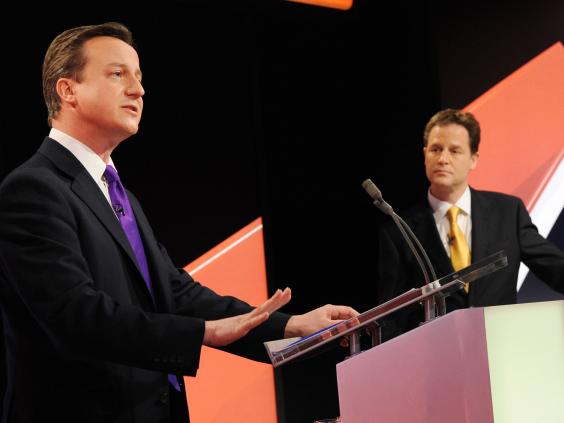 Or maybe Pointless Politicians in which party leaders win points for their most unpopular policies, thus encouraging a principled and truthful discussion. Then, of course, there's The Jump: Election Special - in which the electorate must select a leader based solely on his/her skiing skills. True, the format favours candidates from posh backgrounds, but then, arguably, so too do the debates.
CATCH UP
Fortitude, Sky Go
It may take a little fortitude to get through the feature-length opening episode of Sky Atlantic's new drama series, but it's worth it. The characters are many and the plot is complicated, but there's intrigue enough in this remote Arctic community to justify a return visit. Stanley Tucci and Sofie Grabol star.
Last Tango in Halifax, BBC iPlayer
When the schedules are full of "Broadchurch this" and "Fortitude that" it would be easy to overlook the less flashy charms of Sally Wainwright's Yorkshire-set family drama, but it's up there with the best of them. Make sure you catch up with this series before the finale airs on Sunday.
When Len Met Jen, BBC Taster
The BBC's new interactive site has been pitched as a means of trying out experimental new TV formats, but it's also a way of showcasing material that might not find a place in the schedules otherwise. These tidbits from the time Jennifer Saunders interviewed Girls creator Lena Dunham for Newsnight are fascinating.
http://www.bbc.co.uk/taster/projects/when-len-met-jen
Modern Times: the Vikings are Coming, BBC iPlayer
Last year we learned that a third of all sperm used in fertility treatments in the UK comes from Danish sperm banks. Sue Bourne's documentary about the British women hoping to become mothers is recommended watching for any over-tired parents or fed up pregnant women, it will remind you why it's all worthwhile.
http://www.bbc.co.uk/programmes/b0513m6j
Reuse content