Did you spot the odd man out at this year's Emmy awards? As late-night talk show host Jimmy Kimmel was standing on stage at the Nokia theatre, ready to present a gong, he caught sight of an Academy Award-winner in the crowd. "Why is Matthew McConaughey nominated for a television award?" he wondered aloud, as the camera zoomed in and a spotlight picked out the actor's perfectly chiselled jawline.
"Look at that face," said Kimmel. "That's not a television face; that's a movie-star face."
Cut to another close up, this time of Ricky Gervais, the British star nominated for Best Actor in a Comedy series. "Now that is a television face," Kimmel continued, as Gervais gurned on cue. "Not even really a television face, it's a Netflix face..."
With that, Kimmel got one of the biggest laughs of the evening and he also managed to neatly summarise the entertainment-industry hierarchy, as reflected by awards season.
Movies reign supreme, TV trails behind, online streaming barely gets a look in and a sprinkling of Brits is always good (if only for novelty value).
The Emmys are fun, sure, but they're not the Oscars, are they? They have the same red carpet arrivals, the same designer gowns and the same variety show format (this year's host-cum-nervous stand-up comic was Saturday Night Live's Seth Meyers).
As with the Oscars, the Emmys also take place in the entertainment-industry capital of Los Angeles, and yet, because they celebrate achievement in television, not cinema, they're doomed to be regarded as only a warm-up act for the real thing.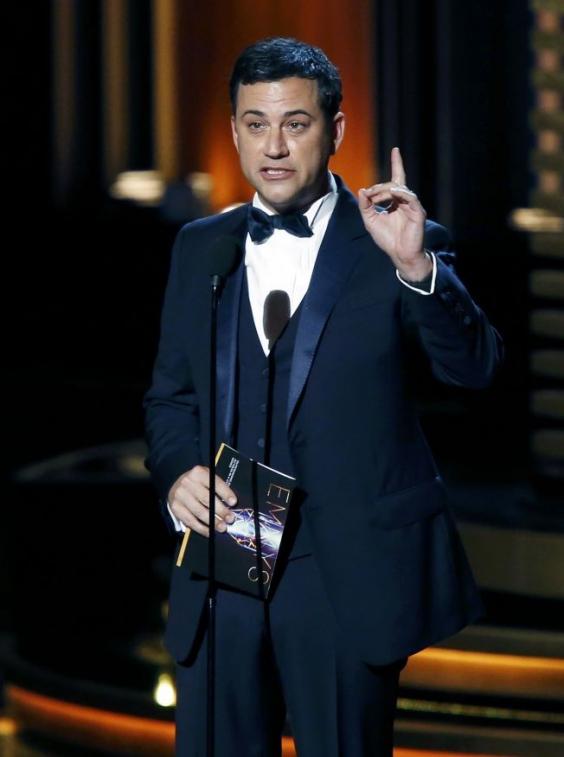 The Emmys have an obvious inferiority complex as an awards show, but how does that reflect the importance of television in real people's lives?
Ranking actors, writers and even entire artistic mediums in order of greatness might be the purported raison d'être of awards shows, but that doesn't mean they're any good at it. If they were, The Wire (aka the greatest television show ever made) could not have run for five seasons without winning a single Emmy and Jon Hamm would not be a 12-time loser for his era-defining performance as Don Draper in Mad Men.
To anyone observing from this side of the Atlantic, the irrelevance of the eventual Emmy winners should be especially obvious. The Academy Awards, for all their missteps, have a real influence on the movies that we eventually choose to see in the cinema, because they take place before several of the nominated films have had a European release. It's been shown that iTunes sales for albums and singles spike immediately after any awards show performance.
The entry requirements for Emmy-nominated television programmes, on the other hand, ensure that the shows are already familiar all over the English-speaking world. This can make the Emmys seem oddly out of touch – this year's big winner, Breaking Bad, broadcast its final episode almost a year ago – but it also allows audiences to have their own opinion. We all already know whether Louis CK deserved to win Lead Actor in a Comedy Series, for instance, and no amount of statuettes accumulated by The Big Bang Theory's Jim Parsons make us think otherwise.
So if the awards themselves don't matter much, why are the Emmys still enough of a draw to persuade a big-shot movie star such as Matthew McConaughey to give Netflix a miss for the evening and put on a tux? Because regardless of Kimmel's self-deprecating joke, TV matters. Week in, week out, viewers return, developing affections for characters and allowing the themes to seep into their consciousness. Shows such as Breaking Bad, Game of Thrones, Downton Abbey, House of Cards and True Detective are more present in more people's lives than any Oscar-winning film could ever be, simply by virtue of the medium.
That's why every nominee at the Emmys is free to relax and enjoy the show, safe in the knowledge that their true place in the industry hierarchy is already secured.
Smile, you're on television.
Reuse content