54 years ago, ABC Television, the ITV franchise holder for the Midlands and North of England, embarked on a new drama series that stood a good chance of success. The leading man was Ian Hendry, who played David Keel, a GP avenging the death of his wife; the producer was Sydney Newman, the creator of the acclaimed Armchair Theatre. The first episode was scripted by Brian Clemens, a young writer who had previously worked for the Danziger brothers, the B-film producers who based their masterpieces around stock footage and borrowed props. Against not inconsiderable odds, Clemens' scripts often managed to make a Danzigers production entertaining. The Avengers would provide a higher profile showcase for his talents.
As it was, Hendry departed the show after the first series – and the two complete surviving episodes that still exist, as well as a fragment of the pilot episode, "Hot Snow", show a black-and-white London populated with much the same sharp-suited villains as may be found in a contemporary Edgar Wallace film. Eight years later, under Clemens guidance as script-editor and co-producer, The Avengers had virtually created the term "cult television" and had subverted the 1960s spy genre with understated wit and style.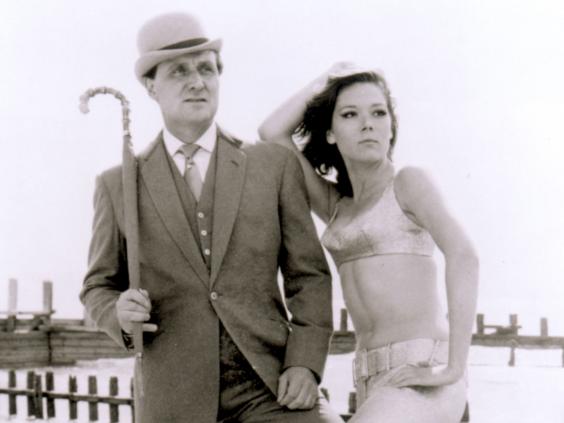 Between 1962 and 1965 Clemens – who died on 10 January – gradually transformed The Avengers, from studio recreations of Soho to the creation of the show's own mystique. He promoted Keel's sidekick, John Steed, to the main character and had Patrick Macnee dispense of his regulation spy's trench coat in favour of a deliberately dandified mode of dress. Teaming Steed with Honor Blackman's Cathy Gale elevated The Avengers far beyond the conventions of contemporary Bond films, where female characters tended to exist either to conveniently drop dead or fall prey to the charms of 007's chest hair. When Blackman left the show in 1964 – ironically to star in Goldfinger – the series was extensively revamped, with the John Dankworth theme replaced by a Laurie Johnson score and a film format adopted.
Shooting the fourth season of The Avengers on celluloid not only allowed for greater opportunities of export, it defined the programme as much as the casting of Diana Rigg as Emma Peel. To see just how much The Avengers differed from other British filmed television series of this period, you just have to watch an episode of The Saint or any other "International Man of Mystery" series churned out by ITC. Such programmes had many elements in common, such as their choice of directors and a supporting cast of guest villains – Peters Bowles and Wyngarde and a young Donald Sutherland – and Home Counties locations; but unlike The Saint or Danger Man, The Avengers never strayed beyond its own vision of England, a decision made by Clemens. Under his guidance, Steed and Peel would never find themselves at a cardboard replica Eastern Bloc border crossing in the midst of Black Park – or visit a "France" created by driving a Citroen DS on the wrong side of the road in Hertfordshire.
The best TV to watch in 2015
The best TV to watch in 2015
1/13 Game of Thrones

Sky Atlantic, April

HBO

2/13 Poldark

BBC 1, March

BBC

3/13 Fortitude

A murder mystery set in a close-knit Arctic Circle community, with an impressive ensemble cast -Sky Atlantic, January

Sky Atlantic

4/13 Banished

BBC 2, March

BBC

5/13 Ordinary Lise

BBC 1, March

BBC

6/13 Life in Squares

Phoebe Fox, James Norton and Lydia Lynch in 'Life in Squares'

BBC

7/13 Wolf Hall

BBC2, January

BBC

8/13 Better Call Saul

Netflix, February

Netflix

9/13 Mel & Sue chat show

ITV, January

Princess Productions

10/13 Mad Men, Series 7, Part II

Sky Atlantic, Spring

©Lionsgate

11/13 Dementiaville

This series of documentaries explores both the heart-breaking experiences of those with dementia and a ground-breaking new approach to their care - Channel 4, Summer

Georgie Scott/Age UK 2013

12/13 Morning Has Broken

More than a decade since Nighty Night established Julia Davis's reputation for caustic character comedy, she's back with a new creation on Channel 4

BBC

13/13 Cucumber/Banana

Sixteen years after Queer as Folk, Russell T Davies returns with two interlinked series about gay life in Manchester on Channel 4

c.Showtime/Everett/REX
Instead, the best episodes followed in the tradition of Quatermass II, The Damned or Village of the Damned, where the seemingly mundane hid a country of infinite menace – a theme Clemens would develop for his celebrated 1970s TV series Thriller – and where small communities could still exist in total isolation from the rest of the country. The first filmed episode, "The Town of No Return", established a world where a branch line could still convey travellers to semi-deserted coastal towns where visitors might disappear with impunity. The change to colour for the fifth season, a move prompted by the show's sale to US television, actually emphasised this sense of pervasive unease. This is best displayed in "Murdersville", where the tranquil surface of the sort of village that might have been celebrated in a late Ealing comedy masks a community where none of the standard laws or conventions apply.
Clemens also helped to ensure that the move away from black-and-white did not mean that The Avengers would suddenly emulate the most excruciating moments of The Saint, where Simon Templar had to confront Swinging London via Elstree's approximation of a "groovy happening". Instead, the fourth and fifth seasons further remove the show from any social context, creating an idiosyncratic vision of the 1960s with a blend of Pierre Cardin-infused Edwardiana and Lotus Elan sports cars. Steed and Peel's world makes perfect sense to them – and instead of sub-Bondian intrigue, they chiefly encounter eccentrics, mad scientists and bounders who try to maintain the status quo by any means possible.
Inevitably it was all too good to last. Rigg left the show in 1967 to be replaced by Linda Thorson, by which point the scripts descended into outright whimsy and self-indulgence. The last episode of The Avengers marked the end of the Sixties as much as the Abbey Road album, with the 1970s revival, The New Avengers, a dismal vision of fashion disasters and malfunctioning British Leyland cars that is best forgotten.
Of Brian Clemens' many achievements, one of his greatest was to create a series that Lewis Carroll might have approved of, where the surreal is perfectly balanced with deadpan wit. It was a show that could be erotic and menacing – just look at "A Touch of Brimstone" – and possess genuine feeling: Emma's farewell to Steed is utterly affecting. And thanks to Clemens, the best of The Avengers does not date, as it created its own self-contained world.
Reuse content