Dolly Wells and Emily Mortimer have known each other since the age of four or five, and cemented their friendship a few years later on a family skiing trip. "I remember stealing chewing gum from the chalet girl and getting into real trouble," says Wells. "When we were about 14 or 15, I remember Doll trying to bleach my jeans," adds Mortimer, "…while I was still in them. I got acid burns all over my bum." The ties that bind.
On a deeper level, what unites the actresses, both now in their early forties, are their famous fathers – the satirist John Wells and the author John Mortimer. John Mortimer, barrister, author and Rumpole creator, died in 2009, while John Wells, the satirist most famous for portraying Denis Thatcher on stage, succumbed to cancer in 1998. "We were both extremely close to our dads," says Mortimer. "There was something about the feeling of being with them which was intoxicating and made everything feel OK."
Having been schooled separately, the girls re-bonded after university when they shared a flat as fledgling actresses in mid-1990s London. Mortimer quickly found her feet, going on to have a successful career in films such as Woody Allen's Match Point, Martin Scorsese's Shutter Island and the ongoing HBO drama The Newsroom. Wells's career has been somewhat less international, with comic roles in Peep Show, The IT Crowd and Star Stories, in which she impersonated Nicole Kidman, Gwyneth Paltrow and Princess Diana among many others.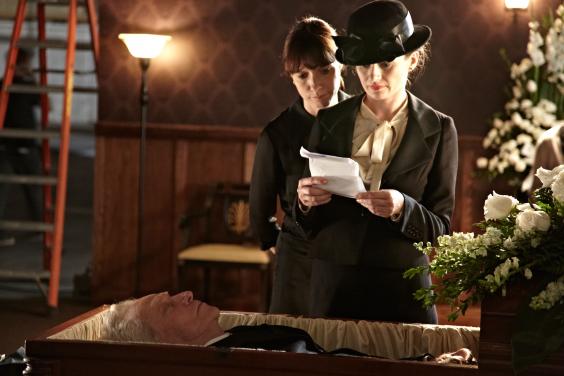 In the meantime the friends repeatedly attempted writing projects together, not least a screenplay based on that childhood skiing holiday. "It was really just as an excuse for us to talk to each other because I was living in America and she was living in England," says Mortimer.
Happily, they hit on a more fruitful idea for a comedy drama than their hols. Hanging out at the Sundance Film Festival together, they observed the relationship between actors and their personal assistants and wondered what would happen if a famous actor hired her best friend as her assistant. "And wouldn't it be cool if we put ourselves into those roles?" adds Mortimer – a high-risk decision described (much to the women's delight) by a French journalist as "narcissistic and masochistic".
"I quite liked that," says Wells. "It made me quite fancy him for being so rude."
Far from being narcissistic (the masochism is open to debate), the resulting TV series, Doll & Em, is one of the best new shows of 2014 – truthful, funny and poignant. HBO was so impressed that it bought the American rights from Sky. Mortimer plays a version of herself, "Emily", who is a successful actress working in LA. In the middle of being interviewed with Bradley Cooper at the Independent Spirit Awards ceremony, she takes a call from her best friend "Dolly" (Wells), a waitress in London. Doll has boyfriend trouble and Em suggests she fly to California to work as her personal assistant – a job that involves driving Em to the studio, fetching her frothy lattes and generally hanging out and being supportive.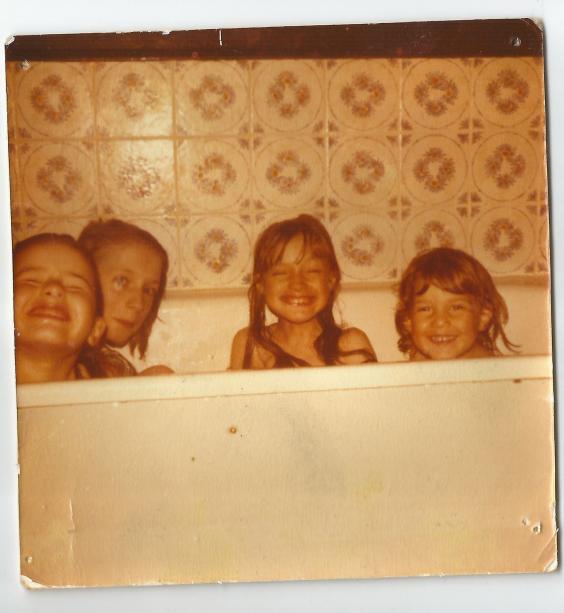 Interviewing them jointly, their easy chemistry and delight in each other's company is obvious – though Wells admits to initial misgivings. "I felt it was a real leap of faith by Em. I knew that within the boundaries of a café or a sitting-room we both thought the other was the best thing in the world, but Em has a very established career and had been careful about the things she'd chosen to do. So just to go, 'I know, I'll write a show for television and do it with my best friend,' could have been a terrible fuck-up."
"From my point of view, it felt like Dolly is by far and away the coolest part of my life," counters Mortimer. "She is so brilliant and funny, and if I can tie myself to her coat-tails in any way, I thought it would reflect well on me."
What gives Doll & Em its narrative edge is the way in which the women's friendship starts to unravel as their roles blur. Em becomes increasingly insecure about her latest project ("a female Godfather" is how it's described by its pretentious young director), and Doll becomes a popular figure on set. And when Doll damages her ankle, the roles undergo a reversal.
"We both loved The Servant and All About Eve," says Wells, referring to Joseph Losey's film starring Dirk Bogarde as the worm who turns on his master, and Joseph L Mankiewicz's movie k about a fan who insinuates herself into the life of a Broadway star played by Bette Davis. "Any master-servant relationship archetype is begging for the roles to shift," says Mortimer.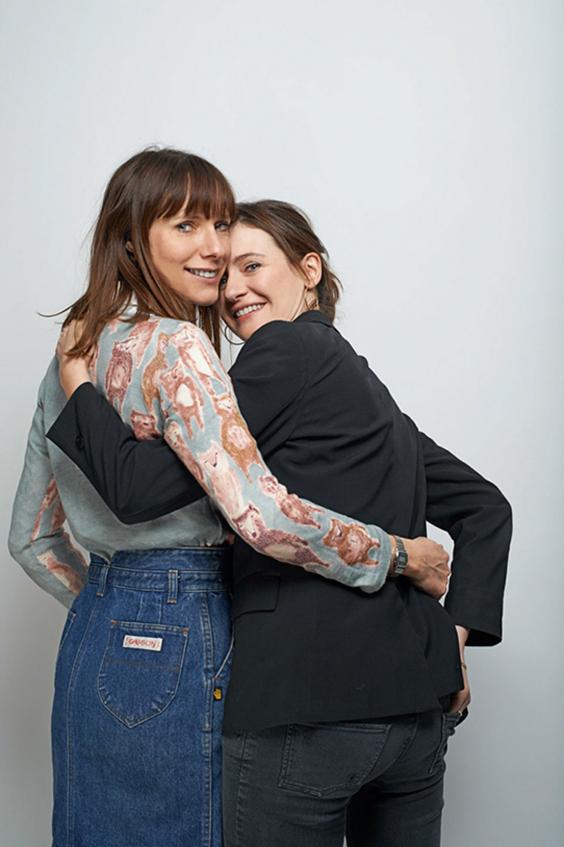 Originally, Mortimer and Wells conceived of their idea as an independent movie – and an idea it might have remained, without the input of their friend, the up-and-coming film-maker Azazel Jacobs. "We wanted it to be an indie movie but he said, 'I think you should make a TV thing of it,'" says Mortimer. "So Doll flew out to LA when I was doing the first season of Newsroom. Aza borrowed a boom from a friend and we'd just improvise scenes in my trailer and in the house I was renting. We called each other 'Doll' and 'Em' because we didn't think anyone else would see it. We slightly panicked about the names afterwards, but I wonder if we would have gone as deep if we'd changed them."
This intimate collision between real-life and artifice was deepened by the involvement of Wells's husband, the US photographer Mischa Richter, who plays Mortimer's husband in the series. Wells's children play Mortimer's children in the show, while Mortimer's real husband, the actor Alessandro Nivola, has a producer's credit.
As in any self-respecting Hollywood-on-Hollywood fiction, the supporting cast also includes a fair sprinkling of famous faces, including Susan Sarandon, Chloë Sevigny, John Cusack and Andy Garcia. But as much as Doll & Em is an authentic-feeling sideways look at the film-making process, it's also an intimate and sometimes uncomfortably funny study of female friendship. "Because we've now got a pretty healthy female relationship, hopefully we can hold it up to those crazy mirrors and do the one thing that would make it go wrong," says Wells. "The idea that you've been friends for your whole life and then suddenly the other person becomes your job – it would be so weird. It would be hard not to become massively resentful."
In fact, it would be easy to identify with Dolly's character at the expense of Em's, dismissing the latter as a typically self-obsessed actor. Mortimer says they strived for something more evenly balanced. "Film sets, particularly in America, are a hot-bed of paranoia," she says in defence of her character's neuroses. "The talent can never be allowed to feel unhappy because if they're unhappy, they'll be bad in the film, so they've got to be made to feel totally wonderful. And the loneliness is somehow exacerbated by people telling you how wonderful you are."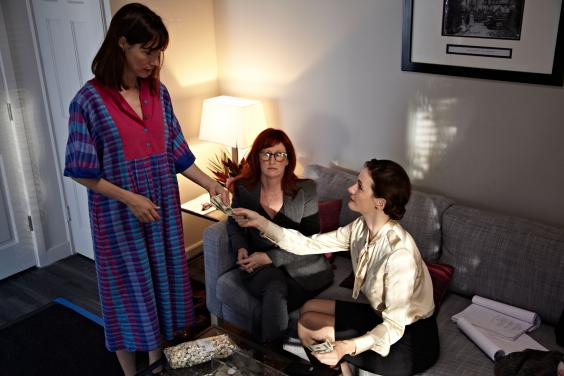 While Em becomes increasingly insecure, Dolly's self-confidence is restored – a situation mirrored in real life when the women attended a Hollywood party during the shoot. "I had been feeling a bit insecure at this party and was saying, 'Shall we go?'" recalls Mortimer, turning to address Wells. "I went to the loo and came back and you were surrounded by all these men… Garry Shandling [the comic behind The Larry Sanders Show] was splitting his sides with laughter."
"Yes, but as that was happening I was willing you to come out of the loo because I thought it was really funny," replies Wells.
Both women believe that jealousy between good friends is an under-explored subject. Was there a moment when their fictional study became almost too uncomfortable? "Episode five," replies Wells without pause. "They have a horrible row… they break up pretty much."
"It was the bit we felt most nervous about," agrees Mortimer. "It felt quite exposing."
The final episode sees Doll return to London, whereas in real life both women now live within one street of each other in Brooklyn, the hip New York borough where Girls takes place. "Nah, it's not hip – it's over. People are walking round with T-shirts saying 'I Hate Brooklyn'," says Wells.
The friends have found their mutual support helpful right down to the sometimes excruciating job of marketing their series. "Even selling the show," says Mortimer, "things that maybe we'd cringe at on our own… we give each other confidence. Having said that, we're spending such a long time talking about our friendship it will probably be the end of it."
'Doll & Em' begins at 10pm on 18 February on Sky Living