Glee is about to come to the end of its six-year run with a two-part finale, and many original cast members will be returning to say goodbye.
At its best Glee is a stirring celebration of the power of pop culture, kept afloat by a large cast of interesting, evolving characters; at its worst, it's a messily plotted, preachy love-in seemingly dedicated to fulfilling contractual obligations to Jane Lynch.
In celebration of Glee's six years, here's a run-down of the show's best - and worst - characters:
The best
1. Rachel Berry (Lea Michele)
Rachel is the hero of Glee: a Tracy Flick-esque teen sociopath, extremely talented, socially offputting and willing to do some pretty nasty stuff to come out on top.
2. Santana Lopez (Naya Rivera)
Santana has undergone Glee's most compelling transformation while remaining tough, loving and hilarious. Her coming out narrative is truly moving.
3. April Rhodes (Kristin Chenoweth)
Wounded by years of failure in showbusiness, April stands as a warning that you could have the voice of a Broadway star and still end up alone in central Ohio with a box of wine.
4. Finn Hudson (Cory Monteith)
Glee's most enduringly loveable character is the gawky Finn, a would-be jock who loves performing and always wants to do the right thing. After Monteith's death in 2013 he was honoured in 'The Quarterback', the stand-out episode of Season 5.
5. Kurt Hummel (Chris Colfer)
Colfer sticks out of ensemble numbers like a sore, talented thumb and Glee made a virtue of this, allowing a character to develop who is strong and sure of himself despite being an outsider.
6. Blaine Anderson (Darren Criss)
The dreamy head of the Warblers, who injected new energy into Season 2, has since – let's face it – pretty much carried the New Directions through four more seasons of competitions.
7. Brittany S. Pierce (Heather Morris)
Alongside Santana, Brittany got a second life in Season 2. She is reliably weird and adorable, and has a cat called Lord Tubbington. Morris is also an amazing dancer — something Glee could have made better use of.
8. Jesse St. James (Jonathan Groff)
Jesse is an unforgettable camp supervillain who lights up dull episodes with his grand surprise entrances and boundless ulterior motives.
9. Mercedes Jones (Amber Riley)
Amber Riley's incredible talents as a singer and actor were seriously underused on Glee.  Mercedes often comes into focus only to ask for more solos, which she deserves but is never given.
10. Terri Schuester (Jessalyn Gilsig)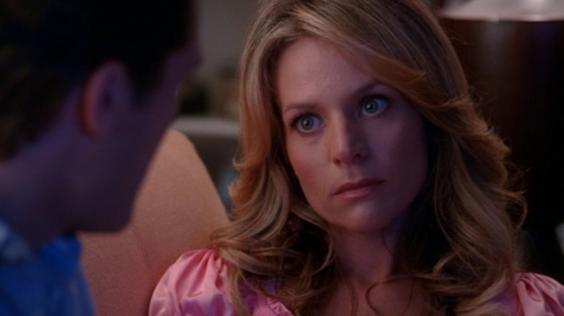 In Season 1 Terri had her husband fooled with a fake pregnancy for about five months. This is the kind of zany plotting that worked well in Season 1, and by Season 6 had become unbearable.
And the worst:
1. Will Schuester (Matthew Morrison)
Will Schuester is the worst of Glee. He gets way too much glory for doing basic, decent things like calling trans people by their correct pronouns. And he can't stop rapping.
2. Joe Hart (Samuel Larsen)
Joe is one of many forgettable characters who came to Glee from its reality spin-off The Glee Project. He contributes nothing. See also: Rory Flanagan; Ryder Lynn.
3. Cassandra July (Kate Hudson)
Dance teacher Cassandra July is a weak nemesis to Rachel during her days at performing arts school, barking anti-Semitic insults and glaring menacingly to hide the fact that she can't dance.
4. Sue Sylvester (Jane Lynch)
Sue is a beloved character. So beloved that her unchanging, inexplicable vendetta against the glee club became the single defining narrative of Glee by Season 6, even though it stopped being funny years ago. 
5. Adam Crawford (Oliver Kieran-Jones)
All you need to know about Adam is that he fronted this horrifying interpretation of 'Baby Got Back'.
Reuse content